SPECIAL REPORT ON EVENING AT EMBASSY OF GHANA: RESOURCE-RICH AND READY TO ROLL
Stimulating Evening at Embassy of Ghana Thanks to Hospitality of His Excellency, Daniel Ohene Agyekum.
Ambassador of Ghana to the U.S. and his Staff
Enjoyed by Members & Guests of DC Wharton, Harvard B-School & Natl Economists Clubs
Resource-Rich and Ready to Roll
By Harvey Kipper
On Fri
day, May 6, 2011, members of the Wharton, National Economists, and Harvard Business School Clubs of DC and their guests arrived at International Drive in the Van Ness section of Washington, D.C., the locale of numerous embassies with a distinctive flair. One embassy in particular stood out, with its exterior adorned with large West African symbols known as "adinkra." This was the Embassy of Ghana, and there the group entered.
A Heartfelt Greeting
Welcomed graciously by Dr. Benjamin Arthur, Jr., Wharton MBA 2004, Vice President for International Affairs of the Wharton Club, and native son of Ghana, everyone soon felt at home. While mingling and networking, attendees had an opportunity to peruse the many booklets and brochures set out on a table in the lobby. There was a single theme - come to Ghana and invest. Also noticeable was the beautiful red, gold, and green bunting that mirrored the Ghanaian flag; red for the sacrifice that led to independence, gold for mineral wealth, and green for tropical vegetation. Some Embassy personnel sported the same colors.
A Fine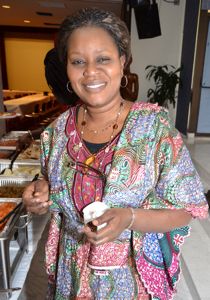 and Exotic Dining Experience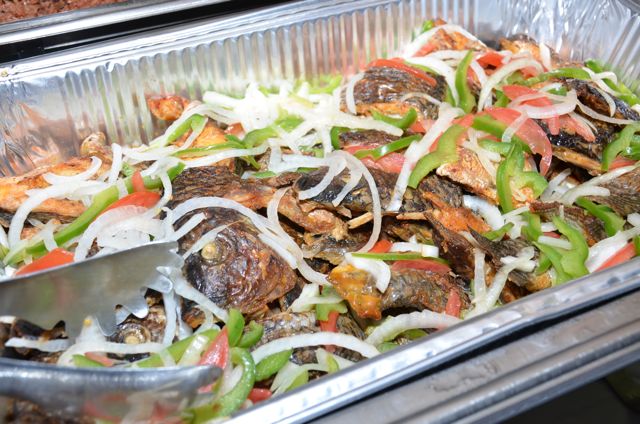 Soon the Embassy staff motioned guests to a mouthwatering buffet and began generously ladling large portions of beautifully prepared food onto plates. Salad, soup, Jollof rice, cassava, yam, meat, and fish represented the spicy, tasty, and visually appealing cuisine of Ghana. A wide selection of beverages was made available as well.
The President's Address
Alan Schlaifer, Esq., President of the DC Wharton Club (on left, photo below left), then rose to make introductions. In the Ashanti language, Mr Schlaifer thanked the Embassy of Ghana for its warmth and kindness, meda wo ase (mayduh wahsee). He proffered a glimpse of the dynamic, stimulating, and high quality events for which the W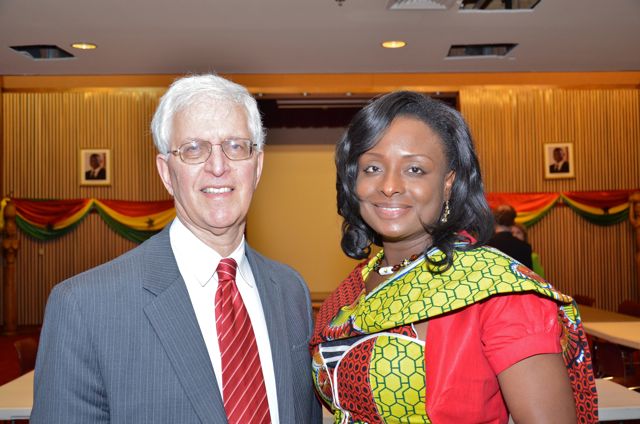 harton Club of DC is known.
President Schlaifer stated that the 41st Annual Wharton Award Dinner would take place on May 17. He asked Ms. Joyce Hunter of Vulcan Enterprises, one of four individuals to be honored, to stand. Mr. Schlaifer also acknowledged the presence of Mr. Jean-Francois Orsini, Chairman and Treasurer of the Wharton Club of DC, and Mr. Harvey Kipper, who had written about previous Wharton Club events and would do so for this delightful gathering.
Dr. Arthur's Introduction of Ambassador Agyekum
Following the President, Dr. Arthur (on left in photo below at left) introduced His Excellency Mr. Daniel Ohene Agyekum, Ambassador of Ghana to the United States of America. Dr. Arthur stated that Ambassador Agyekum was from Juaso in the Ashanti Region of Ghana. He holds a Bachelor's Degree with honors from the University of Ghana, a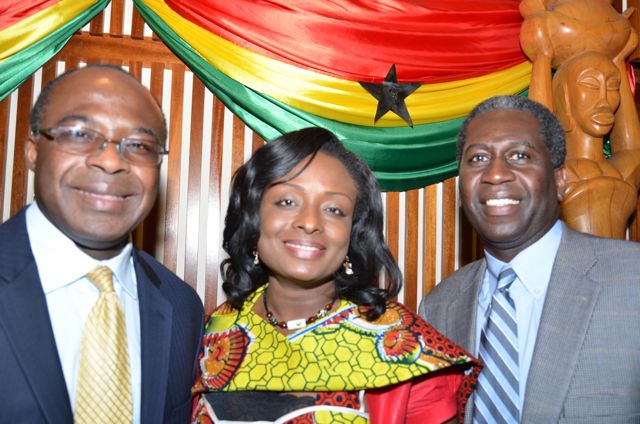 post-graduate Diploma in Public Administration, and an International Certificate in Diplomacy from the Australian National University in Canberra.
The Ambassador started his diplomatic career in 1965. His first diplomatic assignment was at the Embassy of Ghana in Tel Aviv, Israel from 1971-1974. In fact, one of Ambassador Agyekum's daughters was born in Israel thus making her, joked Dr. Arthur, a "sabra," a native Israeli. He later served at the Ghana Embassy in Denmark from 1976-1981.
Upon returning to Accra, Ghana's capital, in 1981, he served as Deputy Director for the Middle East and Asia Divisions of the Ministry of Foreign Affairs until 1982, when he joined the Provisional National Defence Council (PNDC) as an international relations advisor. Ambassador Agyekum was appointed Acting Eastern Regional Secretary of Kofridua from 1983 to 1986, and then Ghana's High Commissioner to Canada until 1992. His Excellency, Professor John Evans Atta Mills, President of the Republic of Ghana appointed him to his current position, in January 2009.
His Excellency Mr. Daniel Ohene Agyekum's Presentation
Ambassador Agyekum immediately demonstrated a penchant for self-effacing humor, stating that, despite being referred to as "Excellency," the term often used to address ambassadors, he did not recall ever having excelled at any of the posts described by Dr. Arthur. Accordingly, he would exercise care in his remarks to such a distinguished audience, the Ambassador claimed.
Ghana, according to Ambassador Agyekum in his tongue-in-cheek manner, could be considered the center of the ea
rth, since it is located close to zero degrees latitude. Certainly it was, in his opinion, the center of the sub-region in which it was situated, as well as of Africa, and indeed the universe.
In a more serious tone, the Ambassador stated that Ghana is a small country, the size of Oregon, one of fifty-three African states. Africa itself is huge, in area larger than North America and Western Europe combined, with a population of one billion.
Yet, this tiny part of Africa was the first Sub-Saharan country to achieve independence from Britain, the Ambassador proudly emphasized, and the first to be visited by President Obama. Ghana, he continued, had a very stable political system though it is located on a continent besieged by instability.
The underpinnings of this stability - values and democracy - have resulted in several peaceful and successful elections. A large measure of good governance; a strong judiciary; an active Parliament; a robust social media (including paparazzi, he chuckled, as President Schlaifer, to the amusement of the Ambassador and audience, moved his large digital SLR camera away from the ambassador), respect for human rights and the rule of law, all make Ghana stand out in comparison to other African countries.
For the Ambassador, Ghana is an inspiration to African states, some of which are in crisis. Nonetheless, he is optimistic about the future of Africa, believing that it will emerge as a leading and respected factor in international relations due to its wealth of natural resources.
Ambassador Agyekum then discussed Ghana's economic situation. Gold was an important part of the picture beginning centuries ago. Though the British named Ghana the "Gold Coast," gold was not found on the coast; it was discovered inland, in the Ashanti region from whence the Ambassador hailed.
Moreover, after years of struggle Ghana has found significant quantities of oil with the assistance of several U.S. companies. This is not surprising, remarked Ambassador Agyekum, if one realizes that Brazil has offshore oil reserves. Look at a map, the Ambassador suggested, and see how neatly Brazil and the area of Africa where Ghana is located fit together.
Though his country is aware of the benefits this discovery will bring, it also understands that the expected financial windfall must be managed carefully to benefit all Ghanaians. Ghana must strike the right balance to avoid the problems of other oil-rich countries. Sooner or later, the oil will run out, perhaps in 35 to 40 years.
The Greeni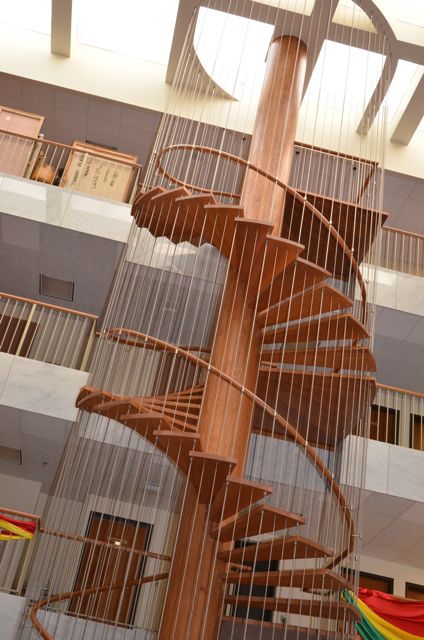 ng of Ghana
Thus, Ghana has already begun to consider other sources of energy; Ghana is going green. Wind and solar energies will become increasingly important, especially the latter. Blessed with much sunshine, Ghana is hot and humid year-round, with two seasons - dry and wet.
The Ambassador spoke briefly about the Ashanti region, traditional home of powerful kings; and the diversity of Ghana - its varied communities also known as tribes, a word the Ambassador disliked; its different foods; and its seven indigenous languages (English is the lingua franca). The Ambassador humorously remarked that Ghana, an Anglophone nation surrounded by three powerful Francophone countries, claims that even the fish in the sea speak French.
Despite the wide variety of cultures, all come together as one in Ghana, he emphasized. As indicated previously, respect for human rights and the rule of law account for this unity.
Challenges & Opportunities
Finally, the Ambassador touched on the theme of the handouts in the lobby, i.e., the importance of external investment to Ghana. Unfortunately, the infrastructure is inefficient; roads within the country and those linking Ghana to its neighbors need improvement, as do the railways.
Yet, challenges present opportunities, stated Ambassador Agyekum. Companies are invited to improve Ghana's infrastructure and to use those means of transport as a gateway to the rest of Africa.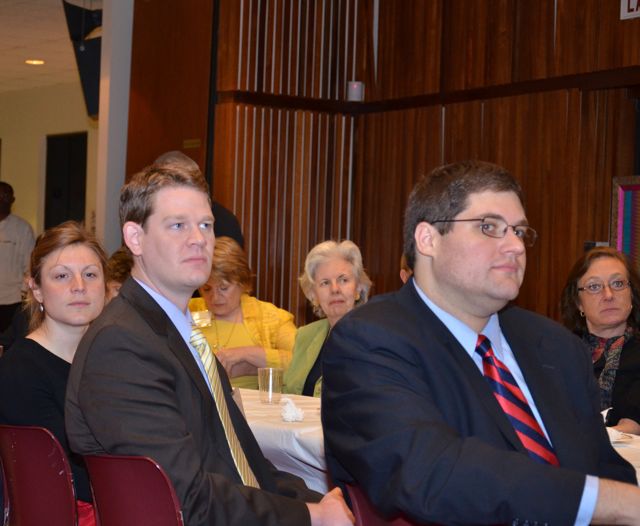 Other areas ripe for an infusion of capital are agriculture, mining, and oil. The latter requires the establishment of megaports for large seagoing vessels.
The Ambassador stressed that Ghana protects investments both bilaterally and via the United Nations. It is a safe place in which to invest. The international business community would be wise to take advantage of Ghana's peaceful environment and earn a high return on its investment, he concluded.
Questions for the Ambassador
Q: What airlines serve Ghana and from where in the U.S.?
A: Delta Airlines offers two flights, one from New York two to three times a week, and one from Atlanta at the same frequency.

United Airlines flies non-stop from Washington, D.C. to Accra. One can leave Dulles International Airport late at night, arrive in Ghana mid-day, meet in the late afternoon, and depart that night.
Q: A recently published book by Wharton Alum, Eric Kacou, in the 2004 MBA Class, from the neighboring Ivory Coast (Côte d'Ivoire) discussed entrepreneurial solutions for prosperity in Africa and other developing areas. What are some other resources in Ghana that could benefit from business development?
A: Ambassador Agyekum cited agriculture, oil, diamonds, bauxite, iron ore, resources from the sea, and cacao. Regarding the latter, the Ambassador maintained that Ghana's is the best in the world. It is the second largest producer, exceeded only by the Ivory Coast.

Referring to Ghana's resources in general, the Ambassador stated that his country needs technology to add value. It requires assistance to establish manufacturing industries to finish raw products and export them. If industry would locate in Ghana, that would be mutually beneficial.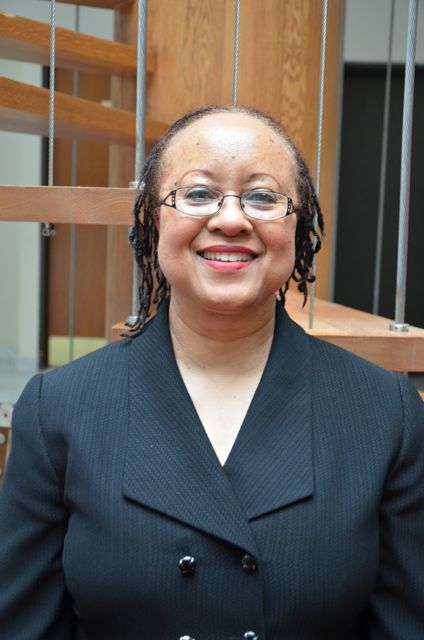 Q: What does Ghana want or need?
A: "Everything," Ambassador Agyekum stated emphatically. Ghana wants facilities to both produce and export products. It is incredibly rich agriculturally. Besides cacao, a number of other crops are significant: Maize, rice, yams, ground nuts (peanuts), palm oil, and pineapples.

Small, fleshy, and white, the pineapples, according to the Ambassador "have a great taste, an out-of-this-world taste." Unfortunately, they are little known in the U.S., except, appropriately to the Wharton hometown, Philadelphia. And that is illustrative of the problem facing Ghana. It needs help from companies to export these delectable fruits.
Q: Please discuss personal and corporate taxes. What are companies looking for in a relationship with Ghana?
A: All foreign companies that operate in Ghana are subject to Ghanaian law. Corporate taxes must be paid, depending on the type of business.

In the agricultural sector there are incentives. If a company invests more than $50,000 there are no taxes due for ten years. However, it must partner with a Ghanaian business.

If a foreign company operates on its own, incentives are not as generous. Nevertheless, Ghana provides a tax holiday for five years; no payment is required. Payment is required only when production starts. For example, in the oil business, no taxes are paid until oil is discovered.

Corporate taxes are assessed at approximately 25% and must be paid to the government of Ghana.

There are two types of partnerships, private/private and private/public. Ghana regards the private sector as the engine of growth. Too much public involvement stifles growth, the Ambassador maintained.
Appreciation Voiced by President Schlaifer and Ambassador Agyekum
President Schlaifer thanked Ambassador Agyekum for his presentation in particular and for the hospitality of the Embassy of Ghana in general. As a token of the Wharton Club's gratitude, Mr. Schlaifer gave the Ambassador as a gift an autographed copy the newly published book Extraordinary Ordinary People by former Secretary of State Condoleeza Rice. He ended by stating that Ghana is a land of many precious resources, none more so than its people.
Ambassador Agyekum graciously accepted the gift. In a very special gesture he introduced representatives of the various Embassy departments: Economics; Protocol; Consular Affairs; Political; Accounts and Salaries; and Computers. The Ambassador indicated that one of the attendees from the Embassy was a king from an important state in Ghana. Interestingly, the king was a woman.
Farewell
Nightfall came too soon. Visitors and Embassy staff, still chatting and taking pictures, parted reluctantly. Club members and their guests appreciated the introduction to many facets of the diamond that is Ghana.
They also realized that there were many more to explore such as wildlife, waterfalls, castles and forts, and perhaps most notably, Ghana's lonely stance in opposing the genocide in Rwanda. Surely another visit to the Embassy of Ghana, if not to Ghana itself, is in order.
Conclusion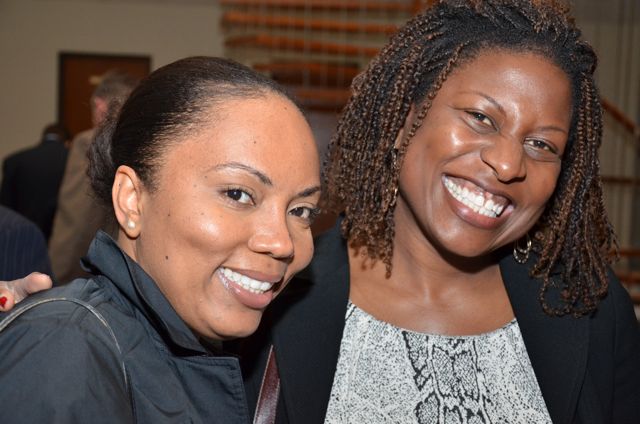 Ghana is a cornucopia, bursting with rich agricultural produce, seafood, substantial oil reserves, mineral wealth, a well-educated and capable workforce, and excellent governance. It is poised for economic takeoff.
Ghanaians' annual per capita income is in the hundreds of U.S. dollars. For the average Ghanaian, $10,000 is a lot of money.
What Ghana needs most are small inflows of capital from abroad. Relatively few dollars applied to refrigerated trucks, warehouses, and road improvements could generate potentially large returns.
Currently, mangoes not consumed immediately rot. Proper storage is needed so they can be exported. Similarly with fish, Ghana's large seafood catches must be eaten promptly or go to waste. Refrigeration is lacking.
Thus, minimal capital investment may yield maximum gains. With most of the pieces in place, including a stable political system and the rule of law, what is essential for momentum, for the creation of a modern, successful, export-driven economy in Ghana, is investment from abroad.
Text Copyright 2011, Harvey Kipper. All Rights Reserved.
About the Author, Harvey Kipper
A graduate of the University of Pennsylvania, Harvey Kipper (at right) is a member of the Wharton Club of DC, the University of Pennsylvania Alumni Club of Washington, DC, and American Mensa, Ltd. Harvey's interests include archaeology, foreign affairs, languages, and travel. His personal e-mail address is balomix@yahoo.com, and his home phone number is (703) 920-4097.
Photos: By Alan Schlaifer and Richard Litsey