Luncheon with U.S. Army Chief of Staff, General Mark A. Milley
Wharton Club members & their guests are invited Luncheon at National Press Club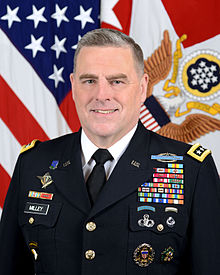 The Chief of Staff of the U.S. Army General Mark A. Milley will speak at a National Press Club Luncheon on July 27 in the Club's Ballroom.
General Milley assumed duty as the 39th Chief of Staff of the U.S. Army in August 2015 after most recently serving as the 21st Commander of U.S. Army Forces Command at Fort Bragg, North Carolina. He has held multiple command and staff positions in eight divisions and Special Forces throughout the last 35 years. General Milley graduated and received his commission from Princeton University and holds Master's Degrees from Columbia University in international relations, and the U.S. Naval War College in national security and strategic studies.
He is the recipient of numerous military awards including the Bronze Star.
Tickets cost $39 for Wharton Club Members and guests.
Schedule:
VIP Reception 12:00-12:30 p.m (you will be informed if your request is granted. PREFERENCE to President's Club & Lifetime Members)
Lunch from 12:30-1:00 p.m.
1:00-2:00 p.m.: The speaker's remarks and Q&A from the audience.
Please call Alan Schlaifer at 301-365-8999 if you'd to be considered to attend the reception (if there is one) from 12:30-1:00 pm with the speaker. (He may only bring a few guests, so early sign up helps; preference for President's Club and Lifetime Members).
Where: National Press Club, Ballroom, 13th Floor, 14th & F Streets, N.W., just two blocks from Metro Center
Metro, Parking: Metro Center; several private garages within a few blocks.
Attire: Business
Reservations: $39/person for current Wharton Club members and their guests only. You must reserve in advance on our site. We have only a limited number of seats, so Members may purchase seats only for themselves and up to three guests, if desired. (Photo: on the Natl Press Club website, press.org)
Event Details...
When:
Thursday, 07/27/17 at 12:30pm - 2:00pm | iCal
Where:
The National Press Club, Holeman Lounge
529 - 14th Street, NW
Washington, DC 20045 USA
[ Get Directions ]
Enter Waitlist Here...
Look Who's Coming:
Chuck Genrich
Special Event Transportation Management
Kevin Toner
Guest of Kevin Toner
Guest of Kevin Toner
Guest of Kevin Toner
Monique Lass
Guest of Monique Lass
Rashed Hasan
Nantuit LLC
Jürgen Ortner
Austran Embassy
Gottfried Malovits
Austrian Embassy
... a total of 10 guests.
Note: to opt out from this list please sign in, go to My Account and change your preferences under My RSVPs.
Click here to reserve your seat(s)