Headliners Luncheon In-Person: Veterans Affairs Secretary McDonough to Offer Progress Report on Nation's Veterans, Nov. 9
Wharton Club members & guests are invited to Luncheon at National Press Club with
Secretary Denis McDonough
The National P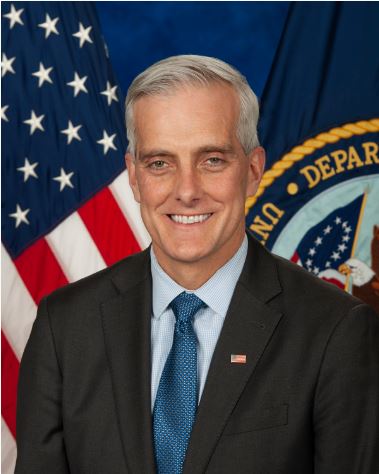 ress Club: VA Secretary McDonough to offer progress report on nation's veterans, November 9

Department of Veterans Affairs Secretary Denis McDonough will speak at a National Press Club in-person Headliners luncheon on Tuesday, Nov. 9.

McDonough will give a progress report on the state of America's veterans in the lead-up to Veterans Day on Nov. 11 and the 100th anniversary of the Tomb of the Unknown Soldier at Arlington National Cemetery.

McDonough, nominated by President Joe Biden and confirmed by the Senate on Feb. 8, previously served as President Barack Obama's chief of staff. During his time at the White House, McDonough helped lead the administration's work on behalf of military families and veterans.
NOTE: Members, guests, and visitors are required to show proof of COVID-19 vaccination at the entrance to the Club. This can be a physical copy of your vaccination card, or a photo of it on your mobile device. If you cannot show proof of vaccination, you must show a recent negative COVID-19 test (within 48 hours prior to the start of the program).
If you would prefer to upload your vaccination record in advance of the event, you can do so at www.press.org/vaxpass.
To read more about Press Club safety measures, please visit https://www.press.org/safetyfirst.
Lunch will be served at 12:30 p.m. Remarks begin at 1 p.m., followed by a question-and-answer session ending at 2 p.m.


Click here to reserve your seat(s) for the luncheon at 45/person inclusive: lunch, networking, program.
President's Club & Lifetime Members: Yourself and up to 3 guests at this 45/per person rate
Other Wharton DC Members: Yourself only at this rate (glad to discuss upgrading to President's Club or Lifetime if you like; just call us at 301-365-8999.)