HAWC Invitation: Greek Righteous Among the Nations. "There is Neither Greek Nor Jew": The Heroic Duo Who Saved an Entire Island From the Holocaust
A Reception in Honor of Loukas Karrer & Dimitrios Chrysostomos for International Holocaust Remembrance Day
Virtual Reception - Tuesday, January 25, 2022, 11am EST
Date: Thursday, January 25, 2022 at 11:00am ET
Location: Virtual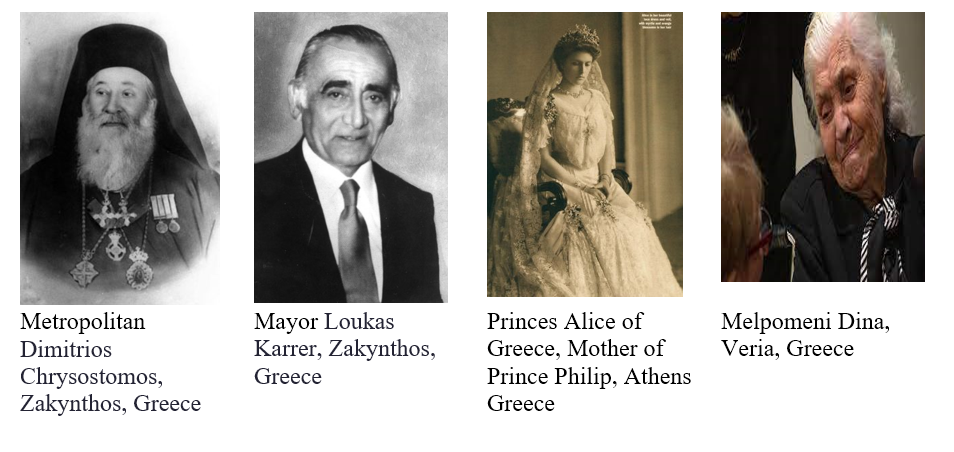 You are cordially invited to a virtual reception honoring the Greek Righteous Among the Nations on Tuesday, January 25, 2022, 11am EST, 6pm Athens.

To commemorate the International Holocaust Remembrance Day, this event will celebrate Mayor Loukas Karrer and Metropolitan Dimitrios Chrysostomos, the heroic duo who saved the entire Greek Island of Zakynthos from the Holocaust in 1944.
Ahead of International Holocaust Remembrance Day, after a year that saw a worrisome increase in antisemitic incidents, this reception will bring together civic leaders and members of both the Greek and Jewish communities to demonstrate solidarity against antisemitism, and inspire present-day leaders to follow in the steps of Karrer and Chrysostomos.
Please share this email to invite your network to attend too. .
Recognizing past leaders who confronted antisemitism in its most extreme form will help inspire a new generation of leaders to similarly confront antisemitism and other forms of hate.
The Hellenic American Women's Council (HAWC) is very proud of the Greek women who played an active role in helping save Jews during the Holocaust. Righteous Among the Nations is Princess Alice who rescued Rachel Cohen and her children by hiding them in her house for a year and Melpomeni Dina a teenager who hid six members of the Mordechai family before helping them flee to Israel.
Complimentary for ALL current Wharton Club of DC Members: Click below to get the URL:
When:
11:00AM - 1:00PM Tue 25 Jan 2022, Eastern timezone

Virtual Event Instructions:
Your confirming email will contain the URL for program access.
Look Who's Coming:
Alan Schlaifer
... a total of 1 guests.
Note: to opt out from this list please sign in, go to My Account and change your preferences under My RSVPs.