You're invited to Founders Over 55+: Financing your Startup with MicroLoans 4/27
The Founders Over 55 Collective is an inclusive member-led club that welcomes entrepreneurs of ALL ages, stages, and backgrounds.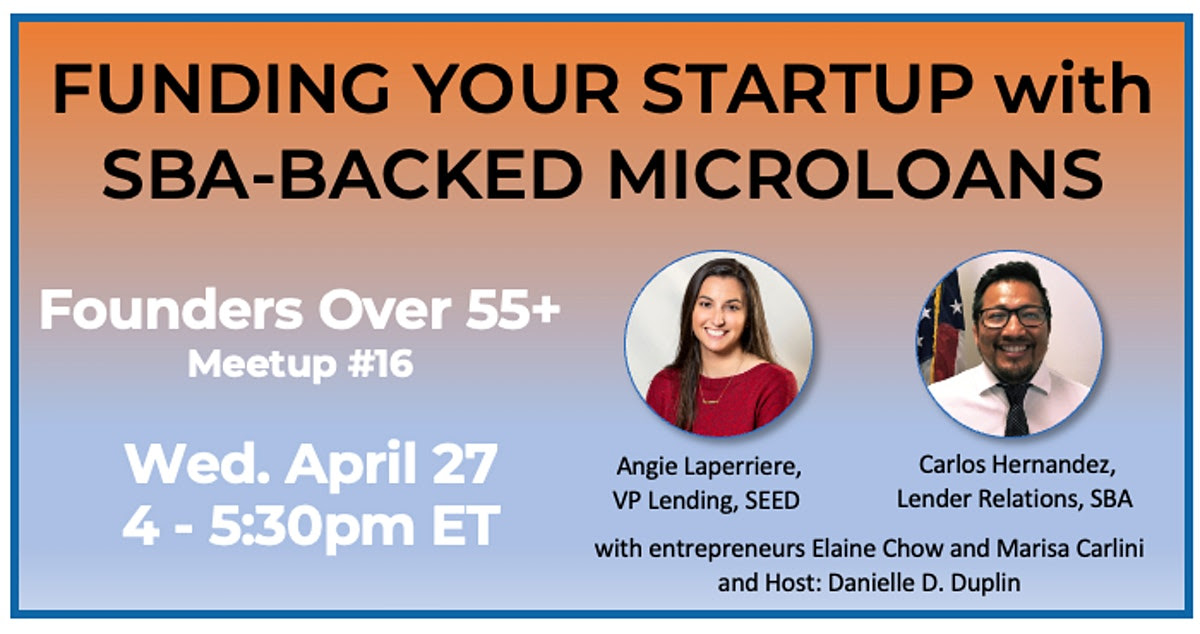 Let's get together
We could all use a financial boost at some point (or many points!) along our roadmap as an entrepreneur. The U.S. Small Business Administration and their national partner network of local microlenders want to help you whether you are just getting started with a new idea, or are a seasoned business owner poised to grow.
Please join Founders Over 55+ as we team up with the SBA and the Boston SCORE Chapter to explore various funding options available to you to help you launch, sustain, and expand your company.
You will learn about SBA resources such as Microloans (up to $50k), the eligibility requirements, the application process, and terms. Featuring speaker Carlos Hernandez, Lender Relations Specialist, U.S. Small Business Administration.
You'll then hear from SEED, a community SBA microlender, who will share their strategies and programs to support the economic success of 'Main Street' and virtual businesses like many of yours. You'll understand the funding considerations, tips, and differences of working with a local lender who can also offer you management and technical assistance vs. a traditional bank. Featuring speaker Angie Laperriere VP, Business Assistance Manager & Lending Officer, SEED Corporation in Taunton, MA.
Then, two entrepreneurs who shifted from corporate careers to start their own companies will share their own funding journeys with you. Featuring speakers Elaine Chow, franchise owner of ChopValue, and Marisa Carlini, owner of Luxe Home Interior.
As always, you'll get to meet directly with fellow F55+ members in breakouts and you'll leave chock-full with new contacts and ideas.
Come participate on
Wed., April 27th, 4 – 5:30 pm ET!
Don't miss this lively session! All ages, stages, sectors, and backgrounds are welcomed . . . newcomers too!
We look forward to zooming with you,
The F55+ Steering Committee:
Danielle D. Duplin, Jerry Wolosenko, Mary Cronin, Doug Dickson, Paul D. Michaels, Ramesh Advani
Wharton Club Members: Free - Click to get link that will result in email with registration information.
When:
4:00PM - 5:30PM Wed 27 Apr 2022, Eastern timezone

Virtual Event Instructions:
Your confirming email will contain the URL where you can register for program access.