Keynote Speakers for Green Business Summit
June 5 Event Features Outstanding Array of
Leaders from Business, Government, NGOs and Academia

Morning Keynote. Kathleen Matthews, Executive Vice President, Global Communications and Public Affairs for Marriott International, Inc. Kathleen Matthews is responsible for the company's external and internal communications, including global brand and market public relations, community relations, diversity initiatives, corporate communications and government affairs.
One of her major responsibilities has been the creation, development and rollout of the highly acclaimed Green Marriott program. She will discuss vital aspects and lessons learned from this comprehensive program, woven into Marriott's culture and social responsibility initiatives, which includes the following elements: Carbon offsets: protecting the rainforest; water, waste and energy; supply chain; green buildings; employee and guest engagement.
Prior to joining Marriott in 2006, Ms. Matthews was a distinguished news anchor, reporter and producer in Washington, D.C. for 25 years. She served as anchor of WJLA's ABC-7 News, and hosted Capital Sunday, a half-hour talk show focusing on current events. She was also host and executive editor of "Working Woman," a nationally syndicated magazine show.

Lunch Keynote. Amr ElSawy, President and Chief Executive Officer, Noblis, Inc. Mr. ElSawy serves as CEO for Noblis, a nonprofit science, technology and strategy organization working at all levels of government, in private industry and with other nonprofits in areas that are essential to our nation's well being: energy and environmental sustainability, oceans, atmosphere and space, transportation, national security and intelligence, health care innovation, and enterprise services. Mr. ElSawy was elected Executive Vice President and a member of the Board of Trustees of Noblis in January 2007.
He has extensive experience leading organizations and developing innovative solutions to some of the most complex challenges in the public sector. Prior to joining Noblis, Mr. ElSawy was Senior Vice President and General Manager of MITRE's domestic and international aviation and transportation security work program. Mr. ElSawy established and ran public-private partnerships and has earned an international reputation as a leader in aviation. His work experience includes research and development, complex systems engineering, modeling and simulation and informing domestic and international aviation policy.
Mr. ElSawy holds a master's degree in business administration from Georgetown University (1998), a master's degree in electrical engineering from George Washington University (1980), and a bachelor's degree in electrical engineering from West Virginia University (1977).
Mr. ElSawy holds a master's degree in business administration from Georgetown University (1998), a master's degree in electrical engineering from George Washington University (1980), and a bachelor's degree in electrical engineering from West Virginia University (1977).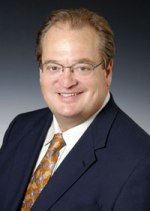 Bruce Piasecki, Ph.D., President and Founder, The AHC Group, Inc. Dr. Bruce Piasecki is an intrepid forecaster, and the climate of global business is ever changing. The author of five seminal books on business strategy, valuation, and corporate change, including the Nature Society's book of the year, In Search of Environmental Excellence: Moving Beyond Blame, Dr. Piasecki speaks with gravity and informed optimism about corporations needing to respond to their social obligations. His message is that multinationals can approach social challenges, in conjunction with government, so that both the business and society can benefit.
The AHC Group, Inc. is a top energy and environmental consultancy to companies such as Toyota, BP, Chevron, DuPont, and Dow Chemical. The firm has specialized in energy, materials, and environmental corporate matters since 1981. Since 1990, Dr. Piasecki and his staff have run hundreds of benchmarking workshops for numerous multinational corporate affiliates, involving key executives in site remediation, power markets, emerging issues, and governance concerns since the Enron debacle.
With his latest book, World Inc., Dr. Piasecki examines a striking new phenomenon in socially responsible capitalism. As power moves increasingly into the hands of business, the world is looking to corporations instead of governments to solve its problems. World Inc. discovers the ways in which those corporations that can best address social issues (by creating superior products) will thrive and profit in this new world. Dr. Piasecki discusses the necessary shift toward social response capitalism for organizations brought about through leadership and innovation; gone are the days of focusing solely on technical quality and price.

///////////////////////////////////////////////////////////////////////////////
Post-Luncheon Plenary Session:
THE PRESIDENTIAL HORIZON
Representatives from each of the presidential candidates

Ken Berlin on behalf Barack Obama.
Kenneth Berlin heads the Environmental and Climate Change practice groups at Skadden Arps Slate Meagher & Flom LLP. Mr. Berlin has been involved in a wide range of environmental issues since 1979, when he was section chief in the Environment and Natural Resources Division of the U.S. Department of Justice. He also was chairman of the board of the Environmental Law Institute from 2003-2005 and is the former chairman of
the American Bird Conservancy.
Mr. Berlin has represented more than 500 companies in business transactions, negotiating environmental contract provisions and supervising environmental due diligence. He has worked on international transactions involving international lending institutions, environmental due diligence in Eastern and Western Europe and tropical forestry issues.
Mr. Berlin played a prominent role in the North American Free Trade Agreement (NAFTA) and General Agreement on Tariffs and Trade (GATT) negotiations.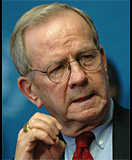 Bud McFarlane on behalf of John McCain. The Honorable Robert 'Bud' McFarlane will advise the John McCain for President campaign on energy and national security issues. After serving as a Deputy National Security Adviser and the President's Special Representative in the Middle East, Robert C. McFarlane served as President Ronald Reagan's National Security Advisor from 1983 to 1985. In 1976, McFarlane was awarded the Distinguished Service Medal, the Navy & Marine Corps' highest peacetime military decoration. He is the founder of Global Energy Investors, which develops energy infrastructure projects in Asia and South America and serves as the chairman of Energy and Communications Solutions, a developer of energy and communications infrastructure.
Todd Stern on behalf of Hillary Clinton.
///////////////////////////////////////////////////////////////////////////////
Click to learn more about these key points:
Supporting / Represented Organizations