WELCOME TO WHARTONDC.COM - The Official Website of the Wharton Club of Washington, DC



One of most active, largest clubs in Wharton Global 92,000+ Alumni Network & a leader among B-School Clubs in U.S.
Gives you access to 150-200+ top programs + top contacts each year
Hosting Wharton DC Innovation Summit April 28-29, 2015



You are invited to join us on November 14 as Adam Sieminski, head of the Energy Info. Admin., discusses implications of the U.S. shale revolution

Our Club supports alumni success and the business community in our region through our rich calendar of 150-200+ annual business, economic, finance, cultural and embassy programs, featuring business, government and other thought leaders. We also have

focused Interest Groups

, including

Leads Council

,(now in its 11th year) and Forums (such as Green Busine

ss, Innovation & Entrepreneurship, Nonprofit

, and Investment. Members gain access to beneficial contacts and

other valuable benefits, including complimentary Wharton School webinars on vital topics.

Major events include major Conferences, such as the highly reviewed 2014 Wharton DC Innovation Summit (April 29-30, 2014). It featured 48 sessions with 130+ keynote and other speakers from the private and public sectors who are leading innovators. They covered vital aspects of innovation generally such as Funding (Angel, VC, Crowdfunding, Accelerators), Building Your Innovation Prowess, and Leading an Innovative Team to special resources of the National Capital Region, including life sciences, cyber, tech and other opportunities. The nearly 400 attendees represented 150+ companies and organizations of all sizes, from start-up to Fortune 500 and in the private and public sectors.

To build connections among attendees and between them and speakers, there were many breaks, networking sessions and two receptions, one at the British Embassy. Planning has already begun for the 2015 Wharton DC Innovation Summit, April 28-20, 2015, at the same venue in downtown DC.


If you are a member of our large, vibrant Club - one of the largest of any Wharton Club in the world - you gain access to all this to keep your knowledge and contacts at the forefront, by joining a leader among business school groups, in our region, nation and the Wharton Global network
Upcoming Events...

Friday, 11/14/14 at 8:00am ...13 days away!
Wharton DC Green Business Forum:
Adam Sieminski, Administrator, EIA - Energy Info. Administration
"Implications of the U.S. Shale Revolution"
All interested in business & the environment welcome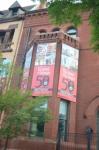 Thursday, 11/20/14 at 6:30pm
Please join host, H.E. Ambassador Neil Parsan &
other top officials for fascinating evening at their embassy
Stimulating way for you to learn about a thriving, friendly Caribbean nation

Saturday, 11/1/14 at 10:00am ***TODAY!***
Wharton Club members & guests invited to Series of three Waltz Lessons in Bethesda prior to Elegant Ball at Washington Golf & Country Club

Friday, 11/7/14 at 7:30pm ...6 days away!
Wharton Club Members & Guests Invited to fabulous event:
Renowned Singer, Enchanting Music
followed by Wine, Cheese & Dessert Reception with the Artitsts

Thursday, 11/13/14 at 6:00pm ...12 days away!
N. Gregory Mankiw, Robert M. Beren Professor of Economics. Harvard University
"Income Inequality: What's Happened, Why, and What Should We Do About It?"
Wharton Club Members & Guests invited to attend
RSS | more
Recent Events...
JOIN FRIENDS, CLASSMATES, FELLOW ALUMNI TO CELEBRATE JAMES S. RIEPE, W'65, WG'67, HON'10
Oct 31st, 2014 at 6:00pm
HEALTH CARE TRANSFORMATION: THE DANCE OF DISRUPTORS, INCUMBENTS & RULE-MAKERS
Oct 31st, 2014 at 7:24am
WHARTON - HBS CLUB LEADS COUNCIL - HELPING YOU SUCCEED
Oct 28th, 2014 at 12:00pm
WHARTON WEBINAR SERIES: NEW BUSINESS OPPORTUNITIES IN GLOBAL MARKETS, PROF. MAURO GUILLEN
Oct 23rd, 2014 at 12:00pm
[ more ]