Green Business Summit: Great Success, Sequel to Follow in Fall 2009
Over 200 delegates from 100+ companies and organizations attended
the Wharton Club of DC's Green Business Summit on June 5
Nearly 50 speakers spoke at 14 sessions
Press covered; video may follow
The Green Business Summit energized delegates, speakers and sponsors on June 5, appropriately World Environment Day. A standing ovation at the end summarized the positive reactions to this important full-day conference.
Vivek Taneja, Founder of Clear Element Consulting, expressed the audience sentiment well.
I just wanted to thank you for organizing such an amazing Green Business Summit! I enjoyed the highly-informative panels/sessions, the extremely knowledgeable speakers, as well as the high-caliber of the professionals that I networked with. I would love to help in the planning and execution of the next Green Business Summit, so please keep me posted!

See you at the next "green"/Wharton Club of D.C. event

Judith Willson, VP, Bernstein Global Wealth Management, echoed his sentiments, "Congratulation on an outstanding and extremely successful Green Business Summit. I look forward to another one!"
This was the reaction from another executive, Jason Stern, President & CEO, Braddock Communications, Inc.:
The first Wharton Green Business Summit was a super success! It showcased some of the most knowledgeable panelists from government, industry and NGOs regarding green financing & incentives, clean tech solutions and more.

Kudos to you and your team for producing such an excellent conference. I'm sure the next Green Summit will be even better.
Stever Oser, VP of Pareto Energy added,
Not too big, so you got lost in the crowd and not too small that there's few participants of any interest, the 2008 Wharton Green Business Summit presented me with many opportunities to meet and greet a number of the leaders of the "energy revolution" in a relaxed and informative setting. Quality Information, excellent contacts, and, surprisingly, good food - what more could you ask from a conference?

Steve Offutt, a consultant on sustainability, said,
The Green Business Summit held on June 4-5 far exceeded my expectations. The speakers and panelists were top-notch; the content was varied, informative and interesting; the networking opportunity was excellent and the food was great, too. I expected the attendees to be primarily from right in the DC Region, but was surprised to meet a number of attendees who had traveled hundreds of miles to attend. I cannot wait for the next one.
Another positive response came from Leslie K. Downey, Principal, RFID Revolution:
I would like to thank you and the volunteers who worked with you for pulling together a fabulous conference on June 5. The Green Business Summit was wonderfully varied, covering everything from corporate programs to encourage customers to pay for carbon offsets to green building to the legal environment and presidential candidates' positions on the environment, and the successful program to "green" the U.S. Capitol. IThe quality of the speakers was very high, and enjoyed meeting many conferees who were doing interesting things. I was surprised at the number of for-profit businesses developing green technology or focused solely on providing "green" consulting services.

I thought it was telling when you asked for a show of hands representing people who would like another green business summit in 2009, and the vast majority of the attendees responded affirmatively.
Bookends were the lovely reception at the headquarters of Noblis, across from the Summit hotel, on the evening before the Summit (despite the inclement weather), and another reception at the end for the many delegates still there.
Three excellent keynote speakers stimulated the executives and professionals in the audience:

Morning Keynote: Kathleen Matthews, Marriott's EVP who has led their widely acclaimed Green Marriott program, which has grown dramatically since its inception to become one of the most comprehensive in the corporate world, and building bridges to their workforce, suppliers, and communities. All of this translates into bottom line benefits for Marriott and its shareholders. She pointed out some of the many specifics of Marriott's 360 on green and explained how green is fueling Marriott's business and building engagement with stakeholders. She commented on how Marriott may deal with potential reductions in long-distance travel by using its properties to host an event with transmission to other sites (sort of a "hub-and-speak," if you'll pardon the pun).
Delegates enjoyed the opportunity to interact personally with her after her keynote concluded. Her high degree of knowledge and outstanding communications skills, on display for many years to a broadcast audience, were fully on display at this event.

Mid-Day Keynote: Amr ElSawy, Noblis Inc. President and CEO who has extensive experience leading organizations and developing innovative solutions to some of the most complex challenges in the public sector. Noblis is a nonprofit science and technology organization working at all levels government and private industry for energy and environmental sustainability, oceans, atmosphere and space, transportation, national security and intelligence and health care innovation. He presented his perspectives on adapting, innovating, and transforming your own organization and others to ride the Green Wave of sustainability.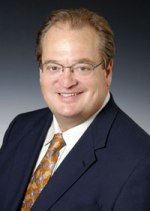 Bruce Piasecki, Ph.D., President of The AHC Group, Inc., a highly regarded consultant to Fortune 500 and other companies, speaker, and the author of six books on business strategy, valuation, and corporate change, including the Nature Society's book of the year, In Search of Environmental Excellence: Moving Beyond Blame. Dr. Piasecki spoke with gravity and informed optimism about corporations needing to respond to their social obligations - and generating revenues and profits from doing so. His message is that multinationals can approach social challenges, in conjunction with government, so that both the business and society can benefit. Citing names of large companies no longer in the Fortune 500 from the list 30 years ago, he warned that hose companies that do not adapt to this new business environment may perish or be absorbed by other corporations.
Referring to his latest book, World Inc., which he discussed, Dr. Piasecki examined a striking new phenomenon in socially responsible capitalism, which includes social responsiveness in addition to traditional elements of price and quality.
All attendees received a copy of a valuable DVD from Wachovia Securities, The Greening of America, thanks to that company's local representative, Clem Dinsmore (of their Chevy Chase office). It contains the full 257-report recently published with best practices in many industries.
Delegates commented favorably on all sessions, including the opening plenary, both clean techs, climate-oceans-coasts, financial incentives, investments, greening of government - and procurement, and legal evolution.
Another favorite, and apt given the inside-the-Beltway venue, was the Presidential Horizon discussion. It featured Ken Berlin for Sen. Obama, and Bud McFarlane, for Senator McCain.
Sponsors who supported this event were:
Green Sponsors:
Bronze Sponsor
Reception Sponsor
Green Sustainer
Exhibitors
A record total of 36 Strategic Partners supported this event, including leading business and professional associations, alumni groups and more than a dozen Wharton Clubs.
"This Summit was part of the Wharton Club of DC's ongoing commitment to programs that provide valuable insights on sustainability from - and to - public and private sector leaders," said Alan Schlaifer, the Club's President. "Members of our outstanding Conference Committee, our Green Team, who organized and managed this event under our Summit's Executive Director, Andrea Essex, despite many challenges, look forward to continuing the dialogue with the sponsors, partners, and attendees. We welcome everyone's input so that next year's Summit may match or exceed the quality of this year's."
Comments and suggestions should go by email to Alan and Andrea, or to the Club by phone at 301-365-8999.