Wharton Club's Winning Ticket - Better than Democrats or Republicans
Wharton Club of DC Announces Honorees for this year's
Joseph Wharton Award Dinner, Park Hyatt DC:
Popular Past Wharton Dean Pat Harker
AARP CEO Bill Novelli
Eddie Snyder, CPA, President, Snyder Cohn
Register Now for Best Seats
More news later on this exciting development.
Click here to learn more - or to register now for best seating.
Here are the bios of our slate of our three winning "candidates:"
Dr. Patrick T. Harker is the 26th President of the University of Delaware, a position that he assumed on July 1, 2007.
Concurrent with his appointment as President of the University of Delaware, Dr. Harker was appointed as a Professor of Business Administration in the Alfred Lerner College of Business and Economics and a Professor of Civil and Environmental Engineering in UD's
College of Engineering.
In announcing his appointment as President, Howard Cosgrove, Chairman of the University of Delaware's Board of Trustees, said, "Patrick T. Harker has an excellent combination of experience and skills to lead the University of Delaware forward. Dr. Harker has served splendidly as dean of one of the world's most admired business schools, which in turn is a vital part of one of America's premier universities. He has managed with foresight, creativity and innovation, expanding the reach of the Wharton School across the country and around the world, and those traits will serve him well as he leads this University into the future."
Prior to his appointment at UD, Dr. Harker was the Dean of the Wharton School at the University of Pennsylvania and the Reliance Professor of Management and Private Enterprise. Dr. Harker was appointed as Dean on February 8, 2000, after serving as both the Interim Dean and Deputy Dean of the school. Dr. Harker was also a Senior Fellow at the Wharton Financial Institutions Center and held a secondary appointment as a Professor of Electrical and Systems Engineering at Penn. Prior to his appointment as Interim and Deputy Dean in July 1999, Dr. Harker served as Chairman and Professor of Operations and Information Management at the Wharton School.
As many of us Wharton alumni know quite well, Pat was an incredibly effective Dean - leading the School in so many ways: maintaining excellence, building its top faculty and student body, increasing diversity, attracting the funds needed to maintain pre-eminence. Approachable, likeable, effective, Pat was also one of Wharton's most popular Deans, an academic who could inspire the best from faculty, students, alumni, and the business community.
He currently serves as a Trustee of the Goldman Sachs Trust and the Goldman Sachs Variable Insurance Trust, as well as serving as a member of the Board of Managers of the Goldman Sachs Hedge Fund Partners Registered Fund LLC and as a founding member of the Board of Advisors for Decision Lens, Inc. Previously, Dr. Harker served as a member of the Advisory Board of Juniper Bank and chaired the Scientific Advisory Board of Traffic.com, Inc. In terms of nonprofit leadership, Dr. Harker served as a Member of the Diocesan Finance Council for the Diocese of Camden, N.J., and is also a founding member of the Board of Directors of the National Leadership Roundtable on Church Management.
Dr. Harker received his B.S.E. and M.S.E. in Civil Engineering in 1981, and an M.A. in Economics and a Ph.D. in Civil and Urban Engineering (Transportation Planning and Economics) from the University of Pennsylvania in 1983.
Prior to graduation from Penn, Dr. Harker worked as a consulting engineer in Philadelphia and New York. He was a member of the faculty of the University of California-Santa Barbara prior to joining the Wharton School in 1984.
Dr. Harker is the youngest faculty member to be awarded an endowed professorship in the history of the Wharton School when he was named in 1991 as the UPS Transportation Professor of the Private Sector. In January 1994, Dr. Harker was named Chair of the Department of Systems Engineering in Penn's School of Engineering and Applied Science and held this position until December 1996; he was appointed as Chair of the Operations and Information Management Department at Wharton in July 1997.
The naming of Dr. Harker as a Presidential Young Investigator by the National Science Foundation in 1986 affirmed his reputation as a leading scholar in the areas of service and technology management and operations research.
In his 23-year career, he has published five books and more than 80 professional articles. Most recently, Dr. Harker is engaged in the analysis of the operations and economics of the service sector. Dr. Harker served as Director of the Fishman-Davidson Center for the Study of the Service Sector at Wharton from 1989 to 1994, and as a co-principal investigator on a $6 million project from the Sloan Foundation to study productivity and technological impacts in financial services.
In June 1991, President George H. W. Bush named Dr. Harker as a White House Fellow, one of 16 chosen in the country. In this position, he spent 1991-92 as a Special Assistant to the Director of the F.B.I., as well as participating in a variety of off-the-record discussions and trips with national leaders. In January 1996, he was named Editor-in Chief of Operations Research, the premier journal of the field, a position he held until December 1999.
Dr. Harker is married to the former Emily Grace Saaty and is the father of three children: Thomas Patrick, Michael Francis and Meghan Emma.
/////////////////////////////////////////////////////////////////////////////////////////////////////////////////////////////////////////////////////
Click here to learn more about the dinner - or to register now for best seating.
/////////////////////////////////////////////////////////////////////////////////////////////////////////////////////////////////////////////////////
Bill Novelli, CEO, AARP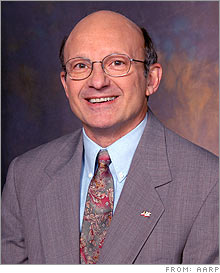 Bill Novelli is Executive Director and CEO of AARP, a membership organization of over 40 million people age 50 and older, half of whom remain actively employed. He joined AARP in January 2000 as Associate Executive Director, Public Affairs (Legislation and Public Policy, Public Policy Institute, Communications, Publications, Organizational Relations and International Activities).
(Sidebar: If you're 50 or above, you're probably one of Bill's fellow members. And if you're not already at that vantage, rest assured that AARP will reach out to you with an offer that, if you're like most of us, "you can't refuse," for good reason: the fees are modest, and the benefits are superb.)
As to Bill, he recently accepted an offer he couldn't refuse: from AARP's Board of Directors to remain Chief Executive Officer until January 2010 of this 40 million member nonprofit, one of the largest and most significant in the world.
AARP's Board stated that Novelli's expertise and ability to lead were critical to retain as the all-important 2009 legislative session and new administration begins.
"Bill's steady hand has guided AARP through challenging and exciting times over the years, but the 2009 legislative session could be like nothing we've ever seen before," said Jennie Chin Hansen, AARP President. "An aging Baby Boom generation and our current health care and economic security crises present a new administration and congress with daunting challenges and will result in opportunities to solve these problems. We will need Bill's experienced leadership more than ever and we're appreciative that Bill has agreed to continue to lead."
Novelli led the organization through several critical campaigns including in 2003 to pass the Medicare Drug Bill, in 2005 to prevent the privatization of Social Security, and in 2007 to both create AARP's Global Network and launch Divided We Fail, a social movement founded by AARP, Business Roundtable, National Federation of Independent Business and the Service Employees International Union.
"When you have nearly 40 million members and they're standing with you, the impossible seems possible," said Novelli. "Together we've been able to achieve great things from groundbreaking legislation to AARP branded products and services that enhance the lives of people over 50, particularly in the areas of health and financial security. I couldn't be more proud of the great work AARP has achieved over the years and I look forward to the opportunities that exist for us and our nation."

Prior to joining AARP, Mr. Novelli was President of the Campaign for Tobacco-Free Kids, whose mandate is to change public policies and the social environment, limit tobacco companies' marketing and sales practices to children and serve as a counterforce to the tobacco industry and its special interests.

He had also been Executive Vice President of CARE, the world's largest private relief and development organization ($450 million budget, 11,000 employees, 40 developing countries plus fundraising and advocacy in the U.S.). He was responsible for all operations in the U.S. and abroad. CARE helps impoverished people in Africa, Asia and Latin America through programs in health, agriculture, environmental protection and small business support. CARE also provides emergency relief to people in need.
Earlier, Mr. Novelli, with one of his Penn classmates, co-founded and was President of Porter Novelli, now one of the world's largest public relations agencies and part of the Omnicom Group, an international marketing communications corporation. He directed numerous corporate accounts as well as the management and development of the firm. Porter Novelli was founded to apply marketing to social and health issues, and grew into an international marketing/public relations agency with corporate, not-for-profit and government clients.
He retired from the firm in 1990 to pursue a second career in public service. In 1999, he was named one of the 100 most influential public relations professionals of the 20th century by the industry's leading publication.
Mr. Novelli is a recognized leader in the international emergence of social marketing, and managed programs in cancer control, diet and nutrition, cardiovascular health, reproductive health, infant survival, pay increases for educators, charitable giving and other programs in the U.S. and the developing world.

He began his career at Unilever, a worldwide packaged goods marketing company, moved to a major ad agency, then served as Director of Advertising and Creative Services for the Peace Corps. In this role, Mr. Novelli helped direct recruitment efforts for the Peace Corps, VISTA, and social involvement programs for older Americans.
He holds a B.A. from the University of Pennsylvania and an M.A. from Penn's Annenberg School for Communication, and pursued doctoral studies at New York University. He taught marketing management for 10 years in the University of Maryland's M.B.A. program and also taught health communications there. He has lectured at many other institutions. He has written numerous articles and chapters on marketing management, marketing communications, and social marketing in journals, periodicals and text books.
Mr. Novelli serves on a number of boards and advisory committees. He and his wife, Fran, reside in Bethesda, Maryland. They have three adult children and three grandchildren.
AARP is a nonprofit, nonpartisan membership organization for people 50 and over. It provides information and resources; advocates on legislative, consumer, and legal issues; assists members to serve their communities; and offers a wide range of unique benefits, special products, and services for its members. These benefits include AARP Webplace at www.aarp.org, Modern Maturity and My Generation magazines, and the monthly AARP Bulletin. Active in every U.S. state and territory, AARP celebrates the attitude that age is just a number, and life is what you make it.
/////////////////////////////////////////////////////////////////////////////////////////////////////////////////////////////////////////////////////
Click here to learn more about the dinner - or to register now for best seating.
/////////////////////////////////////////////////////////////////////////////////////////////////////////////////////////////////////////////////////
Eddie Snyder, CPA, President, Snyder Cohn, Bethesda, MD
First, let's get this straight, after doing a Google search, this is not the Eddie Snyder who composed such great hits as "Strangers in the Night" and "Spanish Eyes," featured in many movies, including Scooby Doo-2, Mona Lisa Smile, Fear and Loathing in Las Vegas. Nor is it the Eddie who's known as the "the Dale Earnhardt of Alligator Wrestlers" at a tourist attraction near Florida's Everglades.
Instead, perhaps one of the films featuring "Strangers in the Night" is more apt to our own special Eddie Snyder - The Color of Money. For in his professional life, few if any people know more about accounting, finance and savvy business advice based on years of experience and having "the feel of the deal" than our own Eddie: Edward L. Snyder, CPA, President of the 81-year old Snyder Cohn, who is truly one of a kind. His advice is often music to client's ears, even when, and sometimes especially when, they feel as if they're wrestling with alligators. And, thanks to Eddie's leadership of his firm, family and community, there are no "strangers" in his presence.
This is the bio of OUR Eddie, aka Edward L. Snyder, CPA,
Eddie Snyder has been part of the Snyder Cohn team of CPAs and business advisors since 1970 and has served as President since 1994. He provides entrepreneurs and their businesses with accounting and tax advisory services and consulting on strategic planning, financing, budgeting and improving management operations, systems and procedures. He works with service, retail, wholesale, distribution and manufacturing businesses and a broad range of technology and real estate enterprises.
As President of the firm, Eddie provides direction and leadership for one of the largest and longest standing local CPA firms in the Washington, D.C. area (since its founding by his father, David E. Snyder, in 1927). Like his father, Eddie leads the firm with a focus on providing the highest quality service in a professional, yet decidedly warm, caring atmosphere. As the firm base of expertise has grown over the years, it continues to operate according to these same cherished values.
Eddie is a frequent speaker and panelist on a variety of topics such as Mergers & Acquisitions, Obtaining Bank Financing, and Managing Successful Performance. Prior to joining Snyder Cohn, Eddie taught business subjects at Cardozo High School in Washington DC, 1968-1970.
Eddie earned his Bachelor of Science in Economics degree with a major in accounting from the Wharton School, University of Pennsylvania and pursued post graduate studies at The George Washington University. Eddie is a certified public accountant and member of the American Institute of Certified Public Accountants, Maryland Society of CPA's, and past President of the Association of Practicing CPA's.
As an involved member of the community he has sat on numerous boards including BKR International, The Entrepreneurship Institute, and client advisory boards. Additionally, Eddie is an active member of the Wharton Leads Council. Eddie's volunteer activities include various roles with the Berman Hebrew Academy, Jewish Federation of Greater Washington, Leadership Montgomery, Kemp Mill Synagogue, State of Israel Bonds, Jewish Community Center, Zionist Organization of America, Boy Scouts of America, Washington Aliyah Committee and Bikur Cholim. He is also a founding board member of Capital Camps.
A recipient of many awards during his career, including the Elijah Watts Sells Award Winner for high score nationally on the CPA exam, and the Berman Hebrew Academy Community Service Award, his most recent recognition was as Smart CEO Top 50 CPA's in 2007.
Eddie is married to Ann Wimpfheimer, and proud father of daughter Davida Snyder and son Ami Snyder and also enjoys tennis, softball and hiking. Songwriting and alligators he leaves to the other two Eddie Snyders.
//////////////////////////////////////////////////////////////////////////////////////////////////////////////////////////////////////.
Click here to learn more about the dinner
- or to register now for best seating.