New Embassy, Ancient Land
Wharton Club members and guests found our latest Embassy hosts
to be gracious and stimulating, as we learned about their fascinating nation
Which country, represented in Washington, D.C. by an embassy that opened in the 21st century, is the site where humankind may have begun and where three monotheistic religions early on put down roots?

On December 19, 2008, members and guests of the Wharton Club of DC were warmly welcomed by the staff of the Embassy of Ethiopia as they entered the contemporary building in the embassy area near around Van Ness street just east of Connecticut Avenue, N.W.. With the arrival of the President of the Wharton Club, Mr. Alan Schlaifer, guests took their seats. Mr. Schlaifer offered the traditional Amharic greeting of "Selam" and stated that it was a privilege for the Wharton Club to be hosted by the Embassy of Ethiopia.
The Head of Public Relations and Public Diplomacy at the embassy, Mr. Wondimu Asamnew, expressed thanks for the kind words and apologized for the absence of the Ambassador Extraordinary and Plenipotentiary of the Embassy of Ethiopia, Dr. Samuel Assefa, who had planned to attend but was called away at the last minute.

Mr. Asamnew proceeded with a state-of-the-art video presentation depicting the history and culture of Ethiopia. He remarked that one of his country's most esteemed inhabitants was currently touring the United States. Lucy, a 3 million-year-old
Australopith, was residing in Seattle after a stay in Houston. Mr. Asamnew emphasized that Ethiopia was also home to one of the world's oldest civilizations, with a profound connection to ancient Egypt.

Monotheism came early to this land, reputedly in the form of Israelites who accompanied Menelik, the son of King Solomon and the Queen of Sheba, on a return trip from Israel. According to Mr. Asamnew and Ethiopian tradition, the Ark of the Covenant was brought at that time from Jerusalem to Axum in northern Ethiopia, where it resides to this day. Soon after the advent of Christianity in Judea, that faith also migrated to Ethiopia. Centuries later Islam took hold there, with the establishment of one of the first communinities of Muslims outside the Arabian Peninsula.

Mr. Asamnew closed by describing one more facet of his country's uniqueness: Ethiopia was the only land in Africa never to have been colo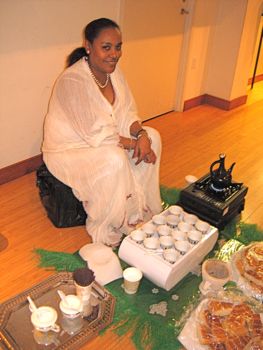 lonized.
Economic Progress, Questions

The focus of the evening shifted towards business and commerce as staff from the Finance and Business (Trade, Investment & Tourism) Affairs Section of the embassy took the podium. The rapt audience was informed that not only did
Ethiopia have one of the largest populations in Africa, over 82 million, it also recently achieved the highest annual GDP growth rate on that continent, more than 11%. The export of superb coffee (after all, Ethiopia is where coffee
originated, and a documentary, Black Gold, focuses on the signature product) and equally fine cotton account for significant exports. Other important industries include leather and metals processing.

During the ensuing Q&A session, members of the audience raised a number of interesting points. Wasn't Ethiopia colonized by the Italians before and during World War II? Not so according to Mr. Asamnew. The situation was more like that of France from 1940-1945. Ethiopia was an occupied, not a colonized, nation.

How were relations with neighboring countries? Mr. Asamnew stated that Ethiopia was located in a rough neighborhood, with Sudan to the north and west, Eritrea also to the north, and Somalia to the south and east. Dealings with these countries were sometimes tense if not outright hostile.

Was Addis Ababa ready for tourism? A resounding yes was Mr. Asamnew's response. Hotel accommodations can be found in the deluxe range. Tours to explore Ethiopia's incredible history and natural beauty could be arranged.

The question that generated the most comment was how Ethiopia, whose population was divided mainly between large numbers of Christians and Muslims (approximately 61% and 33%, respectively), had avoided the religious conflicts
that seemed to plague other African countries, most notably Nigeria, with similar demographics.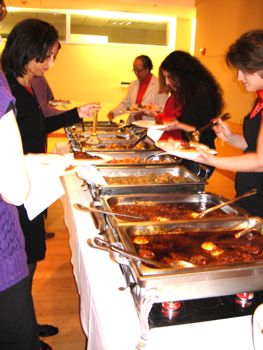 In the view of Mr. Asamnew, the reasons could be found in the special circumstances of Ethiopia's history, politics, and geography. Both Christianity and Islam were part of Ethiopia's fabric for so long that thet were practically native religions, not recent introductions by outsiders. Politically, therefore, Christians and Muslims were local communities who quietly ran their own affairs. The flag of national faith was not waved. Finally, Ethiopia was often busy dealing with external threats. It just did not have the time or energy to engage in internecine warfare.

Nevertheless, Mr. Asamnew qualified all these responses by saying that in truth he did not fully understand why Ethiopia had been so fortunate in avoiding Christian-Muslim clashes. He humorously suggested that it would be a worthy topic for a doctoral dissertation.

Authentic Taste of Delicious Ethiopian Cuisine
During the presentations and Q&A session, the guests could not help but notice the large number of pots simmering in the background. Now it was time to investigate. However, as Mr. Asamnew informed everyone, in Ethiopia women were
held in great reverence. Therefore, they would proceed to the buffet first. Only after the women had made their choices would the men be allowed to approach.

The wait was difficult but worthwhile. The selections included dishes of lamb, beef, chicken, eggs, rice, a large variety of vegetables, and of course the national bread, injera. Those who wanted to eat in the Ethiopian manner could use the injera instead of a fork, scooping up the food with it (See photo above at right). And to top it off, fragrant coffee brewed ceremonially (see photo, above on left). Truly a feast for the senses! (To see more photos, please go to the Photo Album at whartondc.com)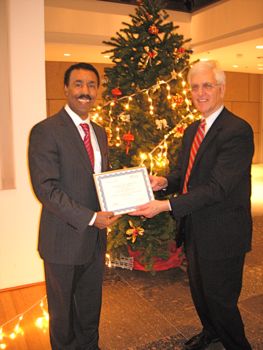 As the evening came to a close, President Schlaifer once again addressed Wharton Club members and embassy staff. "Ameseginalehu," he concluded in Amharic, thank you, succinctly expressing everyone's sentiment. (Photo at right: presentation of certificate of appreciation to Mr. Asamnew (L) by Alan Schlaifer (R)

Text Copyright 2009, Harvey Kipper. All Rights Reserved.
(Photos Copyright 2009 Alan Schlaifer/Wharton Club of DC. All Rights Reserved.)

About the Author

A graduate of the University of Pennsylvania, Harvey Kipper is a member of the Wharton Club of DC, the University of Pennsylvania Alumni Club of Washington, DC, and American Mensa, Ltd. Harvey's interests include archaeology, foreign
affairs, languages, and travel. His personal e-mail address is balomix@yahoo.com, and his home phone number is (703) 920-4097.