Business of Government Roundtable Session on Virtual Proposals Generates Lively Discussion
Members and guests present had opportunity to hear from outstanding speakers,
Olessia Smotrova-Taylor and Ben Rowland, and
interact and network with one another, and enjoy nice (non-virtual) dinner
Participant quotes: "The two presenters were very impressive and personable and clearly, an hour was not enough to cover all the knowledge they wanted."
On May 18th at LMI in Tysons Corner, Olessia Smotrova-Taylor and Ben Rowland conducted a presentation on virtual proposal for Business of Government roundtable participants. It was a highly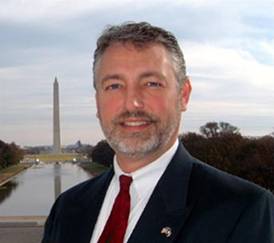 interactive session and the group found the speakers to be engaging and knowledgeable.
Highlights of the their comments included discussion of:
Eight current trends in government proposals, including shorter duration for submitting responses and increasing protests. This in turn generated discussion among the group on critical business capture points which occur prior to the RFP release.
Advantages and disadvantages of developing proposals virtually. This generated substantial interaction on human capital management for virtual proposals, such as: understanding which team members can work well remotely,

technological tools which provide visibility into individual worker productivity, and the role of

"proposal pizzas" for worker productivity. :) Also generated comments on winning differentiators.

Some of the underlying technologies that enable virtual proposals. Of these, Ben Rowland called attention to Central Desktop, and Pigdin for IMing and Olessia to Wacom tablets.
The speakes are making available the following resources to the Wharton DC Club membership: