WHARTON CLUB MEMBERS ENJOY STIMULATING EVENING AT EMBASSY OF INDIA
In "A Great and Growing Power," Harvey Kipper reports
on a stimulating evening for Wharton and Harvard Business School Club
members and guests on Embassy Row
A Great and Growing Power

by Harvey Kipper
Special to the Wharton Club of Washington, DC


On November 15, 2010, members of the Wharton and Harvard Business School Clubs of D.C., and their guests arrived at the Embassy of India in the heart of Embassy Row on Massachusetts Avenue. There they were greeted by th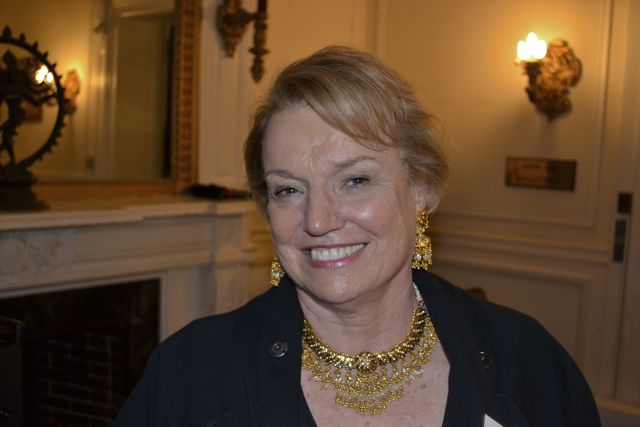 e gracious staff and ushered into one of the Embassy's beautifully appointed rooms for a reception.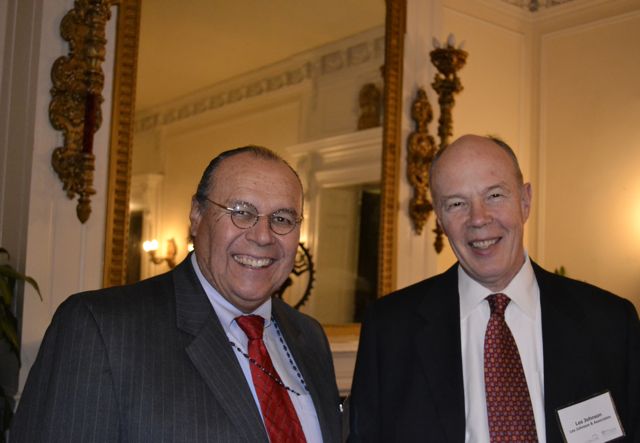 While sipping cold drinks, members and guests had an opportunity to talk to each other and representatives of India. Mr. Virander K. Paul, Minister (Press, Information & Culture) of the Embassy of India stated that he is "personally very optimistic about the future of India-U.S. relations because we have all the right ingredients." These include a strong commitment by both countries to democratic and secular values.

After half an hour of socializing, everyone took their seats in the spacious central hall of the Embassy. Minister Paul (at right) opened the formal proceedings by introducing the President of the Wharton Club of DC, Mr. Alan Schlaifer.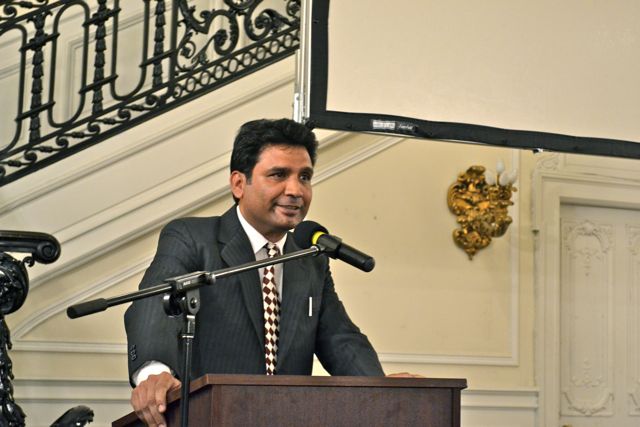 Mr. Schlaifer welcomed the Wharton and Harvard Business School Club members and guests. He emphasized the importance of the Indian-American community in particular and of India in general to the Wharton School and its DC Club.

President Schlaifer stated that it was an Indian-American Wharton alumnus, Mr. Pradeep Wahi, who had suggested the idea of Lifetime Membership in the Wharton Club of DC, and then became the Club's first Lifetime Member, our highest status. Two other Indian-Americans, one of whom (Shaykher Sharma, WEMBA'09) was in the audience, have since joined him in that prestigious category.

Mr. Schlaifer briefly discussed the new book, The India Way: How India's Top Business Leaders are Revolutionizing Management, by four top Wharton professors, published coincidentally by the Harvard Business Press; there would be a drawing for a free copy later in the evening.

He noted that Wharton's "Knowledge@Wharton" online news and analysis site, with over 1.5 million subscribers worldwide, has an Indian edition. Finally, he recalled that the Wharton Global Forum had taken place in Mumbai in January 2006.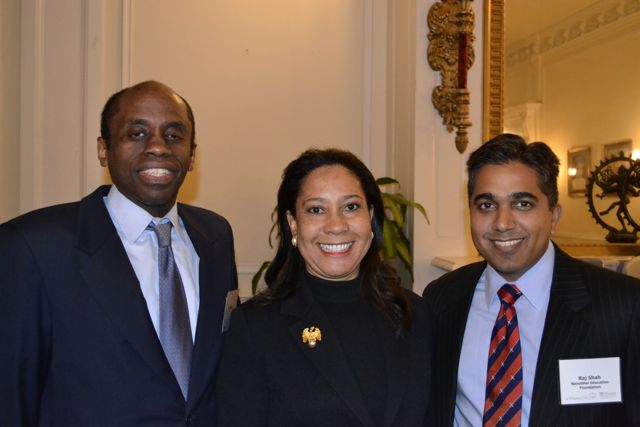 Fascinating Films

Following Mr. Schlaifer's remarks, attendees viewed two fascinating films. The first, Spirit of India, splashed iconic images of India across the screen. Incredible fauna, including lions, tigers, and elephants, made an appearance. Beautiful flora, intricately carved temples, and the diverse people of India had cameo roles as well.

The second film, India Unlimited, explored the diverse regions, cities, and villages of this vast subcontinent: Bangalore, Chennai, Deepdi, Gurgaon, Kerala, Kolkata, Mombai, New Delhi, Punjab, and Rajasthan. These diverse places have one facet in common - all are engaged in entrepreneurial activity. Whether it is software development in Bangalore or the creation of spas offering traditional Indian medical treatment (ayus veda) in Kerala, they exemplify India's unfettered economic spirit. The GE Institute and W. Edwards Deming's philosophy (e.g., better design, service, continuous improvement, so that a focus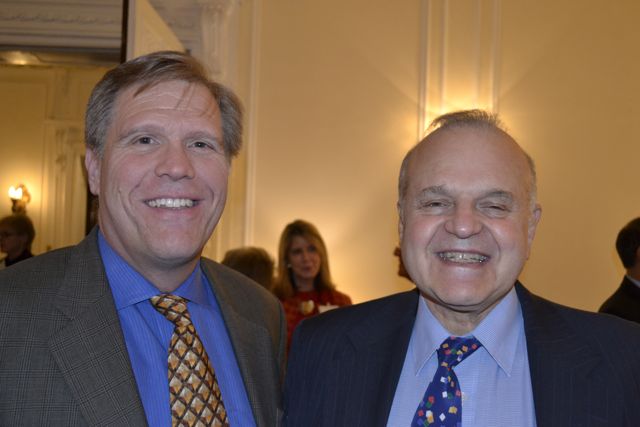 on increased product quality will yield lower costs) both play important roles in today's India.

Bio of Deputy Chief of Mission, Ambassador Arun K. Singh

When India Unlimited ended, Mr. Paul introduced the Embassy of India's Deputy Chief of Mission, Ambassador Singh. Minister Paul informed the audience that the Ambassador had earned his Master's Degree in Economics from Delhi University and taught there for two years before joining the Indian Foreign Service. Ambassador Singh served abroad at the Embassy of India in Moscow during the 1980's.

Afterwards he was assigned to the Indian Missions in Addis Ababa and Tokyo as Second and First Secretaries, respectively. At the headquarters of the Ministry of External Affairs, Government of India, Ambassador Singh headed the Offices of the Foreign Secretary and the External Affairs Minister of India until 1993.

From 1993-1997 the Ambassador served as Counselor at the Permanent Mission of India to the United Nations Office in New York. There he handled multilateral social and economic negotiations. He returned to Moscow from 1997-2000 as Counselor at the Indian Mission.

Ambassador Singh served as Joint Secretary in Delhi from 2000-2005, first dealing with U.N. policy and then with the Pakistan, Afghanistan, and Iran Divisions at the Ministry of External Affairs. Prior to assuming his new assignment as Deputy Chief of Mission at the Embassy of India in Washington, D.C., on October 9, 2008, Ambassador Singh served as Ambassador of India to Israe
l from April 2005 to September 2008.

Ambassador's Stimulating Presentation

Ambassador Singh informed that the Ambassador of India to the United States, Her Excellency Ms. Meera Shankar, was unable to attend the event in view of her travel to India in connection with the visit of President Barack Obama.

An eloquent speaker, Ambassador Singh briefed the members about the remarkable outcomes of the first visit of President Obama to India. Ambassador Singh also informed us about India's impressive economic growth, citing examples such as India's middle class of over 300 million, an astounding 500 million mobile phone users with 15 million getting added every month. On the bilateral side, besides the excellent relations between India and the United States in political terms, Ambassador Singh explained how the growing opportunities in India for cooperation in trade and investments is a win-win situation for both Indian and the US sides. He described India-US trade both in goods and services fairly balanced and that India has emerged as the second fastest growing investor in the US.

The increasing US exports to India have already created tens of thousands of jobs in the US. Commercial deals worth US$ 10 billion concluded during President Obama's visit alone will add over 50,000 jobs in the US. The Indian-American community has successfully served as a bridge between India and the US.


There are 50,000 Indian-origin doctors in the US. Over 100,000 Indian students are studying in American universities, pumping $3 billion annually into the U.S. economy.

Ambassador Singh surprised the audience by adding that 40% of all hotel rooms in the US are owned by Indian-origin hoteliers. This figure increases to 60% if only middle to lower-price range hotels/motels are taken into account. (Note: Wharton Club members may be aware that the Patel name is famous in the U.S. lodging industry. Several Patels are officers of the Asian-American Hotel Owners Associations (AAHOA), whose members own 20,000 hotels worth an estimated $128 billion and employ 578,600 full- and part-time workers, according to the AAHOA).

In the discussion that followed his initial briefing, Ambassador Singh touched upon a wide variety of vital issues. These ranged from India's population, healthcare system, increasing inflow of medical tourists visiting India for inexpensive and quality healthcare, and secular credentials to India's foreign policy and the situation in India's "neighborhood."

From Discussion to Delicious Dinner
As the Q&A session formally came to an end, Ambassador Singh indicated that he would gladly entertain further queries during dinner, to which the guests were warmly invited.

President Schlaifer took this opportunity to thank Ambassador Singh and the staff of the Embassy of India for their kindness, hospitality, and generosity. The audience made known its agreement and pleasure with a hearty round of applause.

Mr. Schlaifer presented the Ambassador with a copy of The India Way as a token of the Wharton Club of DC's appreciation. He then thanked Ms. Andrea Essex for her assistance in arranging such an outstanding event, and stated that Mr. Harvey Kipper would report on the proceedings. All then retired to the adjoining room where an incredible buffet awaited them.

Amid bites of basmati rice, spicy chickpeas, curried cauliflower, delightful potato fluffs, succulent chicken, delectable spinach and lamb, freshly baked naan (flat bread), yoghurt, intensely flavored chutney, and a superb carrot-based
dessert, guests could be heard to exclaim that
this was the best Indian food they had ever tasted.

As a perfect evening drew to a close, President Schlaifer addressed two remaining items of business. A drawing was held for The India Way, and one lucky guest received a copy. President Schlaifer told the audience how much he enjoyed the Bollywood screenplay, Bride and Prejudice, a romantic musical adaptation of Jane Austen's Pride and Prejudice.

The tie to Wharton? The starring actress, Aishwarya Rai, had represented India in the 1994 Miss Universe pageant. And of course Donald Trump, a Wharton alumnus, co-owns the Miss Universe Organization.

Conclusion

Just yards away from the Embassy of India is the statue of a man. He is striding purposefully and confidently. His name is inscribed on the base of the statue: Mahatma Gandhi.

For many, Mahatma Gandhi is the embodiment of decency and morality. His vision of India has withstood the vicissitudes of time.

India is the world's largest democratic and secular state. It is one of only a relatively small number of such countries.

At a time when terrorism and religious fanaticism have struck hard, India has taken the moral high ground. It has refused to retaliate. Such self-restraint on the part of a powerful nation is rare. It is a sign of true greatness.

Now India is on the move economically. Its middle class exceeds the population of most countries. As some of India's wealth is applied towards military expenditures, its power will grow. Given India's devotion to democracy, secularism, tolerance, and diversity, this is a positive trend in the twenty-first century.
Text Copyright 2010, Harvey Kipper. All Rights Reserved.


About the Author, Harvey Kipper (in photo at right)
A graduate of the University of Pennsylvania, Harvey Kipper is a member of the Wharton Club of DC, the University of Pennsylvania Alumni Club of Washington, DC, and American Mensa, Ltd. Harvey's interests include archaeology, foreign
affairs, languages, and travel. His personal e-mail address is balomix@yahoo.com, and his home phone number is (703) 920-4097.

About the Photographer
A Whart
on and Harvard Law School alum, Alan Schlaifer (pictured at left) is President of the Wharton Club of DC, an attorney in general and business law practice, and National Correspondent for Resort Trades. He enjoys taking photographs that capture and enhance memories of enjoyable Wharton Club events, such as the Reception and Briefing at the Embassy of India.