DELIGHTFUL EVENING AT GEORGIA'S EMBASSY RESIDENCE: LEGACY OF ACHIEVEMENT, FUTURE OF GREAT PROMISE
Members and Guests of DC Wharton, Harvard B-School & Natl Economist Clubs
glimpse beauty of Georgia and its people while visiting
Georgia's Embassy Residence and meeting with Embassy personnel
A Legacy of Achievement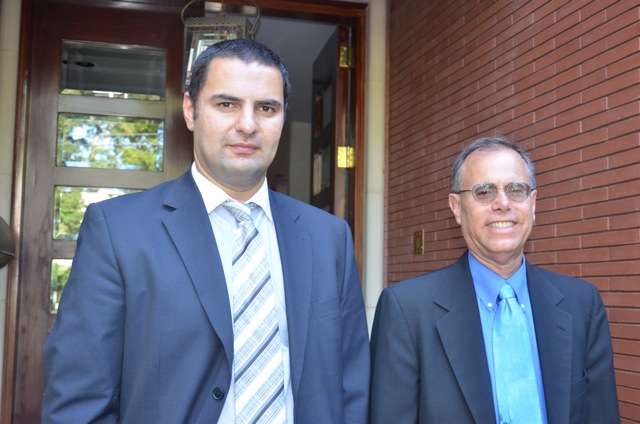 by Harvey Kipper
Located in a cul-de-sac in the elegant Forest Hills neighborhood of DC are a number of stately homes. Though imposing, they are well-integrated into their wooded surroundings, creating an almost rural outpost in an urban environment.
Outside one of the residences, a stag with impressive antlers grazed on the leaves of a bush, seemingly unperturbed by the steady stream of visitors arriving at a house across the street. That beautiful home, with a white flag, emblazoned with red crosses, fluttering high above, was the Residence of the Embassy of Georgia.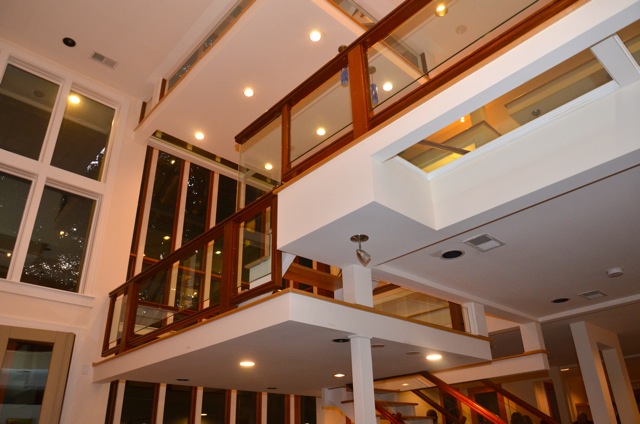 Welcome to the Residence
At the door, ready to assist, was Counselor Nikoloz Revazishvili (at left, in above photo). Smiling broadly, he escorted guests inside.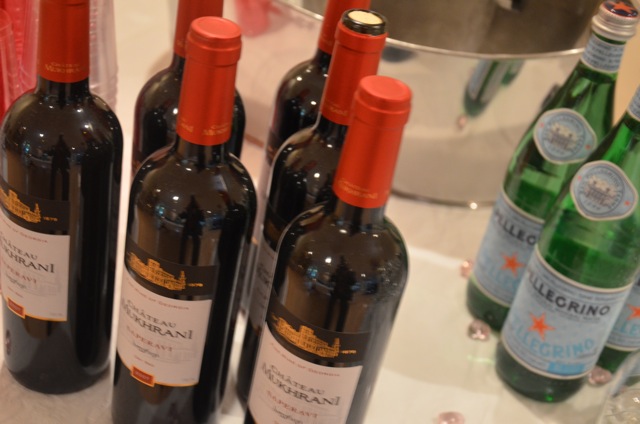 A few steps away, Mr. Miro Popkhadze, a Georgian student at Suffolk University in Boston, visiting his country's official Residence, provided fascinating historical details. He stated that Georgia traced its roots back 4,000 years to ancient kingdoms including Kolkha (Colchis) in the west. Wine-making began in Georgia, he said. Visitors from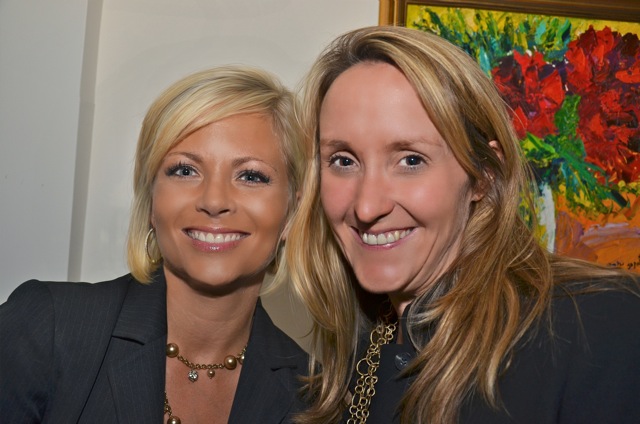 ancient Greece encountered Georgia's prolific grapes and wine, and spread the news.
Proceeding down three flights of modern wooden stairs, on e realized that the house was an architectural gem. Designed by world-acclaimed architect Travis L. Price and incorporating Scandinavian elements of lightness, airiness, and openness to the natural world beyond, it inspired and enticed those within. They might even be tempted to venture outside, to the patio.
With spirits already soaring, guests and Embassy personnel engaged in animated conversation. Soon visitors were encouraged to sample Georgian wine. Unsurprising for a land purported to be the source of the world's first cultivated
grapevines and wine production, the wines, both red and white, were delicious.
Outstanding Georgian Cuisine
The importance of wine to Georgian culture was obvious. Now the significance of its delicious cuisine was on display, as numerous dishes were brought from the kitchen for guests to sample. Eggplants with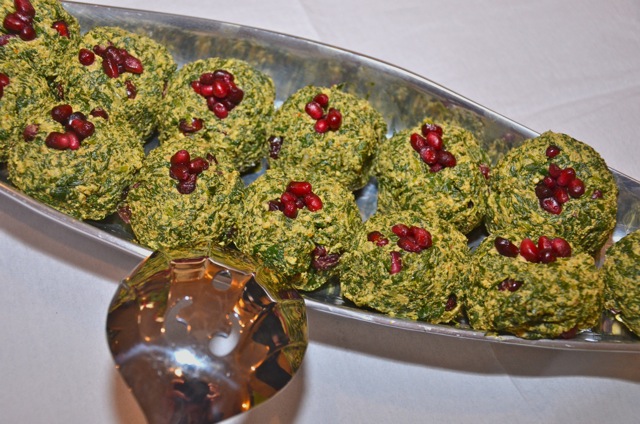 ground walnuts, garlic, and herb filling (badijani mtsvanilit)(photo at right); sautéed mushrooms (soko); gravlax in pastry; various salads; chicken in walnut sauce (satsivi); chopped spinach and walnut balls with pomegranate seeds (pkhali)(photo at left) and grilled meat (kababi) were just some of the superb offerings.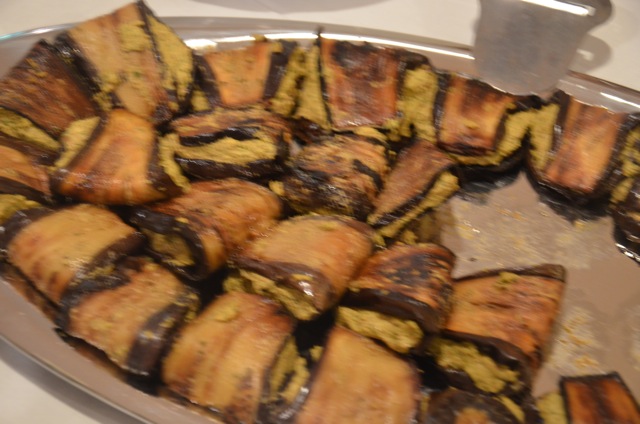 Call to Order
After partaking of the sumptuous buffet, guests were summoned by Mr. Alan Schlaifer, Esq., President of the DC Wharton Club, for formal introductions. President Schlaifer greeted the assembled guests and thanked them for their attendance. He expressed gratitude to the Ambassador of Georgia to the United States, His Excellency Mr. Temuri Yakobashvili and to his staff for their invitation, generosity, and hospitality, as well to those from Serbia who were working hard to make the evening a success. "Mahd-lobt, and hvala" he thanked our hosts and their assistant, in Georgian and Serbian, respectively.
President Schlaifer briefly described highlights of the Club's active week. He mentioned that he and DC Wharton Club members had attended a luncheon at the National Press Club earlier that day. At the event, Arianna Huffington, Founder of the Huffington Post; Tim Armstrong, AOL's CEO; and Walter Isaacson, former Time magazine Managing Editor, author, and CEO of the Aspen Institute, each commented about their vision of the future of journalism an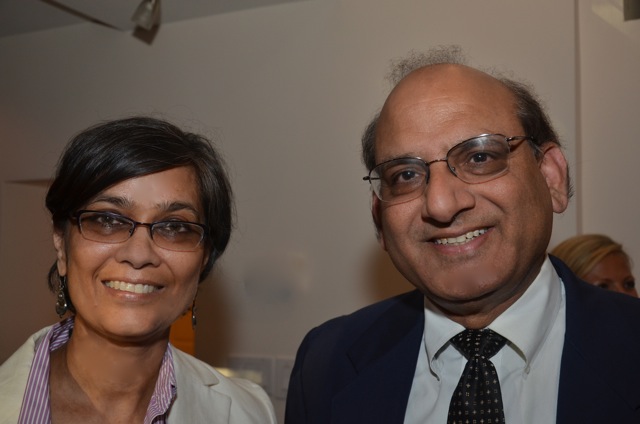 d news.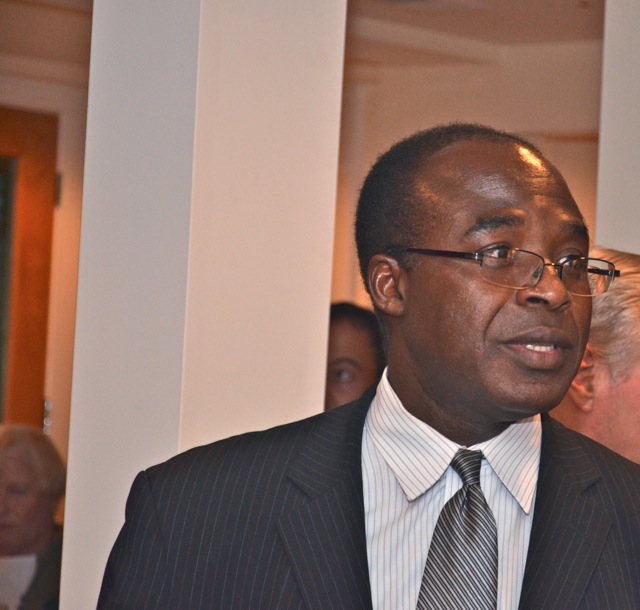 The quip of the day was Ms. Huffington's. After noting that Mr. Isaacson, who has written biographies of Ben Franklin and Albert Einstein, is now writing one about AOL Founder and Chairman Steve Jobs, she said, "Walter may be the only one in DC who's really focused on 'Jobs.'"
The President then introduced Dr. Benjamin Arthur, Jr. (at left), the Vice President for International Affairs of the Wharton Club.
Dr. Arthur's Introduction of H.E. Ambassador Temuri Yakobashvili
Dr. Arthur informed everyone of Ambassador Yakobashvili's impressive biography. He stated that Ambassador Yakobashvili is a long-time senior government official and a respected scholar who is a well-known figure in Washington and the capitals of Europe. Before assuming his posting in the United States in early February, Mr. Yakobashvili was Deputy Prime Minister and State Minister for Reintegration for the Government of Georgia. In that capacity, he was the architect of Georgia's "engagement strategy" for improving relations between Georgia and the regions of Abkhazia and South Ossetia, which are under Russian occupation.
He presented credentials to President Barack Obama on February 23, 2011.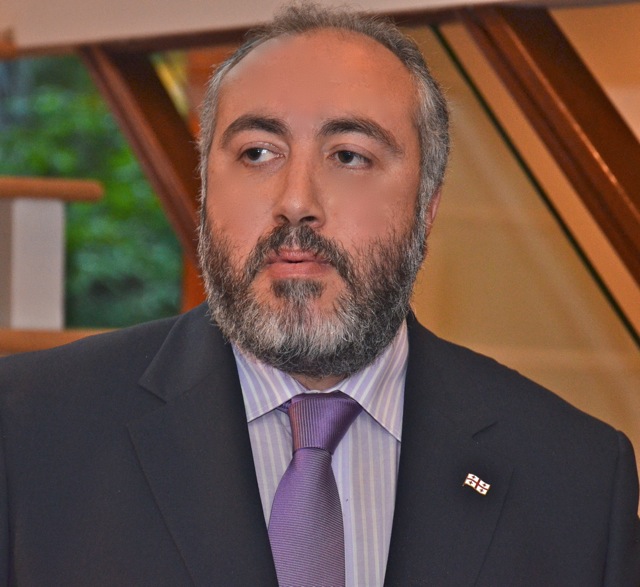 Ambassador Yakobashvili joined the Ministry of Foreign Affairs in 1991 and held a variety of senior positions, including that of Director of the Department for the USA, Canada and Latin America. He holds the diplomatic rank of Ambassador Extraordinary and Plenipotentiary.
Mr. Yakobashvili is co-founder and Executive Vice-President of the Georgian Foundation for Strategic and International Studies (GFSIS), a leading think tank in the Caucasus region (similar to our own, CSIS, the Center for Strategic & International Studies, on K Street in DC). He also co-founded the Atlantic Council of Georgia and the Council of Foreign Relations of Georgia, and he is a member of the Governing Board of the Georgian Institute of Public Affairs (GIPA). He regularly contributes to local and international media on issues of domestic and regional security and transformation.
In 1990, Mr. Yakobashvili graduated with a degree in Physics from Tbilisi State University. Following several years of employment with the Ministry of Foreign Affairs, the Ambassador completed Mid-Career Diplomatic Courses at the Center of Political and Diplomatic Studies at Oxford University in 1998. Also, he participated in both the Yale World Fellow's Program (2002) and the Executive Security Program at Harvard University's Kennedy School of Government (2004). In 2006, Mr. Yakobashvili was a visiting researcher at the Silk Road Study Center of Uppsala University in Sweden.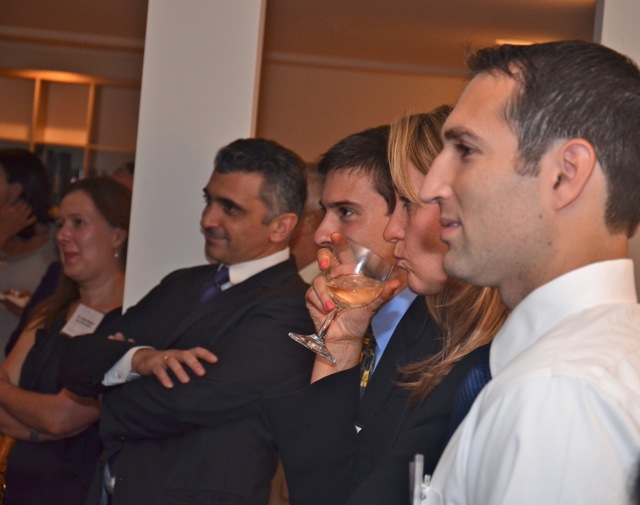 Remarks by His Excellency Ambassador Yakobashvili
Ambassador Yakobashvili stated tongue-in-cheek his reluctance to address such a capable audience. He might misspeak, and any faux pas would be readily discerned.
As the Ambassador continued, his strength of purpose, seriousness, broad range of capabilities, and candor were evident. He described the strategic partnership between Georgia and the U.S. as based on the shared values of freedom and democracy.
Georgia is a staunch ally of the U.S., he maintained. He gave as an example the disproportionate service of Georgian troops in Afghanistan's Helmand Province, where fighting is often intense.
The Ambassador was disturbed by the decline in popularity of the U.S. He cited President Obama's remarks about Israel returning to the 1967 borders as a condition for peace with the Palestinians. Polls taken in the Arab world immediately afterward showed the U.S. as even more unpopular than before the speech.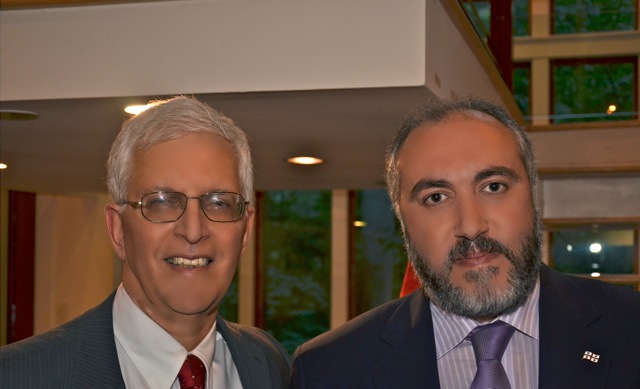 Surmounting Difficult Circumstances
Ambassador Yakobashvili emphasized that Georgia is resilient. In the last two decades, it outlasted the Soviet Union, becoming independent in 1991; experienced a revolution in 2003; weathered the worldwide meltdown in 2007; and endured a war with Russia in 2008.
Amazingly, not only has Georgia survived, it has prospered. According to the Ambassador, in 2010 Georgia achieved a very respectable GDP growth rate of 6.5%, fueled largely by foreign investment. Tourism has also boosted the economy. It is one of the fastest growing sectors in Georgia. (For more information, you can go to this website, http://www.gnta.ge/?lan=en ).
Reforms and Improvements
Under the current leadership, Ambassador Yakubashvili stated, Georgia has pursued a course of profound institutional reforms aimed at modernizing the economy and creating a more favorable business environment. A strategic objective has been the development of an effective, professional, honest, and transparent public service that will safeguard democratic principles. Total amounts of taxes on businesses have been reduced, as has the number of taxes. Corruption of tax officials has plummeted. In fact, anti-corruption measures have been instituted to reform all public sectors.
Ambassador Yakubashvili stressed the importance of education. Enhancement of human capital was required. He cited the dynamic growth of Georgian American University (GAU) and the emphasis upon teaching English to students.
Nevertheless, the Ambassador was convinced that education was necessary but not sufficient. A balance had to be struck between investment and the development of talent. One area of strength to which he pointed with pride is Georgia's large number of physicists, of which he is one.
On a Lighter Note
In closing, Ambassador Yakobashvili touched on less weighty issues. He spoke about Georgia's unusually large number of opera singers and dancers. Regarding the latter, he humorously implied that dancing was not his forté.
His Excellency also addressed Georgia's complex geographic setting, location astride the Silk Road, diverse climate, and the effect of these factors in the creation of a unique, spice-infused, Georgian cuisine. Given out ability to savor that last element, his remarks resonated with the audience.
Questions for His Excellency
Q: Why are English teachers from abroad treated like rock stars in Georgia?
A: Georgian students understand that mastering English will help them connect to the rest of the world. Indeed, we were privileged to have as one of the guests a man whose son is teaching English in Georgia and enjoying the experience.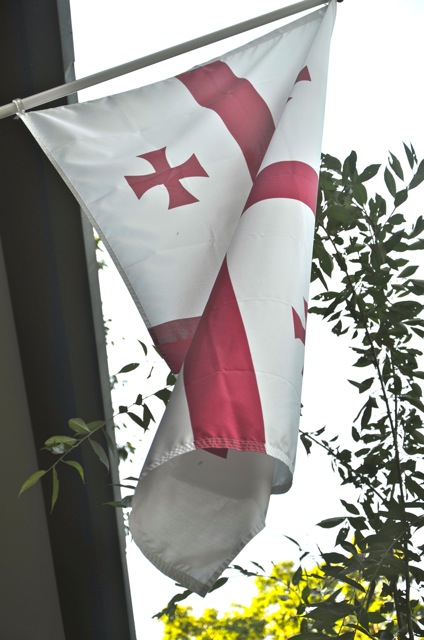 Q: How does Georgia do it? To what does it attribute its successful economy?
A: In a word, investment. (While Walter Isaacson may be focused on "Jobs," Georgia is targeting jobs. (To learn more about Georgia's economy and review the latest releases, you may go to http://www.portraitofgeorgia.com/quick-economy-facts/ .Also, you may find it worthwhile to check the following website, http://www.georgia.gov.ge/ , which includes links to news, press releases, investment road show - where you may download a fascinating 41-page PowerPoint PDF, and much more)
Q: What does the name Georgia mean? Was it used in ancient times?
A: The original name of the inhabitants of this land was Phasians, from phasis, pheasant in English.
Greek traders described those who lived there as land tillers, Georgi, as opposed to nomads. Land tillers, who dwelled in villages or towns and farmed, were considered by the Greeks to be of a higher order than nomads.
Q: Please discuss traveling from the U.S. to Georgia. Are there non-stop flights?
A: No. Travelers must first fly from U.S cities to European ones, and from there one can choose among many connecting flights to reach Georgia.
Q: Why does Georgia have so many opera singers?
A: It may have something to do with the practice of Christian chants.
Just Desserts after Q&A
With the completion of Q&A, Ambassador Yakubashvili graciously took the opportunity to introduce his wife, the journalist Ms. Yana Fremer; mem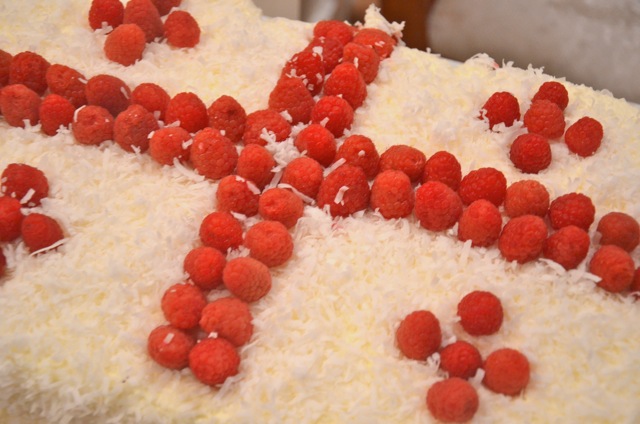 bers of the Embassy staff: Mr. Nikoloz Revzishvili, Counselor; Dr. Tamar Tchelidze, First Secretary; Ms. Irma Kavtaradze, First Secretary; Ms. Khatuna Okroshidze, Second Secretary; and Ms. Svetlana Saliashvili, Assistant to the Consul; and those from Serbia who had provided such exemplary service.
President Schlaifer expressed his appreciation for the fabulous evening to all. He quipped that the Ambassador had even arranged for perfect weather.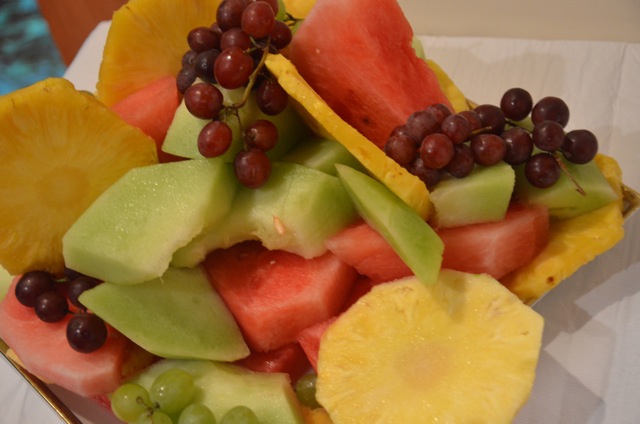 At this point, alert guests noticed large trays laden with desserts on a nearby table. An incredible coconut cake topped with raspberries to mirror the appearance of Georgia's flag; a delicious confection made of cornmeal and grape juice (pelamushi); and an array of fresh fruit beckoned.
Please Don't Let the Evening End
Though it was getting late, it was a Friday evening and parting was continually postponed with the weekend ahead for all. Dr. Tchelidze, a physician by training who recently joined the Embassy staff as First Secretary, enthusiastically described the possibilities for tourism in Georgia. Both ancient and modern attractions are there to be explored.
An example of the latter is the newly developed Mestia ski resort near Batumi, a city on the Black Sea. One may ski in snow-covered mountains, then zoom to subtropical beaches for more fun - all in about ten minutes.
Ms. Saliashvili, Assistant to the Consul, then provided a guided tour of the beautiful paintings hanging from the walls of the Residence. Scenes of native towns, landscapes, animals, and even of mythological creatures, all painted by Georgian artists, added immeasurably to the beauty of the home. An aside: During the tour, Ms. Saliashvili modestly confided that she had prepared the remarkable banquet; a truly capable and talented woman.
Guests were deeply moved by and appreciative of the generous spirit of all the Georgians at the Embassy Residence. As Georgians in their own land have excelled in many areas, so too did those present at the Embassy's Residence on June 15, 2011, show themselves to be primus inter pares, first among equals, in terms of hospitality and graciousness.
Indeed, many attendees rated the evening as the best, or at least one of the most enjoyable and stimulating, embassy events they had ever attended. Coming from a discerning and sophisticated audience, that was high praise, fully deserved.
Conclusion: A Future of Great Promise
Georgia has been a unique and special place, a source of innovation, since time immemorial. Homo erectus, possibly an ancestor of modern humans, may have settled there soon after leaving Africa, or might actually have originated in that area.
It is where grapes were first turned into wine and, perhaps, metals coaxed from ores. Christianity was adopted early on, and an alphabet was devised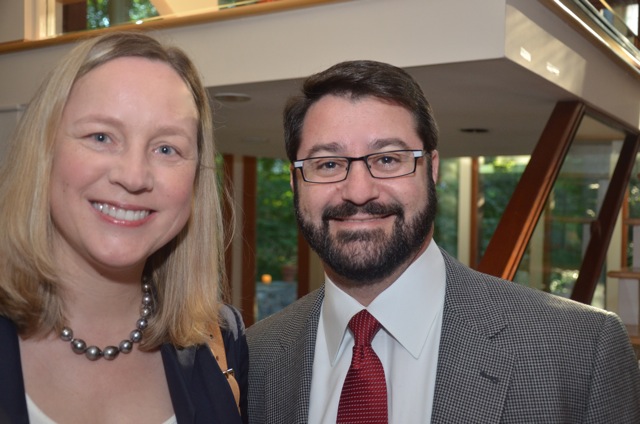 soon after. The Georgian alphabet is distinctive, and is one of only fourteen extant alphabets. The spoken language is an isolate, apparently unrelated to any other.
Today, Georgia has one of the fastest growing economies in Eastern Europe. The World Bank dubbed Georgia "the number one economic reformer in the world" because it has in one year improved from rank 112th to 37th in terms of ease of doing business.
For too long, Georgia was subsumed by entities much larger than itself. With independence it has come into its own. Now it is showing the world what a small, feisty, democratic country can achieve. More a phoenix than a pheasant, Georgia has, against all odds, risen again.
Text Copyright 2011, Harvey Kipper. All Rights Reserved.
About the Author, Harvey Kipper
A graduate of the University of Pennsylvania, Harvey Kipper (in middle at right, between two of our gracious hostesses from the Embassy) is a member of the Wharton Club of DC, the University of Pennsylvania Alumni Club of Washington, DC, and American Mensa, Ltd. Harvey's interests include archaeology, foreign affairs, languages, and travel. His personal e-mail address is balomix@yahoo.com, and his home phone number is (703) 920-4097.
Photos: By Alan Schlaifer; more photos may be seen at WhartonDC.com or Facebook.com/WhartonDC.