42ND ANNUAL WHARTON AWARD DINNER HONORS OUTSTANDING ALUMS
Honorees: Steven B. Alloy, W'87, C'87; Susan F. Wegner, Esq., C'88:
Ramesh K. Gupta, WG'89; Wonya Y. Lucas, WG'90
Back again, by popular demand, at Park Hyatt Washington
Special Early Bird Rates for Members Only to March 24
Day & Date: Thursday, May 17, 2012
Place: Park Hyatt Hotel, 24th & M Sts., NW (see map below)

Parking, Metro: Valet parking (additional); limited on-street after 6:30 pm. Metro: Foggy Bottom

Attire: Business Attire

Click here to reserve your place(s) (or make your donations)!!! (Earlier signups get better seating)

BONUS:

if you sign up for the

higher price tickets

online,

you can attend the Private Reception (and be listed in the program, if you'd like, in recognition of your added support)

Schedule:
• 6:00-6:30 pm: Private Reception for Honorees with Lifetime & President's Club Members, Table Purchasers, and Everyone in Sustainer, Benefactor, Supporter & Friend Categories
• 6:30-7:30 pm: Reception for All Attendees
• 7:30-8:30 pm: Welcome, followed by dinner with the outstanding cuisine of the popular Blue Duck Tavern, one of Washington's premiere fine dining landmarks, featuring the award-winning high Zagat-rated culinary creations of Executive Chef Sebastien Archambault and his outstanding team. Members of this great team have continued their award-winning ways, and we are the fortunate beneficiaries.
• 8:30-9:30 pm: Program:
--Brief reports:

• State of the Club and the School
• Presentation of Joseph Wharton Awards to Honorees (Click here to learn more about our outstanding Honorees):

Steven B. Alloy,W'87, C'87, President, Stanley Martin Homes
Susan F. Wegner, Esq., C'88, President, Penn's Mid-Atlantic Regional Advisory Board
Ramesh K. Gupta, WG'89, Vice President, LightSquared
Wonya Y. Lucas, WG'90, President & CEO, TV One

• Concluding Remarks
//////////////////////////////////
Register now for what is usually the most popular event in the Club's calendar each year. This year, the 42nd Annual Dinner, promises to be no exception, now that we have our exceptional "Final Four." Anywhere from 150 to 225 or more Club members and guests, including prominent Washingtonians and diplomats, typically attend for the reception and dinner. With this year's honorees, this year could be at the upper end of that range.

Click here to reserve your place(s) (or make your donations)!!! (Thank you!)
--If you have any questions not answered on this webpage or have any trouble registering online, please call our Club at 301-365-8999.

We are again at our favorite venue for this gala event, the Park Hyatt Washington. Besides honoring two outstanding alumni and giving members an opportunity to get together, the dinner generates funds for scholarships for talented Wharton students from the D.C. area.
/////////////////////////////////////////////////////////////////////////////////////////////////////////////////////////////////

Special guests: We are expecting as honored guests some of the Ambassadors and other diplomats who have hosted our Club in recent years joining us at our reception and dinner.

Tables: Rounds of 10.

Sponsorship opportunities:
Please call us directly if your company would like to consider becoming a sponsor with one or more tables. You will have a listing in the program and many other potential benefits, depending on the category you choose. Just call Alan Schlaifer, our Club's President, at 301-365-8999, to discuss the benefits and options.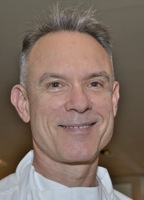 Renowned Executive Chef Sébastien Archimbault (at left; worked at several Michelin-starred restaurants (including 3*** Alain Ducasse in Paris) of the Popular AAA 4-Diamond Blue Duck Tavern at
the 4-Diamond Park Hyatt Washington, DC (acclaimed pastry chef Peter Brett is pictured at right)

The Blue Duck Tavern has received rave reviews and ratings, and underlining its theme: Simple Elegance. Modern American Style: Celebrating the Region's Best Purveyors.. These are a few "tastes" of what awaits you - just a sample of many positive reviews since the restaurant opened, and more recent ones have simply confirmed the earlier praise:
Every "outstandingly original" dish is "a winner" declare early fans of this "wonderful addition" set in the Park Hyatt hotel that showcases regional New American cuisine crafted by chef Brian McBride (ex Melrose[, the hotel's prior restaurant in the same space]); the "chic" Tony Chi-designed space boasts a "stunning" open kitchen with a cobalt-blue, state-of-the-art, wood-burning Molteni range...."

Zagat Survey's America's Top Restaurants 2011, 2010, 2009, 2008

100 Very Best Restaurants by Washingtonian Magazine 2011, 2010, 2009, 2008, 2007

50 Hottest Restaurants by DC Modern Luxury 2010, 2009

100 Very Best Restaurants by Washingtonian Magazine 2011, 2010, 2009, 2008, 2007

Named one of ten "Great Hotel Restaurants" in the world by Hotels Magazine, 2009

H&D Design 100 for Top Designs of the Decade by Home & Design Magazine, 2009

Voted Top Ten Best New Restaurant in United States by Gayot.com 100 Very Best Restaurants by Washingtonian Magazine - 2009

"The city always has had a few great restaurants...More important, the dining scene has acquired depth...with the arrival of Blue Duck Tavern... explore the "back to our rustic roots" concept to its fullest...a nifty feat given that their workspace is tucked inside a sleek, modern urban hotel...there's nothing kitschy or precious here. The flavors of the simply prepared dishes are pure, the roasted squash was simply perfect, and they create a timeless sensation...In an ideal dining world, every neighborhood would have a modest gem like this on the corner." - USA Today, December 14, 2006

"On the surface, the Blue Duck Tavern is an oasis of up-to-the-moment sophistication...at heart though, the newcomer is a tribute to local farmers and growers...the food is at once straightforward and elegant...the Blue Duck gives fresh meaning to the word tavern." - Tom Sietsema, The Washington Post, August 20, 2006
About Executive Chef Sébastien Archimbault:
Born in Texas, he returned with his French parents to their home in Le Bugue in southwest France. After work in his family's restaurant, he went to culinary school before working in Paris at award-winning Restaurant Les Bouquinistes, under the direction of Guy Savoy (whose namesake restaurant has 3 Michelin stars), and at Restaurant Alain Ducasse (also *** Michelin).



He then moved up at positions in a highly rated restaurants in diverse locations.
These included
Park Hyatt Paris-Vendome, at Restaurant la Cantine des Gourmets

Executive chef at Restaurant Champs-Elysees in Mexico,

Restaurant Le Pirate, Corsica (starred by Michelin while he was there), and

In California at the Andaz West Hollywood's RH Restaurant & L'Epicerie Market.

His focus in the last two locations was to work closely with local farmers and purveyors to create simple, expertly prepared seasonal "market to table" cuisine, fully in line with the mission of the Park Hyatt and its renowned Blue Duck Tavern, which adopted that focus under 25-year highly regarded former Executive Chef Brian McBride.
Menu (Vegetarian, Kosher and Non-Gluten options also available for those with dietary preferences) - The
se are the delicious courses we will savor this year:

• First Course (at right)
Salade Lucas:
Roasted Path Valley Burgundy & Gold Beets, Green Beans, Arugula,
Cave-Aged Tumbleweed Cheese, Spanish Almonds
& Rosemary Vinaigrette

• Entreé (at right)

Colorado Parsley & Basil Crusted Rack of Lamb Alloy,
Scalloped Potatoes, Turned Root Vegetables with
Honey & Thyme
• Vegetarian Entreé
Portobello Mushroom & Boursin Cheese Strudel Gupta,
Garlic Aioli, Sweet Dumpling Squash Purée
• Dessert (at right):
Chocolate Quartet Wegner:
Chocolate Mousse, Tart, Ice Cream, Flourless Fondant


• Beverages:
Freshly Brewed Santa Lucia Estate Coffee & Decaffeinated Coffee
Selection of MITEA Rare Teas

• Wines with Dinner:
Alamos Chardonnay Mendoza

Alamos Cabernet Sauvignon Mendoza

Special dietary requirements:
If you are joining us, please let us know at once by calling 301-365-8999 if you have special dietary requirements (vegetarian, Kosher, non-gluten, or otherwise); we'll do what we reasonably can to accommodate you. You should also note that on your online or mail-in registration form.

Directions: see the map below
If you have any questions, please call the Park Hyatt at 202-789-1234. Parking & Metro: See above


Questions: Please call us at 301-365-8999. The best way to reserve is online by clicking below through our secure website; you may then print out your receipt. You may also fax your reservation to the Club at 301-365-0486.

Tax deductibility: To the extent permitted by law (please check with your tax advisor):
--Business: Full amount may be deductible as a business expense; consult your tax advisor
--Individual: Full amount of Scholarship Fund contributions plus the amount in excess of $135 per person for the dinner as a charitable contribution (as the Club is a Section 501(c)(3) organization).
Click here to reserve your place(s) (or make your donations)!!!

For best seating, reserve early, whichever method you choose for reservations - online, mail, fax, or phone.
///////////////////////////////////////////////////////////////////////////////////
Click here to reserve your place(s) (or make your donations)!!!