INNOVATION SUMMIT: ABOUT THE CONFERENCE VENUE
A perfect venue for this highly insightful conference,
the right atmosphere to spur your networking and creative powers
The Wharton DC Club's first annual Innovation Summit will be held in the FHI 360 Conference Center. This premier meeting space occupies the spacious art-filled 8th and 9th floors of the Universal Building at 1825 Connecticut Ave., NW in the heart of the Dupont Circle neighborhood.

The Club used this facility about seven years ago for a successful conference. The Conference Center has recently undergone a major renovation, adding an adjacent theater with its own bar/lounge.
The rooms were brightened, the new furniture is entirely conducive to educational meetings, and all the electronics were upgraded. It is now a Certified LEED Green Space, IACC and is fully ADA compliant for accessibility by attendees and speakers. Also, there is much open space for pleasant and productive networking during meals and other breaks.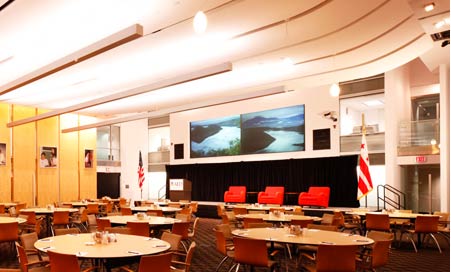 The versatile conference rooms, which consist of Academy Hall (at left) and 10 breakout rooms (pictured below), can accommodate groups from five to 325 people. Academy Hall is the general plenary auditorium (325 theater style; 240 at round tables). The breakout rooms are called Angle Rooms (A,B,C); Vista rooms (A,B,C); and Balcony Rooms (B,C,D,E) on the 9th floor. Each accommodates a flexible number of people from five to 75.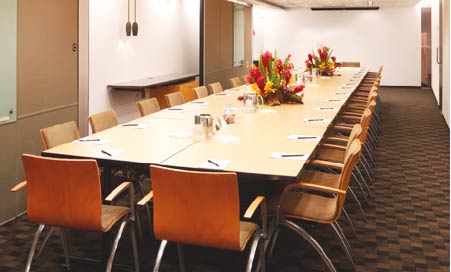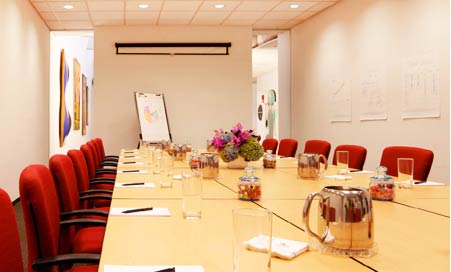 A Registration Desk is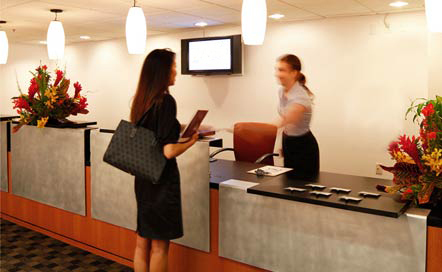 built-in for meet-and-greet and to speed up your check-in. The Foyer surrounding Academy Hall can be configured in any fashion to facilitate food and drink service. The new adjacent Globe Theater accommodates about 200, and each seat is equipped with a flip-up desk for note-taking. Its own bar/lounge looks very tempting for a possible post-event wrap-up reception.

Some More Amenities to Give You a Better Conference Experience
Complimentary WiFi access
Video teleconferencing facilities
Dedicated audio/visual support

Possible Seating Patterns
Theater, Classroom, Conference, U-Shape, Rounds, Hollow Square or Pods.

Location
The FHI 360 Conference Center is located four blocks from the Dupont Circle Metro Station on the Red Line. Take the Q Street exit out of the station and walk Northbound on Connecticut Avenue.

Garage parking is located at 2005 Florida Avenue, between Connecticut Avenue and T Street and is open between the hours of 7am and 11pm. (Alternatively, a parking garage can also be found under the Hilton Washington and Towers, one block north at 1919 Connecticut Ave.)

Address
FHI 360 Conference Center
1825 Connecticut Avenue, NW
8th Floor
Washington, DC 20009-5721
++++++++++++++++++++++++++++++++++
Tel. 202 884 8600
Fax. 202 884 8996
www.fhi360conferencecenter.org