WHARTON CLUB MEMBER RUNS 'THE MOST FUN TECH COMPANY IN MARYLAND'
TechBisnow Highlights Heinan Landa in its Newsletter 12-18-2013
Here is the text reproduced:

Creating a fun working environment is not as easy as it sounds. It took Optimal Networks over a decade and a recent award proves they're onto something.

CEO Hein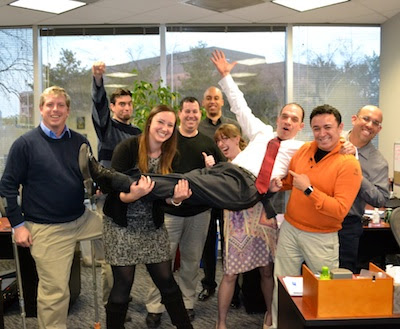 an Landa launched the company in 1991 to provide comprehensive and strategic IT support, management, and business tech consulting services to law firms, associations, and small- to medium-sized business. He created its business plan while getting an MBA at Wharton and it included a section on creating the fun environment that the Rockville, Md. company has today. How is fun defined? Homemade breakfasts cooked by the COO every Friday; bongo drums in Heinan's office; time off for voting and volunteer work; and spirit days for team building and organizational goals.

The culture recently won the company the Tech Council of Maryland's Outstanding Place to Work award. Heinan can do head stands but he opted for this when we snapped the team on Tuesday. Optimal Networks employees have to pass a 20-question behavioral phone screen pre-interview that's modeled after a similar process used by the Ritz-Carlton. 2013 revenue grew 40% to 50% and added eight employees. Optimal Networks launched a cloud product for customers to move IT operations to a virtual environment. It also acquired a firm with 50 new customers.

Heinan, w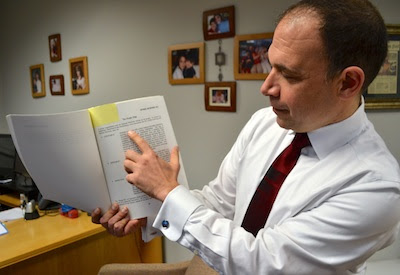 ho came to the U.S. from Israel at age two, grew up in an entrepreneurial family in the DC region. His parents still operate LT Industries, which makes quality-control instrumentation. It was there that he learned from his parents what it means to value employees, he says. When he first started his company after studying at Johns Hopkins and Wharton, it took a long time to find the right balance of fun and strong work ethic. It wasn't until 2005 when he recruited a new partner that the culture turned around. Now the father of two says he has the perfect balance.



This newsletter is a journalistic news source which accepts no payment for featured interviews. It is supported by conventional advertisers. © 2013, Bisnow LLC, 1817 M St., NW, Washington, DC 20036. All rights reserved.

See previous Wharton DC Club story about Optimal Networks and Heinan Landa on this "News" tab. Heinan Landa was a recipient of the Club's Joseph Wharton Award in 2013.