4TH ANNUAL WHARTON DC INNOVATION SUMMIT:
DESIGN & RUN YOUR INNOVATION PLAYBOOK
---
To ADVANCE and SCORE with your idea, your startup, early-stage, or other company, join us on the journey to improve your innovation results. And as you SCORE, you may even CHANGE THE GAME in your business or your industry!
> Begin by DESIGNING YOUR PLAYBOOK
> Next, to improve & run with it, CONNECT with thought - and action - leaders
> Then MEET with potential funding, contract and other resource sources
> And finally have FUN, as you are inspired by diverse achievers across a spectrum of industries.
---
Following three years of growing success and impact, we have

reserved MONDAY, SEPTEMBER 25, 2017, for the 2017 Innovation Summit: Design & Run Your Innovation Playbook.

This continues meeting our goal of connecting innovators

to one another and potential resources.
REGISTER NOW for Monday, September 25, 2017 to infuse your innovation and entrepreneurship capabilities with more knowledge, connections, inspiration and fun, as you move your career - and business or other organizaton - forward!
This will build on the three successful Summits we've already held, each of which received rave reviews from speakers, attendees and sponsors. Register now so you YOU can ATTEND, PARTICIPATE IN, COLLABORATE, and BENEFIT from the Summit. Don't miss out - ACT NOW!
One Wharton alum keynote who has achieved great success in his business activities will share innovation and entrepreneurship lessons learned over a period of more than two decades:
DAVID TRONE, Owner of Total Wine & More, now a fast-growing $2.5 Billion category leader continuing to expand at a double-digit rate, will be our luncheon keynote. From a tiny startup, David has used innovation, entrepreneurship, vision, a dedicated and well-educated staff with varied talents to power a company that has become the world's largest independent in their category.
REGGIE AGGARWAL, Founder and CEO, will inspire attendees with lessons he has learned on the path to success fueled in significant part by innovation, but overcoming huge obstacles

We feature a PANEL OF TOP C-LEVEL INNOVATORS from varied industries who will explore trends and huge opportunities in the U.S. and abroad.
CLICK HERE for a listing of the four sessions (and speakers) in each of our five tracks:
Track 1, Urban Innovation

Track 2, Healthcare

Track 3: Tech Advances & Challenges (Drones, Cyber, Blockchain)

Track 4: Funding Options (VC, Angel, Crowdfunding) and EdTech

Track 5: Govt. Innovation, IP (Intellectual Property), Social Impact Investing
Or click HERE to view our new WhartonDCInnovation.com website.
To help you publicize your company (or other organization), we're giving every registrant a valuable benefit, free access to and use of NewsReleaseWire.com, through October 31, 2017 (normally $59/month). The sooner you register, the greater your free PR. Click HERE to learn more.
Here's a brief peek at our schedule to help YOU SUCCEED in 2017 and the years ahead: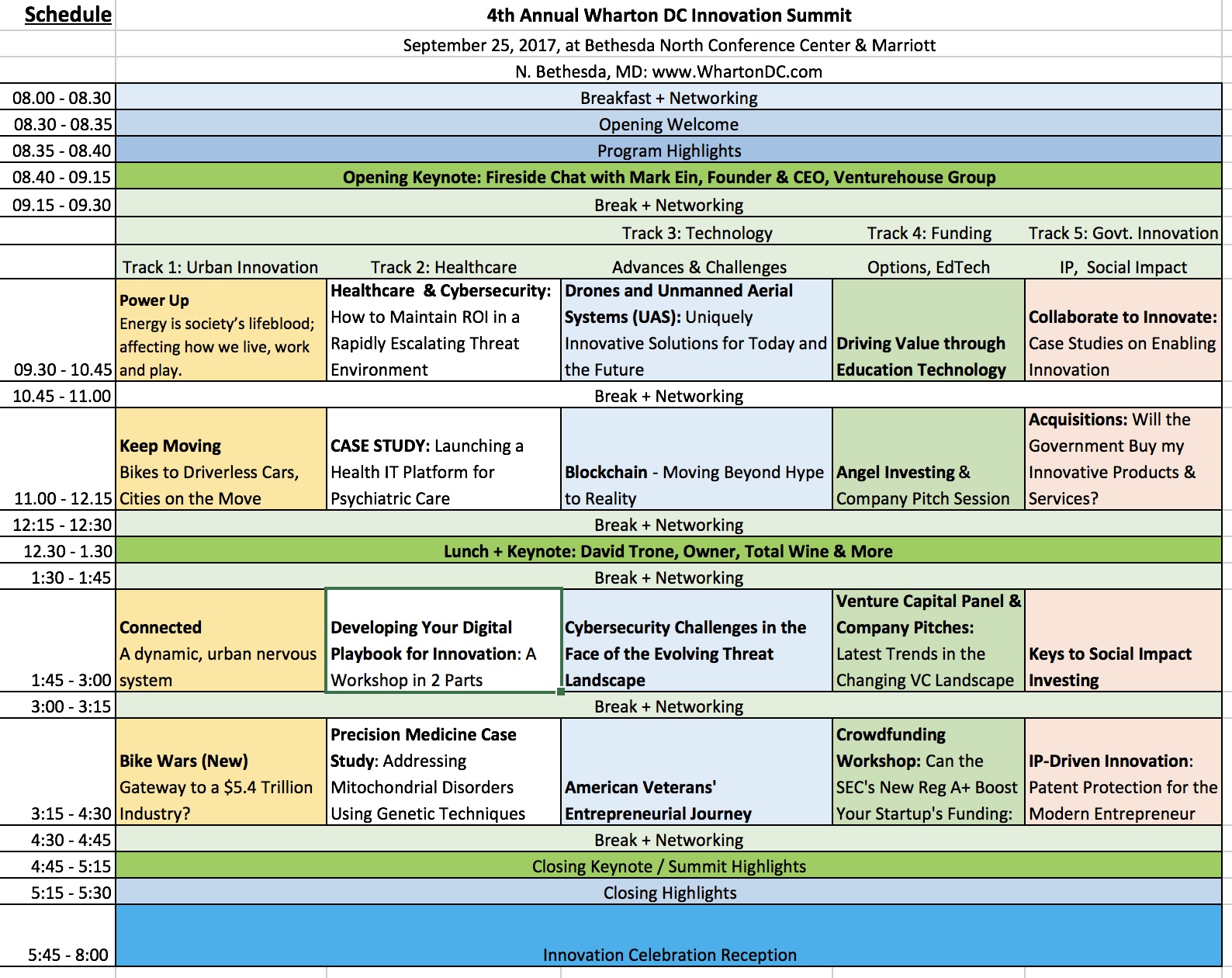 Recommendation: to get the impact of this Schedule, view it on your laptop or desktop computer.
If you want to get an idea of what we did in the three prior Summits, using our multi-disciplinary approach to spur creativity, innovation, interaction and collaboration among attendees:
> Click here for 2016 Summit: Raise Your Innovation IQ
> Click here for the 2015 Summit: Connect, Create, Transform
> Click here for 2014 Summit: Connecting Innovators to National & Global Resources
Click here to Register for the Summit before rates rise again!!! Feel free to contact us if you'd like to learn more about sponsorship opportunities by emailing us (just click here).
REGISTER NOW for Lowest Rates: Special Offers for Wharton Club Members / Strategic Partner Member / Full-Time Govt, Nonprofit or Academia Only: (IF NOT WHARTON CLUB MEMBER, must list the name of your Strategic Partner / Govt. Agency / Nonprofit under Special Instructions when you register. Thank you.
ALL FULL ACCESS passes are all-inclusive for FULL DAY of Summit, FULL ACCESS PASS - to all sessions, breaks, reception, meals, plus mobile app with session, speaker and attendee data:
Full Access Pass

Super Early Bird

(thru 6/15)

Early Bird

(6/16-7/28)

Advanced
(7/28-8/21)

Regular

(8/22-9/21

Final / Walk-In

(9/22-25)

Wharton Club Members & Guests

200
225
250
300
350

Strategic Partner Members/Guests;

Full-Time Non-Profit, Academia & Government Employees

U.S. Veterans

200
225
250
300
350
General Public
325
350
375
425
475
When:
Monday, 09/25/17 at 8:00am - 8:00pm | iCal
Where:
Bethesda North Conference Center & Marriott Hotel
5901 Marinelli Road
North Bethesda, MD 20852 USA
[ Get Directions ]
Look Who's Coming:
Carl Anku
Xyster Consulting
Darrell Mottley
Banner Witcoff LTD
Michel Poirier
VES
Frank Azuola
James Fangmeyer
Triumph Partners
Anne Hefter
Compass
Barry Michael
Biomedical Commercialization LLC
Igor Eberstein
Eberstein Research & Consulting
Neil Wasserman
Timewave Analytics, LLC
Amy Gleklen
Vistage Worldwide
Jonathan Lang
Chamber Advisors LLC
Stephanie Katz
CETA Benefit Consulting Group, LLC
Bill Rever
WB Rever Associates
Steve Lebischak
Asius Technologies
Robert Sahadi
Institute for Market Transformation
Anne Lantry
Guest of Anne Lantry
Helen Qubain
Gus Williamson
Self
Rod Azama
The Chancellor Group
Ahmad Beyranvand
Chicago Booth
Terence Winsky
George Ballman
Claire Levinson
Philo Collins
Kim Nguyen
Donna Florence
FDIC
Anthony Millin
Alan Schlaifer, Chairman
Wharton DC Innovation Summit
Lee Dudka, Senior Advisor
SyTrue
Ali Qureshi, Managing Director
Surdak & Company
Alexander Diamantis, Esq.
Northstar IP Law
Jonathan Schlaifer, Esq.
Northstar IP Law
Irma Rosado
Elegant Events LLC
Ketan Shah, Managing Director
Elegant Events LLC
Tom Glendening, CEO & Founder
e3think.com
Ruwan Salgado, CEO
Strat8gy International, LLC
Joyce Hunter, CEO
Vulcan Enterprises & Fmr. Dep. CIO, USDA
Al Munoz
18F
Julie Kantor
TWoMentor
Dr. Kim Norman, MD., Professor
Univ. of California, San Francisco
Rosemary McAvoy, CEO
American Sustainabilty Leadership Council
Robert Camp
Fidelity Charitable
William Cunningham, CEO
Creative Investment Research
Dr. Marni Falk, M.D., Assoc. Prof.
Children's Hospital of Phila. & Penn's Perelman Med. School
Steve Buckley, Chief Content Officer
Bangarang Books
Kimberlie Cerrone, JD, CEO & Founder
Tiatros, Inc.
Greg Cullison, CEO
Big Sky Associates
Joaquin Aviles Lopez, CEO & Co-Founder
i4sd
Tim Meyer, Associate Partner
IBM Global Bus. Serv., IoT Center of Competency
Bill Zielinski
GSA
Avi Bender
US Dept of Commerce, NTIS
Scott Kolber, CEO
Roadify
Starling Childs, CEO
Citiesense
Laetitia Gazel Anthoine, Founder & CEO
Connecthings
Patrick Halligan
Lyft
Holly Parker
Noa Technologies
Ario Keshani, CEO
Split
Elena Christopoulos
San Monica
Josh Yu, Co-Founder
UrbanLabs
Philipp Meyer-Schmeling, CEO
Noa Technologies
Dr. Cindy Moss, Sr. Dir. of Global STEM
Discovery Education
Patrick Hoffman, Product Coordinator
Superpedestian
David Bither, Managing Director
ForwardTrace LLC
Mark Ein, Founder & CEO
Venturehouse Group
David Trone, President & Owner
Total Wine & More
Gail Gilbert Ball, Managing Partner
Chestnut Street Ventures
Phil Rappoport, Vice President
AgendaPop
Jordan Engel, President
Engel Imagery
Joel Coulter, VP
AUVSI DC Chapter
Paul DeMaio
MetroBike
Sven Etzelsberger, CTO
626
Asim Hussain (inv)
Bloom Energy
Mitch Davis, CEO
Broadcast Interview Source, ExpertClick.com
Doug Copley, Deputy CISO
Forcepoint
Mark Goldstein, Deputy CISO
Forcepoint
Derrick Ko
Spin
Ilya Movshovich
BlueGoGo
Laurent Balagué, Founder & CEO
forMetris (EdTech)
Julia Taxin, Vice President
Grotech Ventures
Mike Beirne, Principal
Vetted Capital & Founder MissionEntrepreneur.org
James McCartney, Principal
Truvincio (USNavy & USAF-Ret)
Rick Yost, Esq.
CEO Sector 180 (US Army-Ret)
Nick Baucom
Two Marines Moving (USMC-Ret)
Will Amos, Founder
VeteransList (USMC-Ret)
Jean-Francois Orsini, PhD, CEO
DeskPup, LLC
Lenard Marcus, Partner
Edison Partners (VC)
Randy Domolky, Co-Founder, Man. Dir.
Private Access Network (Angels)
Jason Stern, CEO
Braddock Communications
Avi Bender, Director
Natl. Tech. Info. Service, US Dept of Commerce
G. Nagesh Rao, CTO
US Small Business Administration
Bill Zielinski, Dep. Asst Comm.
Fed. Acquisition Service, GSA
Darryl Peek, Cyber Sec. Strategist
US Dept. of Homeland Security
Tony Halladay, Div. Chief
U.S. Customers & Border Protection
Bruce Carlson, Director
Lumious
Joe Kessler, Managing Partner
Next Stage Development Group
Mark Levine, General Partner
Core Capital Partners (VC)
Ghazenfer Mansoor
Technology Rivers
Ramsey Taylor
Geoffrey Hart
J.P. Morgan
Neeraj Nityanand
Officers TBD
Montgomery County Economic Development Corp
Arlene Marie Lorica, MD
Arlene Marie Lorica, MD
Michael Flecker
Dan Coffing
silveth khawaja
Dave Lindsay
Keary Crawford
Opptiv
Adam Newman
Kelly Parsons
Lucien Parsons
OpsCat Consulting
Ashish Bhatia
Marla Mendelson
WDCAA
Marvin Petry
Stites and Harbison
James Hayne
Stites and Harbison
Marya Pickering
... a total of 124 guests.
Note: to opt out from this list please sign in, go to My Account and change your preferences under My RSVPs.