National Economists Club Luncheon with Dr. Arun Raha, VP & Chief Economist, Eaton Corp.
Wharton Club Members & Guests invited to get insight from highly articulate economist and strategist.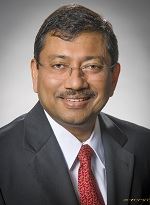 Meet the Speaker:
Arun Raha
Vice President and Chief Economist
Eaton Corporation
Arun Raha, Ph.D., CBE, is vice president and chief economist for Eaton. He is responsible for the company's global macroeconomic forecast as well as forecasts of Eaton's global primary markets. His previous positions at Eaton have been as senior economist, manager, and most recently, as director, economic analysis. Eaton is a power management company with 2016 sales of $19.7 billion. Eaton has approximately 95,000 employees and sells products to customers in more than 175 countries.
Arun has also served as the chief economist for the State of Washington, where he was involved in economic and financial analysis with particular focus on state revenue and budget forecasting, serving as advisor to the state's governor and legislature on economic and fiscal issues.
In addition to his Eaton and Washington experience, Arun has held management positions in analytics and forecasting with Swiss Reinsurance, and with WEFA, Inc. (predecessor of IHS Global Insight) where he was director of the Asia Service. Arun holds a Ph.D. in Economics from Washington State University, an MA in Economics from The Delhi School of Economics, and a BA (Honours) in Economics from Hindu College, University of Delhi.
Arun has won the Wall Street Journal's forecasting award twice – in 2005 and most recently in 2013. Arun has also won The Federal Reserve Bank of Chicago's top overall forecast prize for the year in 2008. Arun serves on the Ohio Governor's Council of Economic Advisors and is a member of the Board of the National Association for Business Economics (NABE).
Note: Registration is open through Wednesday, 5-17-17.
Reservations: Wharton Club Members & Guests Only: $20/person, inclusive, paid in advance. Cash bar.
Reservations are preferred at least one business day before an event. Earlier is better because of potential of reaching capacity.
Click here to reserve your place(s)!!
When:
Thursday, 05/18/17 at 12:00pm - 1:30pm | iCal
Where:
Chinatown Garden Restaurant
618 H Street, NW
Washington, District of Col 20001 United States
[ Get Directions ]