Fighting Terrorism: How U.S. Policies and Tactics Have Changed as the Nature of Terrorist Threats Changed
Michael Kraft and Edward Marks,
Authors of "U.S. Counterterrorism From Nixon to Trump"
The three former CT colleagues--Ed Marks, Mike Kraft and Mike Jakub
American Jewish Committee (AJC), The American Association of Jewish Lawyers and Jurists,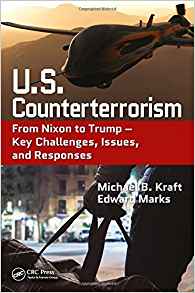 and The Jewish Community Relations Council of Greater Washington invite you to the next session in theirbrown bag lunch speakers' series. Wharton Club Members & Guests of all religions are welcome.
Tuesday, February 20, 2018
12:15-1:30 pm

Stinson Leonard Street
1775 Pennsylvania Ave. N.W., Suite 800
Washington, DC 20006
Program is free. Please Bring a Brown Bag Lunch; Drinks, chips, cookies will be provided.
For more information about this and future lunch discussions, please contact Claudia Whitley at(202) 728-3030, or by e-mail, at claudia.whitley@stinson.com
About the Speakers:
Michael Kraft is a Washington-based counterterrorism consultant, writer and editor with more than 30 years of experience working on terrorism issues in the State Department, Congress and the private sector. After retiring as a senior advisor in the State Department Counterterrorism Office, he worked on counterterrorism issues at the National Defense University Africa Center for Strategic Studies. Before joining the State Department, Mr. Kraft served 10 years on Congressional staff, as staff director of the Senate Foreign Relations Middle East Subcommittee and as a national security legislative assistant to two members of Congress. He co-authored with Ambassador Marks "U.S. Government Counterterrorism: A Guide to Who Does What." It described for the first time the many unclassified USG counterterrorism programs. He also co-authored with Prof. Yonah Alexander a major counterterrorism reference book, The Evolution of U.S. Counterterrorism Policy (2008). He is a graduate of the University of Michigan, where he was a senior editor on the Michigan Daily.
Ambassador Edward Marks was appointed into the Foreign Service in 1956 with early assignments in Kenya, Mexico, Angola, Zambia, Belgium, and Zaire. In 1976, he was appointed Chief of Mission to the Republics of Guinea-Bissau and Cape Verde. Returning to Washington in 1980, he attended the National War College, after which he moved to the Department of State as the deputy coordinator for counterterrorism. Since retiring as a senior foreign service officer in 1995, he has engaged in consulting, lecturing, and writing, primarily on terrorism, interagency coordination, United Nations affairs, and complex international emergencies. Ambassador Marks was recalled to active duty in 2002–2005 to serve as the Department of State's advisor on terrorism to the U.S. Pacific Command and has also served, among other things, as senior advisor to the Project on National Security Reform (2008–2009). Ambassador Marks attended high school in Detroit, Michigan, and graduated from the Universities of Michigan (BA in Political Science, 1956), Oklahoma (MA in Economics, 1976), and the National War College (1981)
When:
Tuesday, 02/20/18 at 12:15pm - 1:30pm | iCal
Where:
Stinson Leonard Street
1775 Pennsylvania Ave. N.W., Suite 800
Washington, District of Col 20006 United States
[ Get Directions ]