Gourmet Indian Dinner with Ashok Bajaj, Restaurateur, of Rasika: Flavors of India, at The Fourth Estate Restaurant
Wharton Club Members & Guests Invited - Sign up NOW, as this will sell out quickly.
On Tuesday, September 25, 2018, the Fourth Estate Restaurant at the National Press Club will host a dinner featuring Ashok Bajaj and the cuisine of Rasika, featured in the eponymous book, and paired wines. Rasika was named top DC restaurant in 2014 and to Trip Advisor's 25 best in America list two years ago.
Sign up NOW, as this will sell out quickly!
This is a ticketed event. THIS WILL SELL OUT quickly. On Tuesday, September 25, 2018, the Fourth Estate will host an Indian dinner with paired wines and discussion.

Septembet 25, 2018 6:30 PM
Location: 4th Estate Restaurant, National Press Club, 14th & F Sts., NW, 13th Floor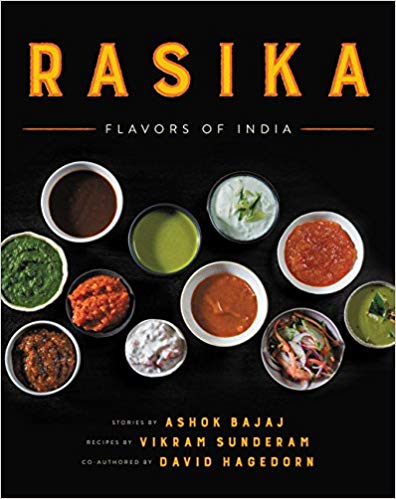 Hors d'oeuvres start at 6:30pm; dinner at 7:00pm.
The five-course meal will be from her popular recipes.
Single tickets are $95; couple tickets are $180. A copy of the Rasika cookbook (one per individual person/couple) is included in the price.
Click here to buy tickets!!!
About Rasika: Flavors of India by authors Ashok Bajaj, Vikram Sunderam & David Hagedorn, from its cover & Amazon.com:
"The most fabulous Indian cooking in the country." - Washington Post

A vibrant and sumptuous cookbook of innovative recipes and reinvented classics of modern Indian cuisine

Using traditional techniques as jumping-off points, Rasika incorporates local, seasonal ingredients to reinterpret dishes from one of the world's richest and most varied cuisines. Inventive recipes like squash samosas, avocado chaat with banana, eggplant and sweet potato lasagna, and masala chai crème brûlée accompany reimagined classics including chicken tikka masala, grilled mango shrimp, and goat biryani, rounding out Rasika's menu of beloved dishes and new favorites. With a wide range of vegetarian options and spanning the spectrum from beverages and appetizers to entrees, rices, breads, chutneys, and desserts, Rasika represents the finest of what Indian cuisine has to offer today. Authoritative and elegant even as it incorporates a diversity of flavorful influences, this is the essential cookbook for anyone seeking to cook groundbreaking Indian food.

With over 120 recipes and stunning four-color photographs, Rasika showcases the cuisine of one of Washington, DC's most popular and critically acclaimed restaurants, where visionary restaurateur Ashok Bajaj and James Beard Award—winning chef Vikram Sunderam transform Indian cooking into a fresh, modern dining experience.
&&&&&&&&&&&&&&&&&
MENU from Rasika and Wines, TBD, and will be posted as soon as we receive it. But don't wait to reserve; the dinner will probably be sold out by then!
&&&&&&&&&&&&&&&&&
MENU from Rasika: Flavors of India
&&&&&&&&&&&&&&&&&
Passed Hors d'Oeuvres
&&&&&&&&&&&&&&&&&
First
&&&&&&&&&&&&&&&&&
Salad
&&&&&&&&&&&&&&&&&
Intermezzo
Locally made sorbet
&&&&&&&&&&&&&&&&&
Second
&&&&&&&&&&&&&&&&&
Dessert
&&&&&&&&&&&&&&&&&
WHERE: The Fourth Estate Restaurant at The National Press Club
529 14th St NW, 13th Floor
Washington, DC 20045 Metro:
TRANSPORTATION
Metro Center / Red, Blue, Orange, Silver Liens
Parking: Saving at 1325 G St NW
REGISTER: Member & Guests: 95/single person, 180/pair, inclusive, with all 5 courses, wines, beverages, tax and tip
Limited number of places, and will sell out quickly at these great prices!
Copyright 2018 - The National Press Club
When:
Tuesday, 09/25/18 at 6:30pm - 9:30pm | iCal
Where:
National Press Club
529 14th Street, NW Fourth Estate Restaurant
Washington, DC 20004 USA
[ Get Directions ]
Look Who's Coming:
Betsy & Clare Hanlon
Climate Advisers
Robert & Mimi Rubin
Haitau Securities, Inc.
Allan & Louise Fisher
Alan Schlaifer
Wharton DC Innovation Summit
... a total of 4 guests.
Note: to opt out from this list please sign in, go to My Account and change your preferences under My RSVPs.