Leslie Morgan Steiner, Perry W. Steiner, to Receive Wharton Award
Reserve Now for 38th Annual Dinner, Park Hyatt, June 14
First Couple to Receive Prestigious Award:
Editor of Mommy Wars, Journalist Leslie Morgan Steiner WG'92
Private Equity Banker Perry Winter Steiner WG'93
About Our Honorees:
Perry and Leslie Steiner live in Washington, DC with their three children ages 10, 8 and 5. They met in 1992 a few months after Leslie had graduated from Wharton with an MBA in marketing, when she was assigned by the Leo Burnett Company to recruit Perry, a current Wharton finance major. She failed to convince him to join the advertising world, but the couple married in 1995. They are both active at Wharton. Leslie speaks frequently at Wharton events, serves on the Wharton Alumni Association Board of Directors, and is the 2006 recipient of the Kathleen McDonald Distinguished Alumna Award. The Steiners are past members of the Joseph Wharton Society and recently established an MBA Fellowship for women students.
************************************************************************************************
Leslie Morgan Steiner WG'92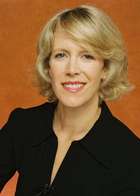 With motherhood comes one of the toughest decisions of a woman's life: stay at home or pursue a career? Leslie Morgan Steiner has been there. As an executive at The Washington Post, Johnson & Johnson, Leo Burnett -- and a mother of three -- she lived and breathed every side of the "mommy wars" and decided to do something about it. She commissioned 26 outspoken mothers to write about their lives, their families, and the choices that have worked for them. The result is Mommy Wars: Stay-at-Home and Career Moms Face Off on Their Choices, Their Lives, Their Families (Random House March 2006) a frank, surprising, and utterly refreshing look at American motherhood. She currently writes the popular "On Balance" column about juggling work and family for washingtonpost.com and is a frequent media guest on shows including The Today Show, MSNBC, and National Public Radio.

After graduating from Wharton in 1992, Leslie launched Splenda Brand Sweetener throughout Australia, the Mid-East and Latin America for Johnson & Johnson. She managed U.S. public relations supporting 1998 FDA approval of Splenda, which generated 130 television stories within a 24-hour period. Splenda is now the #1 low-calorie sweetener in the United States.

She returned to her hometown of Washington, DC in 2001 to become General Manager of the 1.1 million-circulation Washington Post Magazine. Her accomplishments at The Washington Post include turning around the Sunday magazine into a profitable venture for the first time in its 17 year history; serving as advertising team lead on the 2003 launch of Express, The Washington Post's free 250,000-circulation newspaper targeted to nontraditional readers outside the flagship paper's demographic base; and the 2004 launch of Washington Post At Home, a luxury home magazine.
Steiner holds a BA in English from Harvard College. Her first job was as an editor at Seventeen Magazine; she financed her Wharton degree by writing for Seventeen, Mademoiselle, New England Monthly and Money Magazine. She is a member of Advertising Women of New York (AWNY), serves on the board of trustees for the Wharton Alumni Council and The Maret School, and is a former spokeswoman for The Harriet Tubman Center in Minneapolis, the country's oldest shelter for abused women and children.

************************************************************************************************
Perry Winter Steiner WG '93 is a partner at Arlington Capital, a Washington, DC based private equity fund with over $1 billion under management. He is active in all areas of the firm's investment management, and has had primary responsibility for the firm's media investments, including New Vision Television, Cherry Creek Radio, Long Island Radio and Main Line Broadcasting.
Prior to joining Arlington, Perry was president of Digital River (NASDAQ:DRIV), a business process outsourcing company managing e-commerce systems for companies on an outsourced basis. He built the company from $2 million to $40 million in revenues during a three year period, and the company was named one of the 100 fastest growing technology companies in 2000 by Bloomberg. Perry led the company to its IPO in 1998, which was one of the top 10 performing IPO's of the year. The company's current operating metrics are sales of $300 million and EBITDA of $100 million, with a current market capitalization in excess of $2 billion.
Perry built Digital River into the market leading e-commerce provider to the software industry, with an estimated 70% market share. He led the consolidation in the market by completing seven acquisitions, including the acquisitions of NetSales, Maagnum Internet Group, Universal Commerce, Public Software Library, Walnut Creek CDRom, Tech Squared and Calico Commerce. The company presently manages e-commerce systems for over 40,000 companies globally.
Prior to Digital River, Perry co-managed Wasserstein Perella Ventures, the firm's debut $135 million venture capital fund. As a founding member of the fund, he was responsible for establishing the reputation of Wasserstein Perella in the venture capital community and generating investment opportunities for the firm. He assisted in establishing the fund's investment strategy, criteria and industry specialization, with a focus on technology, media and healthcare.
As a principal of TCW Capital, Perry was responsible for both investing the firm's $300 million middle market buyout fund as well as oversight of existing portfolio companies. He worked with companies in a wide variety of industries, including media, manufacturing and consumer products. Perry was responsible for the acquisitions of Automatic Bar Controls, Continental Cement Company and Houston Foods. He also worked closely with portfolio companies, including Act III Broadcasting, Prime Cable, Independence Broadcasting, Telemedia Cable, Fannie Mae / Fannie Farmer, Superior Fireplace Company, Wintersilks, Saffolla Oils, and Spartech.
Perry began his career as a financial analyst in the investment banking division of Goldman, Sachs & Co. He received his BA in history from the University of Michigan. He is currently a member of the Board of Directors of Digital River, Cherry Creek Radio, Long Island Radio and Main Line Broadcasting.
Outside of work, Perry coaches several children's sports teams, including the Stoddert Soccer Rhinos, The Jelleff Boys & Girls Club Dawgs, and The Jelleff Boys & Girls Club Coyotes. He is an active member of Young Presidents Organization (YPO).