Latest News from DC Wharton Club: Events, Jobs, More
Successful Recent Events at Embassy of Switzerland Reception
Bethesda - What Wharton Wharton Women of DC Want
Club's Green Conference; Peter Van Allen Presents
Club Volunteers Receive Big Dividends
Add YOUR News!
News about Recent Club Events - Wednesday, 4/18:

* Annual Conf Committee dinner meeting at Tysons - explored the green business theme - productive meeting, high energy attendees, made much progress toward fall Green Business or Economic Summit. You're still welcome to join us as we move forward more rapidly. Several members have done so in the past week.
* These are among the key themes we are now planning to include:


Green Business Opportunities
Green Investing
Green Accounting
Washington Women of Wharton

: What do you want? This was your chance to sound off and meet with one another - no men - Wed night in Bethesda, thanks to dinner get together arranged by our Club's VP of Programs, Tina Wallace. Very successful event attended by 15 club members.

Evening of 4/19 - Reception at Modern

new Residence of the Swiss

Embassy

. Lovely evening from this scenic vantage point looking out over DC, gracious group of attendees, and excellent informal opportunity to learn about very strong Swiss-American connections from the Embassy's Economic Minister, Henri Gétaz. And if you go to our website, whartondc.com , you can see the Photo Album for that event and others.
Leads Council, 5/2: Peter Van Allen presented Van Allen Associates' efforts to help companies, non-profits and trade associations grow revenues and control costs via short and long-term business strategies, business planning, marketing strategy and sales force redesign. Peter handed out a brief customer survey and a "solutions" approach to help WLC members better understand their customers' needs and how to meet them, using WLC members as examples. For further information or to obtain a copy of part of the excellent material Peter handed out and discussed with those present, email him: peter@vanallen.org.
Answer to question at lovely Swiss Embassy Reception:
History of the Swiss Flag: Provided by Monsieur Henri Gétaz, Economic Minister of the Swiss Embassy: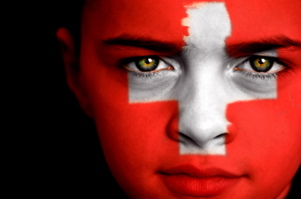 It comes from the sign of one of the first Swiss cantons (Schwyz) which was a catholic thin white cross on a red background. When the mercenaries of the first cantons began fighting together the Habsburg enemy back in the 13th and 14th century, they would all dress with a coat featuring that cross in order to recognize each other on the battle field. Over the centuries, it has become the sign for all the Swiss. It was then turned into a square and broader white cross on a red background to become the flag of Switzerland.
The story of the red/white cross as a well recognizable sign continued: Henry Dunant, the Swiss founder of the "Red Cross" introduced the reverse of the Swiss flag (a red cross on a white background) as the sign for the rescue services to be recognized as such on the battle fields. Today, the American Red Cross Association has ensured an exclusive right for the use of this sign in the
US
. Therefore, when local rescue teams in ski areas want to signal themselves as such, they use the reverse sign of the Red Cross, a white cross on a red background…..which is nothing but the Swiss flag!
Club's Leads Council Pays Huge Dividends
Heinan Landa, our VP for our Leads Council, has done a superb job for over three and a half years. Most months, meetings occur twice, on the first and third Wednesdays at Legal Sea Foods, Montgomery Mall. But the real food for thought - and action - does not come from the delicious seafood and other selections.
Rather, it is a product of Heinan's energy, leadership, and the Whartonic synergy that arises.
Case in point: Heinan and his company, Optimal Networks
Heinan's received strategic input from AJ Schuler, an acquisition referral from master surveyor Jeff Adler, financial advice from Eddie Snyder, CPA, and a powerful addition to his marketing team, Steve Oser. All mentioned are members of the Wharton Club of DC and participate regularly in the Leads Council luncheons. With their assistance, Heinan is taking networking to new levels.
You, too, can benefit by volunteering or leading other Club activities.
Just call Club President Alan Schlaifer at 301 365 8999 to let us know how you would like to harness your passion to help the Club - and your career or business.
Right now, Heinan is the poster child for how helping our Club can help you.
But we have plenty of room for other beaming faces on the poster.
Do you want to be in the picture? If so, just give us a call.
Do you have special personal or professional news that
you would like to share with other members in the Wharton community?
If so send your story to our Club at our email address by clicking here!