To learn more about these events, mostly in the Fall each year, CLICK HERE
This is what is on that website, from the perspective of current and prospective students,,
but professionals, executives and entrepreneurs can benefit from atttending as well: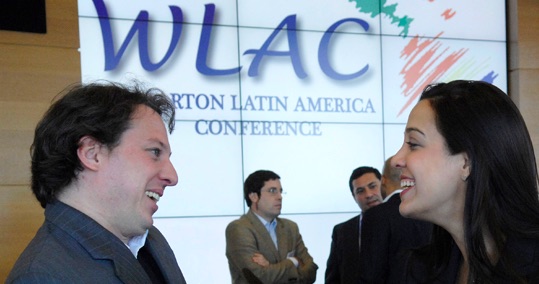 At Wharton, you will find yourself empowered to create educational opportunities for yourself in a true application of Knowledge for Action. Student-organized conferences best exemplify that paradigm. Conferences that cater to diverse professional and cultural interests are conceived and organized by students from start to finish, and are attended annually by more than 5000 participants that include students and industry professionals.
These conferences provide opportunities for high-level interaction and engagement with global leaders across businesses and governments. They are also a great medium to gain managerial experience in organizing a large-scale industry event with a budget to match.
The history of these conferences stretches back more than 30 years, from such signature events as the Wharton Finance Conference and Global Business Forums to international collaborations, such as Wharton's hosting of the 2008 Net Impact North America Conference on Sustainable Business. These marquee events provide a forum for executives, scholars, policy makers, students, and alumni to explore and challenge ideas related to business, government, and society.
Annual conferences and topics include:
Consulting

Entrepreneurship

Finance

Global Business Forum (includes regional forums on Africa, Asia, Europe, India, Latin America)

Health Care Business

Investment Management

Marketing

Private Equity & Venture Capital

Restructuring

Social Impact Management

Technology (BizTech)

Wharton Women in Business

Whitney M. Young, Jr. (sponsored by the Wharton African-American Students Association)