Part I of this Program: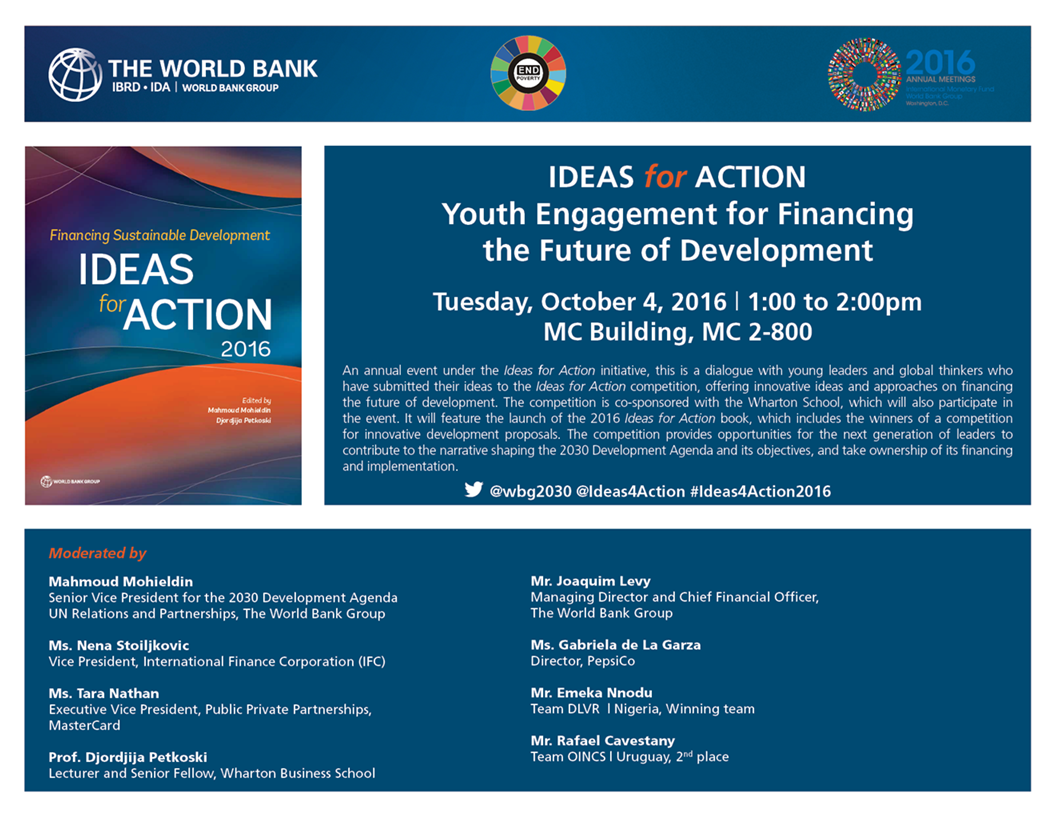 Part II of Program:
Ideas for Action: Global Young Leaders Dialogue on Innovations and
Financing the Sustainable Development Goals and IdeaLab
Time: Tuesday, October 4, 2:30pm – 5:30pm
Venue: B1220 (Level B1, Lehman Auditorium) The Science and Engineering Hall (SEH), George Washington University 800 22nd Street, NW,
and Virtual Global Dialogue, including hubs at Wharton, World Bank, Belgrade, Budapest, Skopje, Poland, Nigeria, Ethiopia, Hong Kong, Guatemala, Brazil, and Mexico

NO COST - Wharton Club Members Click here to Register!!!
Event Description:
Global Dialogue
Entrepreneurship, leadership and youth engagement are key for the design and implementation of innovative solutions to address the Sustainable Development Goals (SDGs) and to achieve sustainable, measurable, and scalable impact. Many innovative and fresh ideas that tackle the new challenges that the world faces will most likely come from young entrepreneurs. The Ideas for Action Initiative seeks to highlight the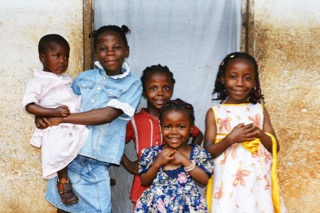 importance of ideas, inspiration, and commitment, combined with entrepreneurship and leadership of those who will soon assume regional and global responsibility for sustainable development and shared prosperity.
The Global Dialogue will feature the progress and the impact of the Ideas for Action (I4A) Initiative and focus on the important role of the partnerships between government, private sector, international organizations, academia, and young entrepreneurs. Faculty from the GWU School of Engineering and Applied Science will discuss the important role that scientists and engineers could play in generating innovative ideas in the international development space. In addition, the World Bank's new book, titled Financing Sustainable Development: Ideas for Action, 2016, will be launched during this event. Presenters will include experts and entrepreneurs from around the world, attending the dialogue both onsite and online. Representatives of the World Bank Group, academia, and the private sector as well as the winners of the I4A competition will participate in the conversation. The Global Dialogue will connect young people all over the world to discuss common issues, development, and shared prosperity.
This global dialogue will be the central event organized by the Ideas for Action during the IMF and WBG Annual Meetings and involves an extensive social media campaign, before, during, and after the meetings to promote I4A and its mission. We expect to reach about 26,000 people and 110 organizations and institutions. The Global Dialogue will allow people from around the world to directly engage in the conversation and help shaping the next steps of Ideas for Action.
IdeaLab
This action-oriented activity will provide an opportunity for participants to access and share knowledge, interact with each other, benefit from the mentorship of development experts, and shaping ideas together. At the end of the IdeaLab, each team will submit a draft Executive Summary of its ideas.
Additional information:
Registration information: NO COST - Wharton Club Members Click here to Register!!!
Logistics: Will be made available shortly
Schedule
Welcome remarks and The Ideas for Action Competition

Djordjija Petkoski, Wharton School

David Dolling, Dean, School of Engineering and Applied Science, George Washington University

The importance of Youth Engagement and Financing for Development

Launch of the Ideas for Action Book and announcing the third Ideas for Action Competition: Keynote and Q&A

Mahmoud Mohieldin, Senior Vice President, World Bank Group and Mike Kelleher, Adviser, World Bank Group

Updates from Partners and I4A Clubs

Marie-Louise Wiegert, Wharton I4A Club

Alexia Godron and Alexi Kalsi, High School Initiative

Gabriela delaGarzia, PepsiCo

Zoran Ilievski, President's Summer School for Young Leaders from the Balkans, MENA, and Caucuses

Ermal Vila. Y2Y at World Bank

YABT

Brief presentation on the team's proposals (two finalists, and their implementation strategies; and update on implementation in Kenya) (The actual proposals will be made available to the global dialogue participants one week prior to the dialogue.)

Emeka Nnodu and Rafael Cavestany: Representatives from two winning teams and Kevin Lee from the team that is implementing I4A project in Kenya

The importance of cooperation in achieving the SDGs

Ian Solomon, Solomon Global, LLC

The importance of innovation and entrepreneurship in engineering and science in global development

Miloš Doroslovački, Associate Professor, Electrical and Computer Engineering, George Washington University

Volker Sorger, Assistant Professor, Electrical and Computer Engineering, George Washington University

Dialogue among young leaders and entrepreneurs on moving forward with the Third Edition of the Ideas for Action Competition

Moderators: Mike Kelleher, the World Bank and Djordjija Petkoski, Wharton School

IdeaLab and Wharton: Global Classroom and Startup Accelerator

Djordjija Petkoski, Wharton