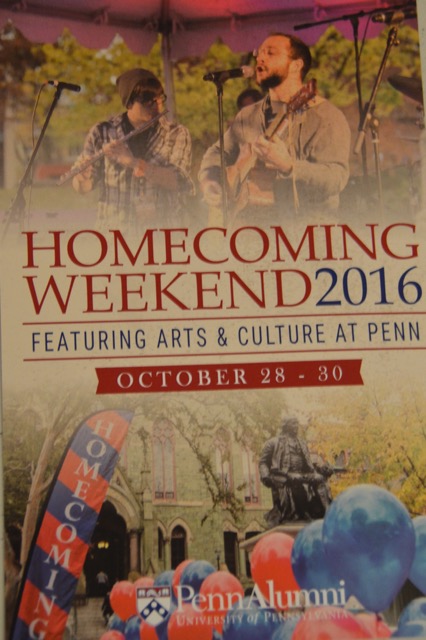 Here's the link for more info about key aspects of the weekend, hotels, and to register: CLICK HERE
Here's an overview of the stimulating schedule for Friday, with many other great events on Saturday and Sunday; CLICK HERE for the full schedule:
9
4:00 - 5:30 PM
Theresa I. Lynch's 120th Birthday Tea
Fagin Hall, 418 Curie Blvd
Join Penn Nursing in celebrating the 120th birthday of the School's first Dean of Nursing, Theresa I. Lynch, HUP'20. Remarks by Dr. Patricia D'Antonio, Director of Penn's Barbara Bates Center for the Study of the History of Nursing.
4:00 - 6:00 PM
Higher Education in 2016: What Presidential Candidates Should Know
The ARCH 108/109, 3601 Locust Walk
What are the most important issues facing postsecondary education in this election year? Join Dr. Laura Perna and other faculty in Penn GSE's Higher Education Division in conversation about the topics presidential candidates should be considering. Reception to follow. Register here: http://www.alumni.upenn.edu/s/1587/gid2/16/interior.aspx?sid=1587&gid=2&pgid=10292&content_id=17421
4:30 - 6:30 PM
Arts at Homecoming Annual Launch Party & Platt House 10th Anniversary Kickoff
Platt Student Performing Arts House, 3702 Spruce Street
Join the Arts at Homecoming Host Committee to celebrate the launch of the Weekend and to recognize the 10th anniversary of Platt Student Performing Arts House. Come and have a cocktail, hear remarks about the state of arts and culture at Penn by Deputy Provost Anita Allen, and enjoy student performances. Platt Student Performing Arts House provides leadership and support for the creation and implementation of arts programming for students at the University of Pennsylvania. We advise and train students pursuing their extra-curricular passions for the performing arts and those preparing for a career in the arts.
6:00 - 8:00 PM
Penn Nursing Midwifery and Women's Health Reunion
Fagin Hall, 418 Curie Blvd
Alumni and students, current and past program faculty are invited to reconnect, network and learn about today's program, with wine and hors d'ouevres. Join Dean Villarruel, and program directors Wendy Grube and Bill McCool, as the Women's Health program celebrates 30 years and Midwifery celebrates its 35th anniversary.
6:00 - 10:00 PM
82nd Annual Alumni Award of Merit Gala
Annenberg Center for the Performing Arts, 3680 Walnut Street
Kick-off Homecoming Weekend at the 82nd Annual Alumni Award of Merit Gala. Join Chairman David L. Cohen, L'81, President Amy Gutmann and Penn Alum.ni President, Julie Platt, C'79 for an evening of food fun and celebration as we honor alumni who have demonstrated outstanding service to Penn!
7:00 - 9:00 PM
ALA and La Casa Latina Happy Hour
Location: TBD
Association of Latino Alumni and Center for Hispanic Excellence: La Casa Latina invite you to join us at our Homecoming Latinx Alumni Mixer. This is a great opportunity to reconnect with old friends and make new ones! Light hors d'oeuvres and two drink tickets will be provided.
7:30 - 9:30 PM
M&T Program Homecoming Kickoff Event
City Tap House, 3925 Walnut Street
For M&T alumni only! Join us as we kickoff Homecoming 2016 festivities here on campus. Meet new M&T Director Gad Allon, say hi to M&T staff, and mingle with fellow M&T alums. *hors d'oeuvres provided. cash bar
:9:00 AM - 4:00 PM
Sweeten Hospitality Suite
E. Craig Sweeten Alumni House, 3533 Locust Walk

12:30 PM
Pennovation Center Dedication Event
Pennovation Works, 3401 Grays Ferry Ave

2:00 - 3:30 PM
Tour Penn's Architectural Masterpieces
Tour leaves from the steps of College Hall
Join William Whitaker, Curator and Collections Manager of the Architectural Archives, for a walking tour of the architectural masterworks on Penn's Campus. Trained as an architect and architectural historian, Whitikar primarily works on documenting and interpreting Penn's design collections. Pre-registration is required and space is limited to 35.

3:30 - 5:00 PM Drinks with the Sphinx
Penn Museum, 3260 South Street
Enjoy drinks and light fare with the largest Sphinx in the Western Hemisphere and hear the story of Penn's Sphinx's journey from Egypt to Philadelphia! Space is limited. Advanced registration required. Cost is $20.

4:00 - 5:30 PM
Weingarten Learning Resources Center (VPUL) Stories of Resilience Open House
Weingarten Learning Resources Center, Stouffer Commons, 3734 Spruce St
Attend an open house at the Weingarten Center highlighting PennFaces: The Resilience Project, a collaborative initiative developed by students, the Weingarten Center, and University partners that shares stories and generates dialogue around obstacles, success, and experiences of learning and growth.