Impact of Government Cutbacks on the Washington Area & Beyond
Learn more about potential impact of proposed large cutbacks: Sunset or not? How might it affect you, your company or agency, and the area's economic strength and growth?
Impact of Government Cutbacks on the Washington Area & Beyond
Organized by the Society of Government Economists
Wharton Club Members & Guests invited
Tuesday, July 25, 2017 5:45 p.m. - 8:00 p.m
.
Conference Room 483, Congressional Budget Office
2nd & D Streets, SW, 4th Floor, Washington, DC 20515
Metro: Federal Center Station (entrance around the building)
Must register in advance for this comp program.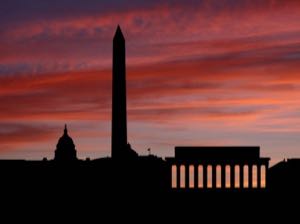 Ms. Jeannette Chapman,

Deputy Director and Senior Research Associate

at the Stephen S. Fuller Institute, George Mason University

Dr. Gregory Acs

, Director, Income and Benefits Policy Center, Urban Institute
Light refreshments will be served at 5:45 pm, and the seminar begins promptly at 6:00 pm.
The seminar is free, and advance reservations
are required.
Large cutbacks in the Federal workforce are in President Trump's budget for FY 2017-18, including substantial reductions in the workforce of EPA, NOAA, and the State Department, together with reductions in contracts. Health care made available by the Federal government is likely to be greatly impacted which can result in extensive cutbacks in the medical field. This may be felt keenly in the Washington area but also extend to other areas in the United States.
Ms. Jeannette Chapman and Dr. Gregory Acs will explore the impact in the Washington area and beyond of these potential cutbacks. Please join us for this interesting evening.
REGISTER: Wharton Club Members & Guests: Free, including light refreshments, program, networking; limited number of places avaible:
When:
Tuesday, 07/25/17 at 5:45pm - 8:00pm | iCal
Where:
Congressional Budget Office, Conference Room 483
2nd & D Streets, SW, 4th Floor
Washington, DC 20515 USA
[ Get Directions ]