Crowdfunding Workshop, Led by Kendall Almerico, CEO, Bankroll & One of America's Top Crowdfunding Attorneys, Who Has Raised Millions of Dollars for Clients
Part of the Wharton DC Innovation & Entrepreneurship Forum Speaker Series
In this workshop, you will learn - from an
expert Forbes called "one of the top JOBS Act and crowdfunding attorneys in the country

" -

the nuts and bolts about:
Regulation A+ that allows companies to raise up to $50 million in a "Mini-IPO" online, with anyone (not just rich and well-connected folks) being allowed to invest

The new "equity crowdfunding" law, that went into effect on May 16, 2016 and allows start-ups to raise up to $1 million online through a "funding portal" that sells stock in your private company to the general public.

"Accredited investor crowdfunding"

where your company can use online methods and marketing to raise money from wealthy investors through Section 506(c) - Title II of the JOBS Act.

For entrepreneurs whose companies need funding (and who doesn't?), the JOBS Act and crowdfunding seem like the magic answer to many capital-raising problems.

Are these new securities laws and SEC regulations right for your company?
And if so, how can your company utilize these groundbreaking capital-raising regulations safely, legally, effectively and affordably?

Meet our Distinguished Speaker

This practical workshop will be led by Kendall Almerico, who is not your typical lawyer. He is also a successful entrepreneur who has made these laws work to raise millions of dollars for companies.
Kendall operates the JOBS Act funding platform BankRoll and practices law with Almerico Law with offices in Washington DC and Florida.
Kendall will not only discuss the legal and financial aspects, but also the all-important marketing component of these laws and rules that will make or break your company's online funding campaign.
Click here to buy tickets!!!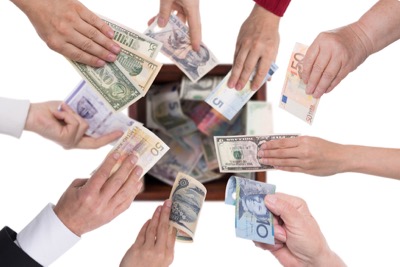 REGISTER: Wharton Club & Strategic Partners:
Wharton DC & Strategic Partners' Members & Guests: 30/person-Early Bird (through March 15), then Advance 35/person (thru 3/25), then 40/person
Strategic Partners now include: Columbia Alumni Assn of DC; Bethesda Green, MIT
Non-Members: 45/person Early Bird (thru March 15), then 50/person (thru 3/25), then 60/person
All rates include lunch, program, networking. RESERVE EARLY - This will sell out in advance
When:
11:45AM - 2:00PM Tue 3 Apr 2018 ( Timezone: Eastern )

Where:
Bernstein Global Wealth Management
800 Connecticut Ave., NW, 11th Floor
Washington, District of Col 20006 United States
[ Get Directions ]
Look Who's Coming:
Vinod Jain
Larry Smerin
Hudson Advisory Group, Inc.
Mitchell Davis
Broadcast Interview
Jason Stern
Braddock Communications
J.R. Schuble
Democracy Capital / Dreyfuss Investments
Doug Koch
KSC
Horacio Rivera-Piza
Marla Blow
FS Card
Tim Richey
FS Card
Sonja Faison
Gary Ratner
Jeff Hokenson
Hokenson Group
Tom Arehart
SnowWorld
Robert Osberger
Mark Baldino
FireBot
Lisa Jones
U.S. Dept of Treasury
Maria-Leslie Villegas
JVVL, LLC (and World Bank alumna)
Lisa Bolden
L.A.Bolden Company
Alex Cohen
TwentyTables Inc.
Philo Collins
Anda Greeney
Brenda Robinson
Robinson Strategic Solutions
Keith Jackson
Classy Cool Weddings
Matthew Robinson
GIFT L3C
Alan Schlaifer, President
Wharton Club of DC
Ruwan Salgado, CEO
Strat8gy Intl.
Sandy Vasan
Innovation Partners
Kendall Almerico, CEO
Bankroll
Matt Schmidt
George Washington Univ.
Swetha Ramesh
George Washington Univ.
Jeff Grass, CEO
HUNGRY Marketplace
Liz Tupper
Maria Nieto Donehoo
Ideamerica
Michael D. Kull, PhD, President & Founder
Amplifi Ventures
Eric Zarkovich
Good River Beer
Mohsin Sohani
Christian Johnson
Emerging Markets
... a total of 39 guests.
Note: to opt out from this list please sign in, go to My Account and change your preferences under My RSVPs.