Bus Day Trip to Historic VA Countryside and Wine Tasting at Slater Run Vineyards
Sunday, Oct 7th from 11 am to 6 pm. Round trip from Rosslyn Metro Stop.
There is little walking involved in this tour, but please wear comfortable clothing and brown bag your own lunch. Water will be on the coach throughout our excursion. We intend to depart promptly from the Rosslyn Metro Stop at 11 am. Plan to arrive no later than 10:45 am.

Bus stops include the following:

1st Stop - Aldie Mill (12:00 - 12:30 pm)
Aldie Mill is Virginia's only gristmill still operating with tandem water wheels, using the original French millstones installed during the construction of the Mill (1807 - 1809). Visitors are provided with a glimpse of Loudoun County's rich agricultural past. For more than 150 years the Mill exported grain to markets overseas and along the east coast. President Monroe, while living at his nearby Oak Hill plantation, was an early patron of the mill. During the Civil War, Aldie Mill supplied grain to soldiers and horses for both the Confederate and Union armies. Famed partisan ranger John S. Mosby made a daring capture of a Union soldier in Aldie Mill. Mill Tour and grinding demonstration are included.
2nd Stop - Slater Run Vineyards (1:00 pm - 2:30 pm)
Slater Run Vineyards is owned and operated by Chris Patusky HLS '88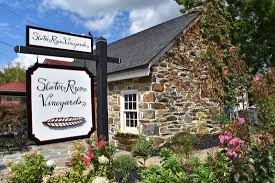 Meet in the tank or barrel room for the tasting
Tour of winery/winemaking
Relax on patio, tree knoll, or lawn and enjoy a glass of wine. Purchase bottles if desired
3rd Stop - Leisure Time in Middleburg (2:45 pm - 4:15 pm)
4th Stop - Rest Stop and Brief Tour of Salamander Resort w/Concierge Marlin Garone (4:30 pm - 5:00 pm)
5th Stop - Arrive back at Rosslyn Metro at 6:00 pm

Registration
Bus tour and wine tasting -- $65/person for Wharton Club members and their guests, $75/person for non-members
Wine tasting only - $30/person for Wharton Club members and their guests, $35/person for non-members
Reservations need to be made by 9/30 to secure these prices.
When:
11:00AM - 6:00PM Sun 7 Oct 2018 ( Timezone: Eastern )

Where:
Rosslyn Metro Station
1850 N Moore Street
Arlingont, VA 22209 USA
[ Get Directions ]