Headliners Book Event with Penn Prof. Dr. Paul Offit on His New Book, "Bad Advice"
Wharton Club Members invited to attend this event with a top Penn Med Prof. Comp for President's Club & Lifetime Members
NPC Headliners Book Event: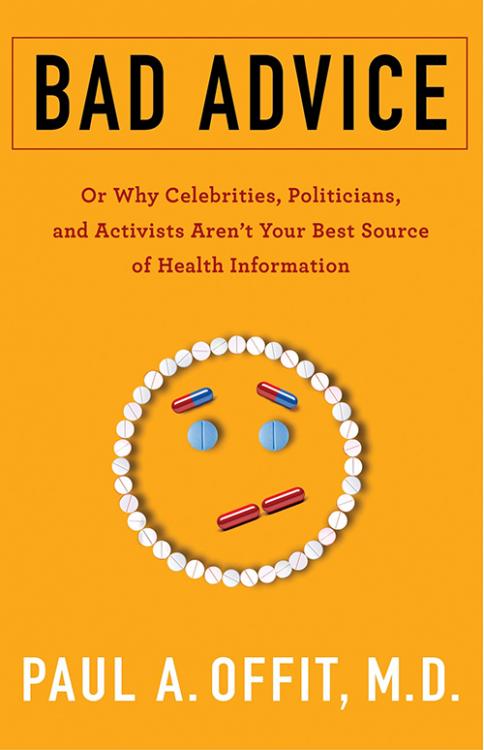 Location: Natl. Press Club Conference Rooms
Dr. Paul Offit, an award-winning expert on vaccines, immunology and virology and co-inventor of a rotavirus vaccine credited with saving hundreds of lives every day, will appear at a National Press Club Headliners Book Rap on Monday, October 29, to discuss his latest book: "Bad Advice: Or Why Celebrities, Politicians and Activists Aren't Your Best Source of Health Information."

In "Bad Advice," Dr. Offit uses harrowing and often humorous stories from his own experiences as one of the countries' top pediatricians and leading vaccine advocates to illustrate why scientists must hone their communication skills and fight back against politicians and celebrity activists who use their gift of gab to spread overly simplistic and often misleading or downright false information to the public about what is good for them and what is not.




This event will feature a discussion with the author, an audience question-and-answer session, and a book signing.

There will be a cash beer bar in the room, as well as complimentary game-day snacks for attendees.

Books will be available for purchase at the event. Proceeds from book sales will benefit the non-profit affiliate of the Club, the National Press Club Journalism Institute, so we kindly ask that you leave all outside books and memorabilia at home.
About the Author
Paul A. Offit, M.D., is a professor of pediatrics in the Division of Infectious Diseases and Director of the Vaccine Education Center at the Children's Hospital of Philadelphia, as well as the Maurice R. Hilleman Professor of Vaccinology and Professor of Pediatrics at the Perelman School of Medicine at the University of Pennsylvania. He has been a member of the Centers for Disease Control and Prevention Advisory Committee on Immunization Practices, is a Board Member of Every Child by Two and is a founding member of the Autism Science Foundation. In April 2018 was awarded the Albert B. Sabin Gold Medal, given annually the Sabin Gold Medal recognizes those who have made extraordinary contributions in the field of vaccinology. In addition to "Bad Advice," Offit has authored eight other books including "Autism's False Prophets: Bad Science, Risky Medicine, and the Search for a Cure," and "Pandora's Lab: Seven Stories of Science Gone Wrong."
Tickets are $10 for regular Wharton Club members and guests.

They are COMPLIMENTARY for President's Club and Lifetime Members and one guest each.

There will be a cash bar.
Event details:
WHERE: National Press Club
529 14th Street NW
13th Floor - Conference Rooms
Washington, DC 20045
WHEN: Monday, October 29, 2018
6:30-8:00 p.m.
When:
6:30PM - 8:30PM Mon 29 Oct 2018 ( Timezone: Eastern )

Where:
National Press Club
14th & F Sts, NW 13th Floor, Conference Rooms
Washington, DC 20045 USA
[ Get Directions ]