Hamilton: The Man and the Musical
Monday, Oct. 15th from 6:30 pm to 8:30 pm (Hogan Lovells) with Harvard Club
Alexander Hamilton has always been known as a central player in America's early history, but the smash Broadway musical Hamilton has focused new attention on the life and career of this fascinating individual. This multimedia presentation draws on both Hamilton's biography and his depiction on stage to examine his accomplishments, discuss his relationship with Aaron Burr, and reflect on the accuracy of the musical. It includes recordings from the musical's soundtrack and interviews with its creators.

The presenter Dan Sherman (Cornell PhD, Labor Economics, 1985) is a native of Maine and a part-time resident of Williamsburg. He works as an economist at American Institutes for Research (AIR) and has taught more than 20 adult education courses in the area on musical theatre, opera, and history. He is a volunteer docent at Anderson House mansion in DC.

Preparation options: anything from none, to reading the Ron Chernow book that inspired the musical. Also, you may find it interesting to visit the free Postal Museum exhibit dedicated to Hamilton, next to Union Station. (photos at right and below)
Registration: $45/person for Wharton Club members and their guests; $65/person for non-members.
Non-Members: $65/person
Ticket includes presentation, an 18th Century-style dinner, drinks, and networking
About the presenter: The presenter Dan Sherman (Cornell PhD, Labor Economics, 1985) is a native of Maine and a part-time resident of Williamsburg. He works as an economist at American Institutes for Research (AIR) and has taught more than 20 adult education courses in the area on musical theatre, ope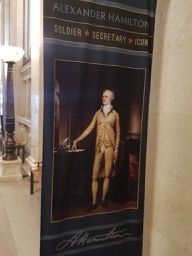 ra, and history. He is a volunteer docent at Anderson House mansion in DC.
Menu
Beetroot Salad (Vegan)
Chicken Pot Pie
Poached salmon with saffron sauce
Green Beans almondine (Vegan)
Roast potatoes, prepared with salt but no butter (Vegan)
Fresh Sliced Fruit & Syllabub (but no syllabus ;-)
Soda, Wine & Beer
VENUE
This venue is fully handicap-accessible and our meals are designed to acommodate vegetarians.

The nearest Metro station is Metro Center. Exit at 12th and F Street, NW. Your destination is the building named "Columbia Square" which will you see right in front of you as you exit the escalator.
There are several nearby parking garages including:
Columbia Square Parking Garage: 555 12th Street NW, Washington, DC 20004 (202) 637-8105

Parking Management: 600 13th Street NW, Washington, DC 20004 (202) 347-5469
When:
Monday, 10/15/18 at 6:30pm - 8:30pm | iCal
Where:
Hogan Lovells
555 13th St NW
Washington, DC 20004 United States
Registration
Wharton Club members and their guests: $45/person
Non-members: $65/person
Ticket includes full dinner, drinks, and discussion
Click here to buy tickets!!!
When:
6:30PM - 8:30PM Mon 15 Oct 2018, Eastern timezone

Where:
Hogan Lovells
555 - 13th Street, NW 13th Floor Conference Rooms
Washington, District of Col 20004 United States
[ Get Directions ]
Look Who's Coming:
Alan Schlaifer
Wharton Club
Carol Tobin
Claudia Tordini
Appanage LLC
Richard Franklin
FKL Law
Michael Moriarty
Capital Hospitality Group
Eileen Moriarty
Eric Benderson
Susan Kraut
Philo Collins
... a total of 9 guests.
Note: to opt out from this list please sign in, go to My Account and change your preferences under My RSVPs.