EMBASSY OF THE PHILIPPINES Has Invited Us to a RECEPTION & BRIEFING

Please join host His Excellency Ambassador Jose Manuel G. Romualdez & staff for a fascinating evening at the Historic Chancery.
Stimulating way for you to learn about his fast-growing nation and enjoy its cuisine
The Ambassador will review various aspects of history, culture, business, economics, politics and major issues of his nation, as well as the opportunities and challenges that lie ahead. Following comments, attendees will be able to ask questions and meet with members of the embassy staff. The reception will include a nice assortment of Filipino food and beverages.

To view the brief video with the highlights of the evening and what this nation offers,

CLICK HERE

.
When: Wednesday, January 23, 2019, 6:30-8:30 pm (Inclement weather date TBA).
Where: Embassy of the Philippines Chancery, a historic site
Parking: Free, on-street parking after 6:30 p.m.
Metro: Red Line, Dupont Circle
Attire: Business
Register:
Current members

: Wharton Club, Natl. Economists Club, Harvard B-School Club of DC, all subject to availability; our Wharton Club Embassy Receptions usually sell out in advance. All amounts include Reception with Food & Beverages; Program; Networking
President's Club / Lifetime Members: Two complimentary admissions; must still RSVP. Registrations are open now; first priority to President's Club and Lifetime Members

Regular Members & Guests: Early Bird through 1/14: $29/person.

After that date, $39/person.
Non-members of listed groups:

Early Bird thru 1/14: 49/person; after that date, 59/person
NOTE: RESERVE EARLY, as our Embassy events usually reach capacity.
Reservations:

Required in advance

. NO WALK-INS.

Your name, position, organization, and other registration information will be collected by the Club and provided to the Embassy for security reasons, as we hope you can understand. You can provide needed information under "Special Instructions" when you register.

Limited capacity: Total of 50 people, subject to availability.

Here's the schedule:

--6:30-7:15 p.m.: Reception

--7:15-8:00 p.m.: Briefing by the Ambassador, followed by Q&A

--8:00-8:30 p.m.: Continuation of reception, meeting with Ambassador and other officials.
Meet the Ambassador:
H.E. JOSE MANUEL G. ROMUALDEZ
Ambassador of the Republic of the Philippines to the United States of America

Jose Manuel "Babe" del Gallego Romualdez was appointed Ambassador of the Republic of the Philippines to the United States of America in July 2017 by President Rodrigo Roa Duterte. On 29 November 2017, he presented his credentials to US President Donald J. Trump and formally assumed office as Ambassador Extraordinary and Plenipotentiary. Additionally, as the head of the Philippine Embassy in Washington, D.C., Ambassador Romualdez is concurrently the Philippines' emissary to the Commonwealth of Jamaica, Republic of Haiti; Republic of Trinidad and Tobago; Antigua and Barbuda; Bahamas; Barbados; Dominica; Saint Kitts and Nevis; Saint Vincent and the Grenadines; and Saint Lucia.

Prior to his appointment, Ambassador Romualdez was designated as a special envoy of the Philippine President to the United States. He also served as a member of several Philippine business delegations visiting the United States, China, Japan and New Zealand from 1989 to 2012.

Ambassador Romualdez has extensive experience as a media practitioner and business executive. He used to be the Chief Executive Officer of Stargate Media Corporation and Publisher of People Asia Magazine (The Philippine Star affiliate). He was president of the Manila Overseas Press Club and vice-president of Rotary Club of Manila.

Ambassador Romualdez writes columns for The Philippine Star. All his columns have a wide following of readers both in the Philippines and abroad.

Born and raised in Manila, Ambassador Romualdez received a Bachelor of Science degree in Business Administration from De La Salle College in 1970. An avid golfer, he is affiliated with Manila Golf and Country Club and the Manila Polo Club.

Click here to make your reservations!!!

About the historic

Embassy Row

Chancery:

"

It is with great honor and a deep sense of responsibility that the Embassy accepts this solemn charge today of preserving the history, nationalism, and dignity that this buildingembodies for the people of the Philippines."

Thus declared Philippine Ambassador to the United States Jose Manuel G. omualdez at the formal ceremony on 9 November 2018 dedicating the Old Chancery of the Philippine Embassy in Washington, D.C. as a National Historical Landmark of the Philippines.

Two historical markers, one in Filipino and another in English, were also unveiled at the cere

mony.

"As a people with a deep sense of nostalgia, Filipinos will ever be mindful of the hard work of our forefathers that have taken us to where we are today in 2018. We shall do what we can to protect and safeguard it with honor. And this building, this National Historical Landmark, no doubt, will constantly remind us of our sacred charge,and of our solemn responsibility," Ambassador Romualdez added.

Purchased in 1941, it was in the Old Chancery on 1617 Massachusetts Avenue NW, Washington D.C., where Resident Commissioners Joaquin M. Elizalde and Carlos P. Romulo presided over the transition of the Philippines from being a Commonwealth into an independent republic in 1946. For a time during World War II, the building was also the headquarters of the Philippine Commonwealth Government-in-Exile.

The Philippines
To view the brief video with the highlights of what this nation offers,

CLICK HERE

.

Some facts about our host nation, the fascinating Philippines, from their official website, http://www.tourism.gov.ph, and wikipedia.org (to be updated):
The Philippines are the third largest English speaking country in the world. They have a rich history combining Asian, European, and American influences. Prior to Spanish colonization in 1521, the Filipinos had a rich culture and were trading with the Chinese and the Japanese. Spain's colonization brought about the construction of Intamuros in 1571, a "Walled City" comprised of European buildings and churches, replicated in different parts of the archipelago. In 1898, after 350 years and 300 rebellions, the Filipinos, with leaders like Jose Rizal and Emilio Aguinaldo, succeeded in winning their independence.

In 1898, the Philippines became the first and only colony of the United States. Following the Philippine-American War, the United States brought widespread education to the islands. Filipinos fought alongside Americans during World War II, particularly at the famous battles of Bataan and Corregidor, which delayed the Japanese advance and saved Australia. They then waged a guerilla war against the Japanese from 1941 to 1945. The Philippines regained its independence in 1946.

Filipinos are a freedom-loving people, having waged two peaceful, bloodless revolutions against what were perceived as corrupt regimes. The Philippines have a vibrant democracy, as evidenced by 12 English national newspapers, 7 national television stations, hundreds of cable TV stations, and 2,000 radio stations.

Filipinos are a fun-loving people. Throughout the islands, there are fiestas celebrated everyday and foreign guests are always welcome to their homes. Their tourism theme reflects this: "It's More Fun in the Philippines."

The Filipino is basically of Malay stock with a sprinkling of Chinese, American, Spanish, and Arab blood. The Philippines have a population of over 100 milion as of 2018, and it is hard to distinguish accurately the lines between stocks. From a long history of Western colonial rule, interspersed with the visits of merchants and traders, evolved a people of a unique blend of east and west, both in appearance and culture.

The Filipino character is actually a little bit of all the cultures put together. The bayanihan or spirit of kinship and camaraderie that Filipinos are famous for is said to be taken from Malay forefathers. The close family relations are said to have been inherited from the Chinese. The piousness comes from the Spaniards who introduced Christianity in the 16th century. Hospitality is a common denominator in the Filipino character and this is what distinguishes the Filipino. Filipinos are probably one of the few, if not the only, English-proficient Oriental people today. Pilipino is the official national language, with English considered as the country's unofficial one.

From Wikipedia:
The Philippines (Filipino: Pilipinas), officially the Republic of the Philippines (Republika ng Pilipinas; RP), is an archipelagic nation located in Southeast Asia, with Manila as its capital city. The Philippine archipelago comprises 7,107 islands in the western Pacific Ocean, bordering countries such as Indonesia, Malaysia, Palau and the Republic of China, although it is the only Southeast Asian country to share no land borders with its neighbors. The Philippines is the world's 12th most populous country with a population over 100 million.
Fr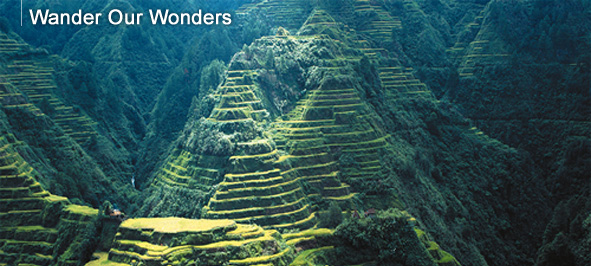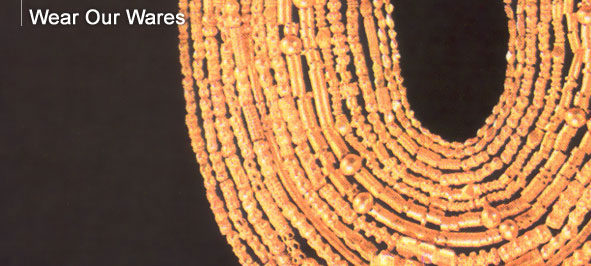 These are but a few of the Philippines' many attractions, again described at the official website:

Wander over the world heritage site, Banaue Rice Terraces, Eighth Wonder of the World, carved from the high Cordilleras over 2,000 years ago. Behold the 500-year old mummies in Kabayan. Follow the steps of President Gloria Macapagal Arroyo trekking up Mt. Pinatubo. View Taal Volcano, the smallest volcano in the world. Head for the 1,268 Chocolate Hills of Bohol. Top off your experience with an exhilirating ride on a canoe down an 8-kilometer Underground River in Sabang, Puerto Princesa City, Palawan.

More and more people are discovering that the Philippines is Asia's most inexpensive shopping destination where you can get the most value for your money. Here you can find imported name brands from the West, as well as products handcrafted in the Philippines, from weaves, baskets, and brassware to hand-embroidered piña cloth, wood figurines, and all sorts of custom-made furniture, clothes, wedding gowns, shoes, embroidery items, and many other accessories.

The world's longest underground river system accessible to man is located in the capital of Palawan. The Puerto Princesa Subterranean River National Park, which has been inscribed in UNESCO's World Heritage List, is Palawan's most popular attraction and covers 5,349 hectares of lush forest, dark mountains, caves, and white beaches. Paddle through eight kilometers of a snaking, underground river leading to a clear lagoon. Walk on the Monkey Trail, a series of wooden paths that winds into the forest, lined with 40,000 tropical flora and fauna.
Are your curiosity, imagination, and sense of adventure aroused? We hope so.
If you want to learn more - much more - about this fascinating nation and its people, and taste its cuisine, you are invited to join us as guests of Ambassador and his First Lady on Wednesday, January 23, 2019.
Our Embassy receptions usually sell out in advance, so sign up early to join us for this event.
Click here to make your reservations!!!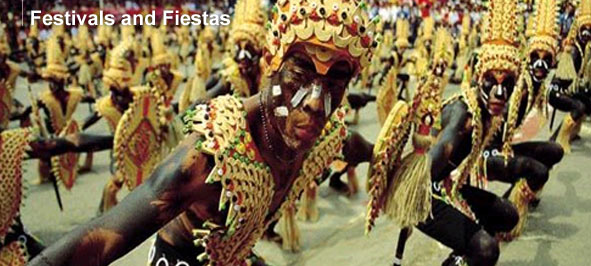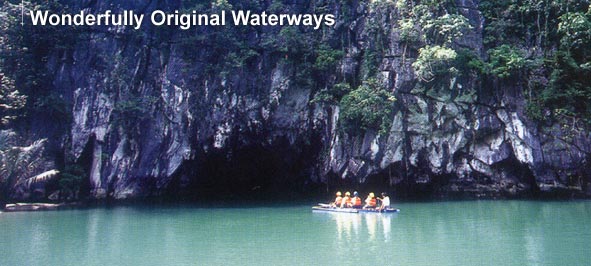 IMPORTANT: You must register in advance for security reasons and as a courtesy to our hosts.
When:
7:30PM - 9:30PM Wed 23 Jan 2019, Eastern timezone

Where:
Embassy of Philippines Chancery
1617 Massachusetts Ave., NW
Washington, DC 20006 USA
[ Get Directions ]
Look Who's Coming:
Alan Schlaifer
Wharton Club of DC
Jennifer Tabones
Steve Lebischak
Asius Audio Tech
Betsy Hanlon
Climate Advisers
Sang J Kim
ICAS
Synja Kim
Dr. Victor Lorica
Walter Juraszek
W & L Global Enterprise
Guadelupe Juraszek
World Bank
Mark Joyce
Xia Analytics
Andy Chalonec
Start-up Entrepreneur
Marvin Petry
Marilyn Petry
Sandy Vasan
Axel Kirstetter
Julian Wilson
Guest of Julian Wilson
Ruwan Salgado
Strat8gy International, LLC
Monique Lass
Leah B. Walker
Helen Qubain
Story Goldmine
Harry Matz
Ramesh Gupta
Ligado Networks
Nitu Gupta
GNR Health Management
Tom Trexler
Corporate Finance
Amy Servais
Original Velatis Caramel
Sheila Switzer
AAFSW
Tom Switzer
Eliot Shatzman
Merrill Lynch
Dr. Bambi Lorica
Jennifer Simpson
Sonny Busa
Ceres Busa
Cristina King
Katherine Tare
U.S. Bureau of Labor Statistics
Roy Shrobe
Dale Hill
Lee Corey
Kenya Pittman
VANTIX
Gail Swann
David Morey
DMG, Inc.
Zheng Xie
DMG, Inc.
Ban Tran
Merrill Lynch
Victoria Bautista, Legis. Asst.
Office of Hon. Kendra Horn, MC
Christine Lorica
Todd Anderson
Nam Nguyen
... a total of 48 guests.
Note: to opt out from this list please sign in, go to My Account and change your preferences under My RSVPs.