Welcome from the Chinese Embassy: A Great Work of Art, and a Home to Great Art Works
We are fortunate to be invited to have a December 11 Dinner Reception & Film Screening at the Chinese Embassy, a distinctive D.C. landmark. Our dinner reception will be held in one of the elegant rooms, and the film will be viewed in the exquisite 180-seat theater. Comments by the Embassy:
The Embassy of the People's Republic of China in the United States of America has been an important link between the two countries since the establishment of diplomatic ties, dedicated to the sound and steady development of China-U.S. relations. lt has also been an important window for the American people to learn and understand China. The new Chancery Building of the Embassy began use in 2009, and with its elegant and exquisite design, the building has added bright color to the Chinese Embassy.

The architect, l.M. Pei, is known for his unique fusion of Eastern and Western elements and great imagination. With the geometrical layout of the sculpture-like building, the artistic tension it presents and the resonating light and shade, the building is a full demonstration of J.M. Pei's unique style. The Embassy was endowed with rich cultural elements by the perfect marriage between the building and art, and stands as a distinctive calling card of China in Washington, D.C.

The new Chancery Building is also home to over a hundred art works by well-known artists of mod

ern China. These beautiful paintings, calligraphy and embroidery pieces find themselves perfectly

blended in and make the Embassy building an enchanting museum of Chinese culture and art. Culture and art transcend borders of countries and connect people's souls.

China and the United States are great countries with splendid culture and art. Our two peoples have admired and respected each other. The Chinese Embassy opens a door of Chinese cultu

re to the people of the U.S. and is can serve as a bridge of understanding, friendship, trust and cooperation between our two

peoples. We welcome American guests to come and visit, and we hope our Chinese brothers

and

sisters treat it as a home when traveling to the U.S.

To Register for the Reception and see the artchitecture and art for yourself,

PLEASE CLICK HERE
The Architect
The creative force behind the design of the Chancery Building was the world-renowned architect, l. M. Pei. As the symbol of the People's Republic of China in the United States, the Chancery Building's design was derived from a contemporary interpretation of the traditional Chinese architectural p

lanning principles.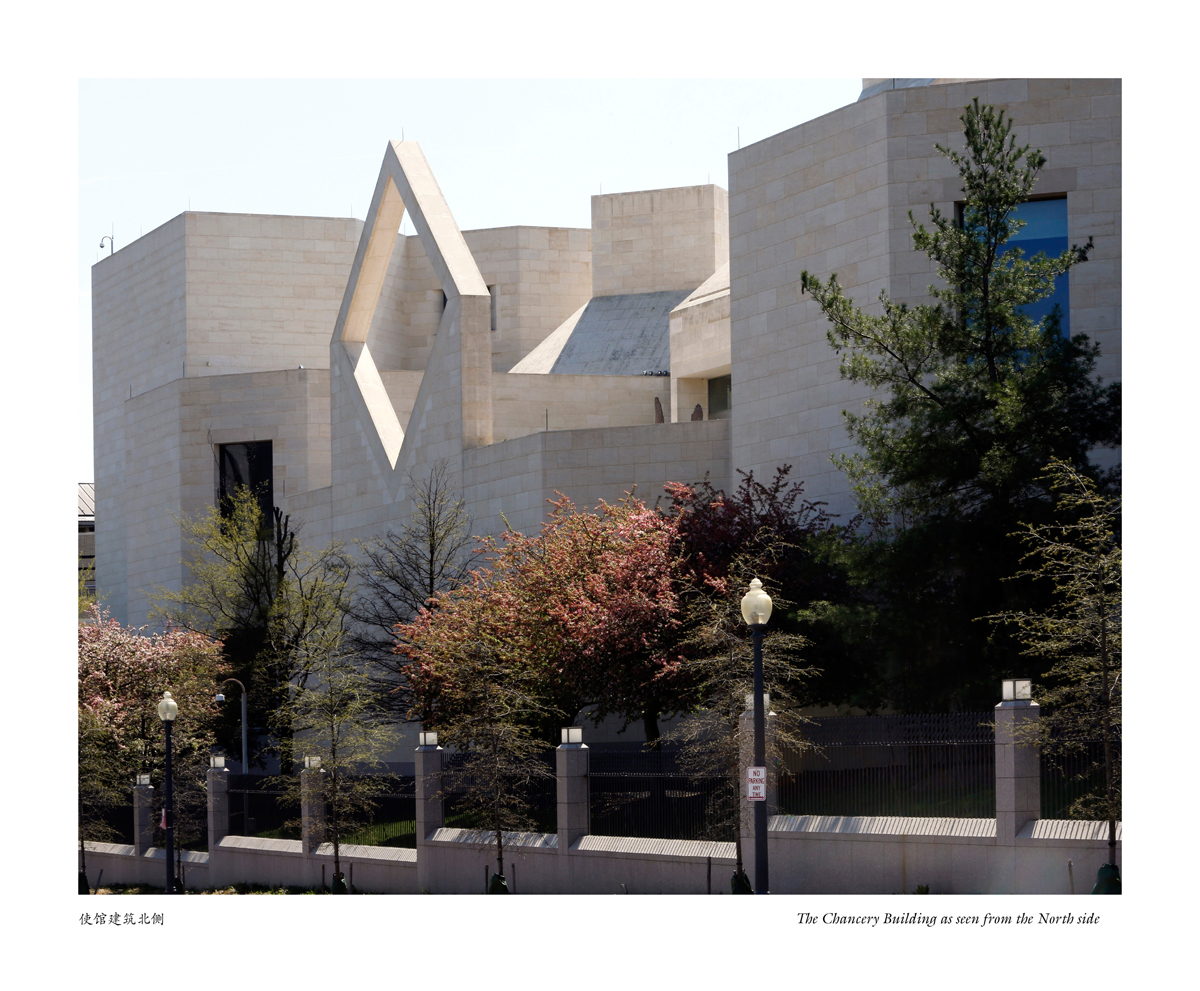 His two sons, Chien Chung (Didi) Pei and Li Chung (Sandi) Pei, renowned architects in their own right, were responsible for the project. The design values are based on the belief that architecture should be thoughtful, well-built and respond to societal needs. Pei Partnership Architects' ethos, "Respect for the past and responsiveness to present needs in the pursuit of enduring architecture," is the foundation of the firm's entire body of work.

Ieoh Ming Pei was born in China in 1917, the son of a prominent banker. He completed his education in architecture at MIT and Harvard.

Mr. Pei's personal architectural style blossomed with his design for many public buildings and humanity establishments, and his architectural style has been categorized as contemporary. His preference to choose materials like steel, concrete, glass and natural stones, has become his distinctive character. His representative works include the East Building of the National Gallery of Art Gallery in Washington DC and the Grand Louvre in Paris.

Mr. Pei's architectural footprints also include the Bank of China Buildings in Hong Kong and Beijing, the Suzhou Museum in Suzhou, China and the Fragrance Hill Hotel in Beijing.

To Register for the Reception and see the artchitecture and art for yourself,

PLEASE CLICK HERE