Headliners Luncheon with Admiral Karl L. Schultz, Commandant of the U.S. Coast Guard
Wharton Club members & their guests are invited to this Headliners Luncheon at National Press Club
NPC Headliners Luncheon: Admiral Karl L. Schultz, Commandant of the U.S. Coast Guard
Location: Holeman Lounge
As climate change continues to erode seasonal ice coverage in the Arctic, access through the Northwest Passage continues to expand, opening up greater possibilities for scientific exploration and international trade. With just two aging icebreaker vessels currently capable of navigating this expanding frontier (compared with Russia's fleet of 41 icebreaking ships), the U.S. Coast Guard has made continued pleas to Congress to appropriate adequate funds to build a new heavy polar ship and expand America's polar icebreaker fleet. On Thursday, December 6, Admiral Karl L. Schultz, the 26th Commandant of the United States Coast Guard, will deliver an address on the importance of stepping up America's presence in the Arctic as a measure of national security at a National Press Cub Headliners Luncheon.
Lunch will be served in the Club's Holeman Lounge at 12:30 p.m., with remarks beginning at 1:00 p.m., followed by a question-and-answer session ending at 2:00 p.m.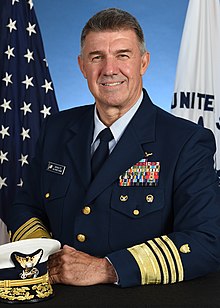 About the Author:
Admiral Schultz assumed the role of Commandant on June 1, 2018, having previously served as Commander of the Atlantic Area where he was the operational commander for all Coast Guard missions spanning five Coast Guard Districts and 40 states. The Coast Guard is the principal Federal agency responsible for maritime safety, security, and environmental stewardship in U.S. ports and waterways. In this capacity, the Coast Guard protects and defends more than 100,000 miles of U.S. coastline and inland waterways, and safeguards an Exclusive Economic Zone (EEZ) encompassing 4.5 million square miles stretching from North of the Arctic Circle to South of the equator, from Puerto Rico to Guam, encompassing nine time zones – the largest EEZ in the world.
Schedule:
VIP Reception 12:00-12:30 p.m (you will be informed if your request is granted. PREFERENCE to President's Club & Lifetime Members)
Lunch from 12:30-1:00 p.m.
1:00-2:00 p.m.: The speaker's remarks and Q&A from the audience.
Please call Alan Schlaifer at 301-365-8999 if you'd to be considered to attend the reception (if there is one) from 12:30-1:00 pm with the speaker. (He may only bring a few guests, preference for President's Club and Lifetime Members).
Where: National Press Club, Ballroom, 13th Floor, 14th & F Streets, N.W., just two blocks from Metro Center
Metro, Parking: Metro Center; several private garages within a few blocks.
Attire: Business
Reservations: $39/person for current Wharton Club members and their guests only. You must reserve in advance on our site. We have only a limited number of seats, so Members may purchase seats only for themselves and up to three guests, if desired. (Photo: on the Natl Press Club website, press.org)
When:
1:30PM - 3:00PM Thu 6 Dec 2018 ( Timezone: Eastern )

Where:
The National Press Club, Holeman Lounge, 13th Floor
529 - 14th Street, NW
Washington, DC 20045 USA
[ Get Directions ]
Look Who's Coming:
Steve Lebischak
Guest of Steve Lebischak
Eliot Shatzman
Chip Oat
... a total of 4 guests.
Note: to opt out from this list please sign in, go to My Account and change your preferences under My RSVPs.
Click here to reserve your seat(s)