5th Annual Innovation Summit:
Disruptive Technologies - Your Path to the Future
---
Will YOUR Company - whether startup, early-stage, or other enterprise - BE BLOCKED by Disruptive Technologies? Or will you and your team RIDE THE WAVE OF DISRUPTION to growth and success?
To tilt the odds in YOUR FAVOR, join us at the 5th Annual Wharton DC Innovation Summit.
To ADVANCE and SCORE with your idea, your startup, early-stage, or other organization, join us on the journey to improve your innovation results. And as

you SCORE, you may even use - or develop - Disruptive Technologies to CHANGE THE GAME in your business or your industry!
REGISTER NOW for Tuesday, May 7, 2019 Summit! Early Bird Rates END at Midnight, Monday, April 29. SO REGISTER NOW!
Or learn more, at our new Summit website, www.WhartonDCInnovation.com.
At this Summit, as at the past four, you (and other members of your team, if you decide to bring them) can:
Begin by taking a fresh look at the DESIGN OF YOUR BUSINESS & INNOVATION PLAN -

you'll get new ideas, from the start, with opening keynote Seth Goldman

Next, to improve & run with it, CONNECT with thought - and action - leaders at the Summit. Consider which of their ideas and lessons you can use or adapt from sessons you attend.
Then MEET with potential funding, contract and other resource sources, and possible strategic partners
And finally have FUN, as you are inspired by diverse achievers across a spectrum of industries.

This Summit will add to your fun by closing with a keynote, David Morey, Wharton MBA, who will inspire you with his theme, "Creating Business Magic." David will demonstrate how you can harness the power of magic to create and innovate in your thoughts and actions to move your venture to new heights.

And then the Reception, giving you the opportunity to meet and team up with - and bowl against - fellow attendees.
After four Summits of growing success and impact, we have

reserved Tuesday, May 7, 2019, for this year's Wharton DC Innovation Summit: Disruptive Technologies - Your Path to the Future at Pinstripes, North Bethesda, MD.
Good news: You don't need to be a Wharton alum to attend and benefit from the Summit. EVERYONE interested in innovation - and moving their career and team forward - is welcome.
This will build on the four successful Summits we've already held, each of which received rave reviews from speakers, attendees and sponsors. These are a few of the many testimonials we've received:
What's exciting about the Summit is we have entrepreneurs and innovators coming together in the Nation's capital, finding ways entrepreneurs and innovators can help solve the big problems over the next decade. I'm excited about being here because the talent gathered here can together be part of the solution for our Nation's ills.

-- Aneesh Chopra, Hunch Analytics, and first White House Chief Technology Officer
"The Summit is fantastic. I've had a lot of great conversations with individuals here. There are many new perspectives, innovative ideas, and great opportunities to collaborate. We've had numerous informal sessions with much dialogue." – Ruth Ann Hudson, IBM
Register now so you YOU can ATTEND, PARTICIPATE IN, COLLABORATE, and BENEFIT from the Summit. Don't miss out - ACT NOW!
Two Keynotes who have achieved great success in their business activities will share innovation and entrepreneurship lessons learned, and a General Session Panel will explore major disruptors and trends:
Seth Goldman

, Founder and TeaEO Emeritus Honest Tea and now Chairman of BeyondMeat.com, will inspire attendees with lessons he has learned on the path to success fueled in significant part by innovation, but overcoming huge obstacles. He will discuss many facets of "The Future of Food," from creative and more sustainable ways to grow, produce, distribute, and encourage the use of more healthful food products - and better ways to use water & other vital resources.
David Morey, will discuss, and demonstrate (through his performance of magic) his theme from his latest book, Creating Business Magic: How the Power of Magic Can Inspire, Innovate, and Revolutionize Your Business
We feature a Panel of Top Innovators from to explore and exploit trends, huge opportunities, & challenges in the U.S. and abroad in Mega-Technologies: artificial intelligence (AI), big data, blockchain, & IoT (Internet of Things) that are fueling growth:

Hon. James P. Moore, Jr., Founder & CEO, Washington Institute for Business, Government, and Society
Susan Penfield, Chief Innovation Officer, Booz Allen Hamilton
Gary Shapiro, President & CEO, Consumer Technology Association, & author, Ninja Future: Secrets of Success in the New World of Innovation
S. Tien Wong, Chairman & CEO, Opus8, Inc. & Angel Investor.
You'll learn vital information in four breakout sessions in each of three tracks (listing speakers & descriptions in coming weeks):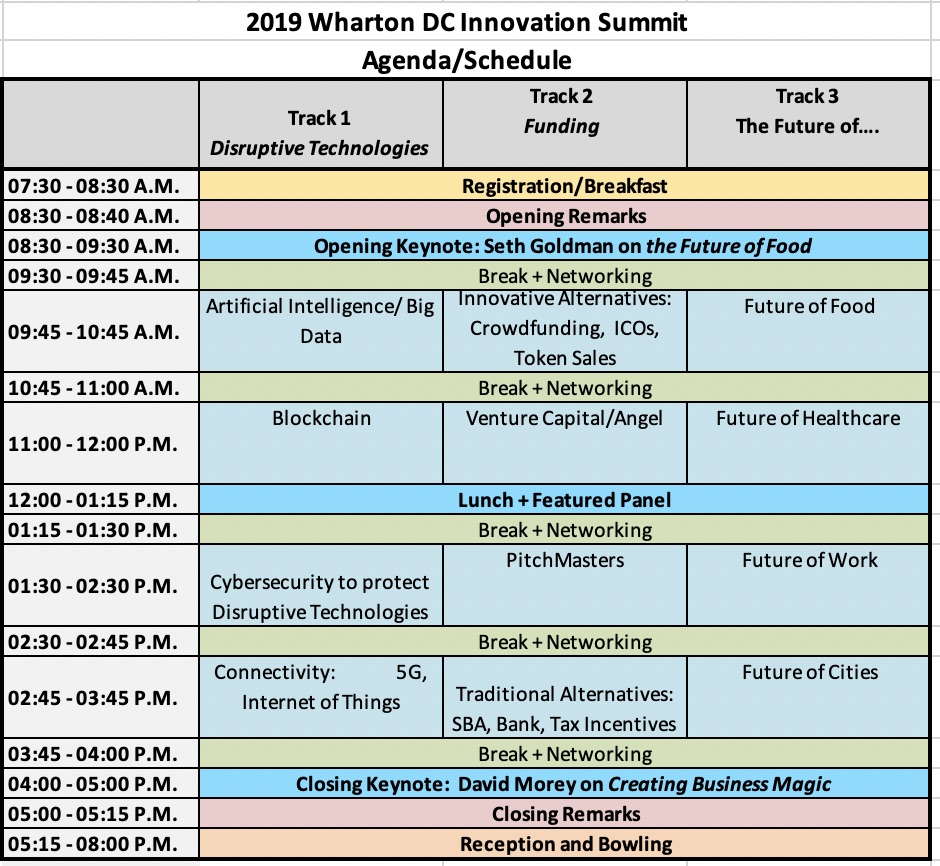 To see what we offered at the last Summit, cllick HERE to view our WhartonDCInnovation.com website. We will be updating that with the latest information about Sessions and Speakers at this year's Summit.
Click here to Register for the Summit before rates rise again and to secure your place!!!
Feel free to contact us if you'd like to learn more about sponsorship opportunities by emailing us (just click here).
Here's our fast-growing list of prestigious Strategic Partners, to help you learn and connect from high caliber, diverse networking sources:
Alumni Clubs:
Other groups:
REGISTER NOW for Lowest Rates: Special Offers for Wharton Club Members / Strategic Partner Member / Full-Time Govt, Nonprofit or Academia Only:
(IMPORTANT: IF NOT WHARTON CLUB MEMBER, you must list the name of your Strategic Partner of which you're current member / Full-Time Govt. Agency / Nonprofit / Veteran (please enter mil. branch) under Special Instructions when you register. Thank you. And you're welcome to join the Wharton Club, if you'd like, to save.
ALL FULL ACCESS passes are all-inclusive for FULL DAY of Summit, FULL ACCESS PASS - to all sessions, breaks, reception (with optional bowling), meals (breakfast & lunch):
Full Access Pass: All sessions, meals, breaks, reception (with optional bowling)

Early Bird

Through Midnight

April 29

Advance

April 30-May 6

May 7 (if space is available)

Wharton Club Members & Guests

189

219

279

Strategic Partner Members**/Guests;

Full-Time Nonprofit, Employees/Small Business (5 or fewer FTE Employees)***

189

219

279

General Public

289

319

349

U.S. Veterans

/Active Service - Academia/Students & Govt. - Startups

99

119

149
When:
8:00AM - 8:00PM Tue 7 May 2019, Eastern timezone

Where:
Pinstripes Ballroom at Pike & Rose
11920 Grand Avenue 2nd Floor
North Bethesda, MD 20852 USA
[ Get Directions ]
Look Who's Coming:
Jonathan Lang
Chamber Advisors
Vincent Natale
Eliot Shatzman
Merrill Lynch
Nanda Ramanujam
ASSETT Inc.
Danqing Zhu
World Bank Group
Philo Collins
Alan Schlaifer, Chairman
Wharton DC Innovation Summit
Randall Reade, Executive V.P.
Washington DC ArchAngels
Dan Loague, President
Washington DC ArchAngels
Sandy Vasan
Innovation Partners
Jane Stieber
JS Associates
David Morey, CEO
DMG Global
Seth Goldman, TeaEO Emeritus
Honest Tea; Exec. Chair, BeyondMeat.com
Andrea Essex
Long & Foster
Brian Park
Startup Grind
Jean-Francois Orsini, Chairman
Wharton School Club of DC
Helen Qubain
Ruwan Salgado, Program Chair
Wharton DC Innovation Summit
Rashed Hasan
Nantuit LLC
Brendan Harris
SeventySix Capital
Stephanie Katz
CETA Benefit Consulting Group, LLC
William Rever
Steve Lebischak
Dan Coffing
Mary Gotschall
ABC Imaging
Lori Faye Fischler
Otilo, Inc.
Pauline Thompson
Tysons Realty
Steve Kann
kent Watkins
American Academy of Housing and Communities
Kelvin Fu
Mitchell Davis
Shannon Daniels
encaptiv
Mark Baldino
FireBot Inc
Mit Shah
Getupside
Anthony Millin, Esq., Partner
Shulman Rogers, SR NEXT
Sabine O'Hara, Dean, Univ. of DC
College of Agriculture, Urban Sustainability & Env. Sciences
Dr. Jeff Hausfeld, MD, MBA, FACS, Chair
& Ch. Med Officer, BioFactura
Javier Castro, CEO
Gravatate.com
David Gamse, CEO
JCA
Bikram Bakshi, Board of Directors
TCARE
Hank Dearden, Exec. Dir.
Forst Planet, Inc.
Danny Ryan, Co-Founder
Alikos Wealth Management
Demi Jiang, CEO
Pivot Point Partners
Jennifer Laszlo Mizrahi, CEO
RespectAbility
Bob Mazer
Smart City Works
Mark Paris
Urban Us
Lisa Friedlander, Business Dev. Mgr
Shulman Rogers
Art Medici
Newport Board Group
Tien Wong
Opus8
Susan Kearney
Newport Board Group
Paul Huey Burns, Esq.
Shulman Rogers
Allison Baker Shealy, Esq.
Shulman Rogers
Ed Moy
Digital Chamber of Commerce
Mark Maier, Esq.
Shulman Rogers
Vinod Jain
Helen Huang
American University
Narayand Iyer, Global Venture Leader
Cognizant
Kristi Jones, Pharm.D, Chief
Operating Officer, NexImmune
Thomas Kakovitch, Chairman & CEO
Kakovitch Global Businesses
Jeff Mund, Founder & Managing
General Partner,, MCVC Partners
Natalia Olson-Urtecho, Co-Founder &
Chief Innov. & Strategy Officer, The Disruptive Factory
C. Earl Peek, Founder &
Managing Partner, Diamond Ventures
Ian Portnoy, Esq.
Dr. Marianne Vaes, Agricultural Counselor
Embassy of the Kingdom of the Netherlands
Lillian Ting
Select Venture Partners
Dr. Neil Wasserman, Adj. Prof in
Computer Science, George Washington Univ.
Prachi Vakharia
Mind at Work
Niloofar Razi Howe, Tech Exec.,
Entrepreneur & Investor
Ype Von Hengst, Exec. Chef &
Chief Culinary Officer, Silver Diner
Jet Lu, Director
Digital DevOpps, Baltimore City
Gloria Jacobovitz, Angel Investor
Baltimore Angels
Brian Barnett, CEO
The Barnett Company, Inc.
Dahna Goldstein, Sr. Fellow
Blockchain Trust Accelerator, New America
Jonathan Schlaifer, Esq.
NSIP Law
John Beccia, Co-Founder & CEO
FS Vector LLC
Doug Brake, Dir., Broadband &
Spectrum Policy, IT & Innovation Foundation
Dr. Charles Clancy, Exec. Dir.,
Hume Center, Virginia Tech
Bob Dinkel
Angel Investor
William Hare, Assoc. Dean
for Land-Grant Programs, UDC Causes
Gary Shapiro, CEO & President
Cons. Tech. Assn
Justine Schaffner
Washington Institute for Business, Govt. & Society
Drew Petrushka
Washington Institute for Business, Govt. & Society
James P. Moore, CEO
Washington Institute for Business, Govt. & Society
Patty Simonton
Be Green Hub, Bethesda Green
Matthew Murray
Kenny Pyetranker
Bloomberg LP
Sotti Koev
LocalVest
Khalid Usmani
GuideVine
Aaron Saunders, Founder & CEO
Clearly Innovation Inc & Inclusive Innov. Incubator
Lokesh Kumar, Co-Founder & VP
Tech, Urgent.ly
Malinda Peeples, RN, MS, CDE, VP of
Clinical Services, Programs, and Research, WellDoc
Akin Sawyerr, Managing Director
Feleman Limited
Pete Tseronis, Founder & CEO
Dots and Bridges LLC
Susan Penfield, Chief Innov. Officer
Booz Allen Hamilton
Gary Shapiro, President & CEO
Consumer Technology Assn. (CTA)
Barry Einsig, Principal
CAVita
Stephen Boughner, Esq.
NSIP Law
Mark Mazer, Founder
Smart City Works
Dannelle Shugart, President
Shugart Consulting
Erin Fry, CEO
Erin Fry Photography LLC
Michael Tourville, Manager
Morgan Franklin Consulting
Peter Fry, Executive Director
endPoverty.org
Julian Wilson
Rob Kimmer
Sun Pop/Mei & Mark
Rosemarie Savino, COO
Gravatate
Fred Hockett
Kumar Dixit, Sr. Chaplain
The Washington Home
Edward Lewis
Sophia Parker
DSFederal
Spiros Balntas
Michael Pocalyko
SI
Alan Schlaifer
Guest of Alan Schlaifer
Guest of Alan Schlaifer
Guest of Alan Schlaifer
Guest of Alan Schlaifer
Guest of Alan Schlaifer
Guest of Alan Schlaifer
Guest of Alan Schlaifer
Guest of Alan Schlaifer
Guest of Alan Schlaifer
Guest of Alan Schlaifer
Guest of Alan Schlaifer
Rohit Bhayana
Sonal Singh
Ines LeBow
Enterprise Transformation Solutions LLC
nam nguyen
Mark Baldino
FireBot Inc
John Davis, CEO
SBIR Resource Center
Cheryle Davis
Charles Rowe, President & CEO
America's SBDCs
Sanyogita Shamsunder, VP
Verizon, 5G Ecosystems & Innovation
Nicol Turner Lee, PhD, Fellow
Center for Technology Innovation at Brookings Institution
Akin Sawyerr, Managing Director
Feleman Limited
Jonathan Aberman, Managing Director
Amplifier Advisors
Malinda Peeples, RN, MS, CDE; VP
WellDoc, Clinical Services, Programs & Research
Pete Tseronis, Founder & CEO
Dots and Bridges LLC
Lokesh Kumar, Co-founder and VP 
Tech, Urgent.ly
Barry Einsig, Principal
CAVita
Khang Vuong, Founder & CEO
TalktoMira.com
Mike Chacos
Ming Chan
DSFederal Inc.
Echo Wang
DSFederal Inc.
George Perry
Egils Milbergs
PureBlue
Jerry Comanescu
Bertram Lloyd
Gottesman Company
Yinong Chong
DSFederal Inc.
Karl Fisher
Gary Loberg
Kristine Anderson
Booz Allen Hamilton
Kumar Jeev
London Business School
Angela Corrieri
Startup Partners Inc.
York Eggleston
YE Ventures
Charlie Richardson
Tri-Merit R&D Tax Credit Specialty Services
Taylor Van Neste
Morgan Stanley
Rita Alston
Jenny Crabbe
Sheri Nixon
US Wellcare
PRADEEP KARLA
Indiran Pather
Tom Killiam
3 Ridge Organics
Kimberly DeFiori
Badges United Foundation
Joy Langley
Undaunted Strategies
Eric Nixon
Ramesh Subrahmaniam
Stealth startup
Frank Ganis
Enhanced Digital Solutions
Nelly Kolodny
Mozzie Armor LLC
Monica Esson
VERSA Integrated Solutions
Katherine Stifel, AIA LEED AP BD+C
KGSDC
John Preston Brown
Blankit
Roger Erickson
Interbiome Foundation, Inc.
Amanda Stein
University of Maryland
JIAN ZHU
OmicsHealth LLC
Chad Morgan
Andy Chalonec
Cost Caddies
Konstantine Sofer
Intelligentum, LLC
Chelsea Mehra
ChaiLo
Christon Currie
Brunch Hunch and Veteran Connection Mobile Applications
Brenda Robinson
Robinson Strategic Solutions
Thomas Jones, III
Denise Gillingham
Corey Webeck
Cornell University
Terry Moraska
TrueAlgae
Bryan Wish
BW Missions
Silvana Nani
KORABI Consulting
Neil Shah
ConsenSys
Andrea Gilliam
Unwanted
Arlene Marie Lorica, MD
Jay Brinson
Federal REIT
... a total of 219 guests.
Note: to opt out from this list please sign in, go to My Account and change your preferences under My RSVPs.