Gourmet Wine Dinner: "The Italian Table: Creating Festive Meals for Family & Friends"
Wharton Club Members & Guests Invited - Sign up NOW, as this will sell out quickly.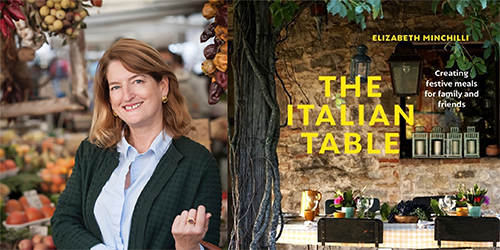 On Wednesday, April 24, 2019, the Fourth Estate Restaurant at the National Press Club will host a dinner featuring Travel writer and cookbook author Elizabeth Minchilli will share her insights on Italian cuisine and culture at a five-course Italian dinner based on recipes from her book, "The Italian Table" at the Fourth Estate restaurant on April 24.

Sign up NOW, as this will sell out quickly, as do all of these fun, great value wine dinners at the Press Club.
Overview:
Combining menus and recipes with visual experience and inspiration, "The Italian Table: Creating Festive Meals
for Family & Friends" is a practical resource that will help home cooks and hosts recreate these fabulous meals and
celebrations at their own tables.
The evening begins at 6:30 p.m. at the Fourth Estate restaurant with hors d'oeuvres featuring six different Italian specialties.
Tickets are $95 per person, with a discount (90/person) when buying two ("couples") tickets.
Meet Elizabeth Minchilli: "The Italian Table" is Elizabeth Minchilli's ninth book.
She has tackled such topics as the famed ceramics of Deruta, the intimate studios and salons of Rome's artists and designers,
and the style of the Tuscan farmhouse.
Her true passion, however, is Italian food. Minchilli has eaten her way through Rome since she was 12. She
knows the tastiest gelato and the best spot to sip a Negroni. Her previous book, Eating MY Way Through Italy,
shared her tips for exploring Italy's diverse regions -- from pizza in Naples to anchovies in Amalfi.
The menu, listed below, will also include appropriately paired cocktails and wines.
Please join us! Hors d'oeuvres start at 6:30pm; dinner at 7:00pm. Arrive early for best seating and

The four-course meal will be from her popular recipes and paired with appropriate wines or other beverages.

Single tickets are $95; couple tickets are 90/person, including all courses, beverages, tax, gratuity, copy of The Italian Table (one copy per single or couple).
Click here to buy tickets!!!
&&&&&&&&&&&&&&&&&
&&&&&&&&&&&&&&&&&
Menu for The Italian Table:
Creating Festive Meals for Family & Friends
&&&&&&&&&&&&&&&&&
Passed Antipasti and Aperitivo
Polpettine fritte, Fried meatballs
Pizza con prosciutto, arugula e pomodorini, Prosciutto, arugula and cherry tomato pizza
Ghineffi, Deep fried rice balls
Acciughe frittte in tempura, Anchovy tempura (with aioli)
Crostini con ricotta e marmellata di peperoncino, Crostini with ricotta and hot pepper jam
Accompanied by: Rosé Sparkling Wine, Zardetto, Veneto, Italy NV
&&&&&&&&&&&&&&&&&
Primi
Tortelli di erbette, Ricotta and Swiss chard filled tortelli
Accompanied by: Vermentino, Argiolas, Sardinia, Italy 2017
&&&&&&&&&&&&&&&&&
Intermezzo
Sgroppino, Lemon sorbet with prosecco
&&&&&&&&&&&&&&&&&
Secondi
Torta di spinaci, Spinach tart (flan)
Porchetta, Pork belly and loin
Peperoni arrostiti, Roasted red bell peppers
Accompanied by: Nero d'Avola, Tasca d'Almerita, Sicily, Italy 2015
&&&&&&&&&&&&&&&&&
Contorni
Lattuga grigliata con formaggio fresco di capra e erbe aromatiche, Seared romaine lettuce with goat cheese and herbs
Accompanied by: Arneis Blange, Ceretto, Langhe, Piedmont, Italy 2017
&&&&&&&&&&&&&&&&&
Dolce and Digestivo
Pavlova con crema e fragoline: Pavlova with crème anglaise and seasonal strawberries
Accompanied by: Brachetto, Azienda Agricola Bera, Piedmont, Italy 2017
&&&&&&&&&&&&&&&&&
WHERE: The Fourth Estate Restaurant at The National Press Club
529 14th St NW, 13th Floor
Washington, DC 20045 Metro:
TRANSPORTATION
Metro Center / Red, Blue, Orange, Silver Liens
Parking: Saving at 1325 G St NW
REGISTER: Member & Guests: 95/single person, 180/pair, inclusive, with all 5 courses, wines, beverages, tax and tip
Copyright 2019 - The National Press Club
When:
6:30PM - 9:30PM Wed 24 Apr 2019 ( Timezone: Eastern )

Where:
National Press Club
529 14th Street, NW, 13th Floor Fourth Estate Restaurant
Washington, DC 20004 USA
[ Get Directions ]
Look Who's Coming:
Alan Schlaifer
Wharton Club of DC
Alison Adler
Anne Lantry
... a total of 4 guests.
Note: to opt out from this list please sign in, go to My Account and change your preferences under My RSVPs.