48th Annual Gala Joseph Wharton Award Dinner Honors Leading Wharton & Penn Alums, Celebrates Club's 51st Anniversary!
Kristine Martin Anderson, C'90, WG'03, EVP, Civilian Services Group Lead, Booz Allen Hamilton

Bikram Bakshi, WG'05, Technology Executive & Entrepreneur | Investor
Courtney B. Spaeth, C'96, CEO growth[period], Chairman of the Board, Potomac Recruiting

Michael N. Pocalyko, WG'95, CEO at SI | IT Executive | Investigator | Corporate Director | Bestselling Novelist
Click here to reserve your place(s)
Schedule:
• 5:45-6:30 pm: VIP Reception for Honorees with past Award Recipients, Lifetime Members, Table Purchasers, and Everyone in Sustainer, Benefactor, Supporter & Friend Categories
• 6:30-7:30 pm: Reception for All Attendees
• 7:30-8:30 pm: Welcome, followed by dinner with the outstanding cuisine of the popular Blue Duck Tavern, one of Washington's premier fine dining landmarks.
• 8:30-9:15 pm: Program: Brief Reports: State of the Club and the School, Presentation of Steven C. Oser Wharton Club of DC Service Award
• Presentation of Joseph Wharton Awards to the Honorees
(To learn more about our outstanding Honorees - CLICK HERE):
Register now

for what is one of the most popular events in

the

Club's calendar each year, and one of the DC Area's top business events as well.

This year, especially with our Club's 51st Anniversary, the 48th Annual Dinner, promises to be no exception with our exceptional Honorees. We are expecting many of the past Honorees to attend and bring their colleagues and friends.

Anywhere from 150 to 200

or more Club members

and guests, including prominent Washingtonians and diplomats typically attend for the reception and dinner. With this year's honorees, we expect that this year will be at the upper end of that range, and maybe even higher, as we expect tickets to sell quickly.
Click here to reserve your place(s)!!! (Thank you!)
If you have any questions not answered on this webpage or have any trouble registering online, please call our Club at 301-365-8999. Vegetarian, Kosher and Gluten-free dinner options can be noted in your online registration.

We are again at our favorite venue for this gala event, the Park Hyatt Washington. Besides honoring six outstanding alumni while giving Members an opportunity to get together, the dinner generates funds to support our Club's exceptional programming - the most extensive of any B-School Club in our region - and attendance at some of our major events, such as our Summit and the Dinner, for talented potential Wharton students from the D.C. area.

Special guests / Dignitaries:

We are expecting as honored guests dignitaries, such some of the Ambassadors and other diplomats who have hosted our Club in recent years, at our reception and dinner.

Tables:

Rounds of 10.

Sponsorship opportunities:

Please call us directly if your company would like to consider becoming a sponsor with one or more tables. You will have a listing in the program and many other potential benefits, depending on the category you choose, to increase your exposure to and contact with the high caliber audience we attract.

Just call Alan Schlaifer, our Club's President, at 301-365-8999, to discuss the benefits and options.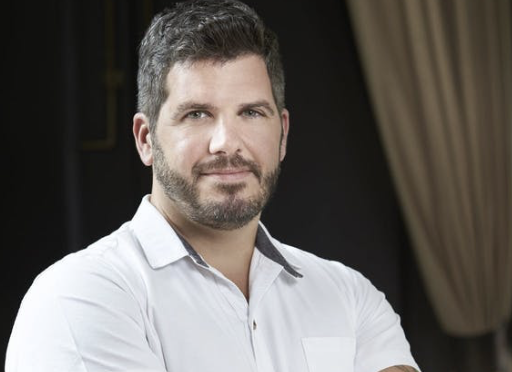 ​​​​The Blue Duck team led by renowned Chef de CuisineTroy Knapp, Executive Chef Adam Howard, and Pastry ChefColleen Murphy, will create our dinner in the same Michelin-starred kitchen used for all meals at the Park Hyatt, whether for Gala Dinners, such as ours, or fine dining in the restaurant itself. Their team, including Sous Chef Matthew Hobbs, created the fabulous selections on this year's Gala menu.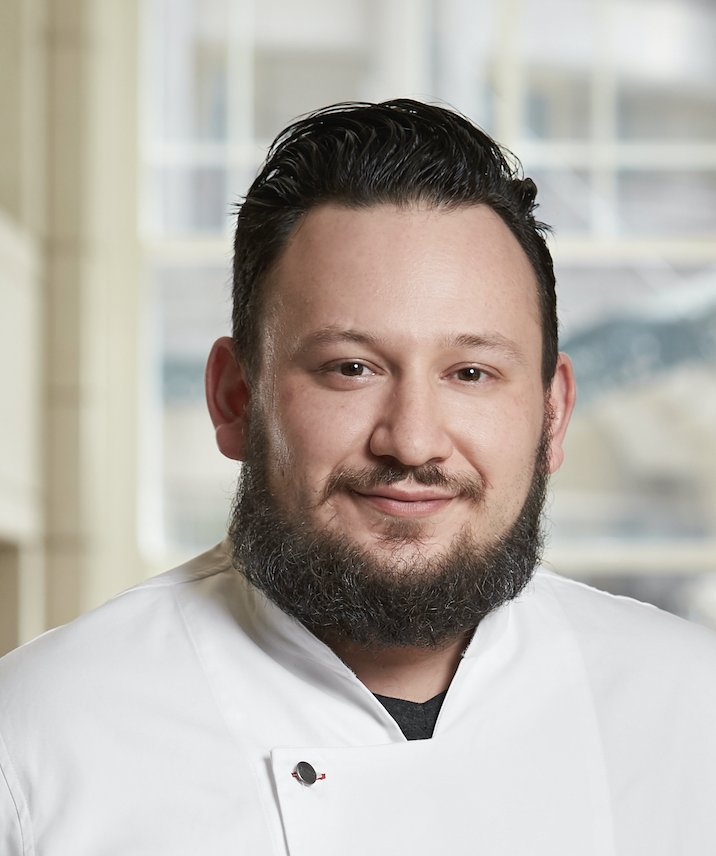 The Blue Duck Tavern has received rave reviews underlining its theme of "serving creative American cuisine from the region's best seasonal Best Purveyors

..

These are a few of many "tastes" of what awaits you - just a sample of many positive reviews and awards - how apt for an award gala - since the restaurant opened, and more recent ones have simply confirmed the earlier praise:
Every "outstandingly original" dish is "a winner" declare fans of this "wonderful addition" set in the Park Hyatt hotel that showcases regional New American cuisine; the "chic" Tony Chi-designed space boasts a "stunning" open kitchen with a cobalt-blue, state-of-the-art, wood-burning Molteni range...."
* Michelin star, as one of DC's top restaurants (2019 Michelin Washington, DC Dining Guide)

"On the surface, the Blue Duck Tavern is an oasis of up-to-the-moment sophistication...at heart though, [it] is a tribute to local farmers and growers...the food is at once straightforward and elegant...the Blue Duck gives fresh meaning to the word tavern." - Tom Sietsema, The Washington Post

2019, U.S. News & World Report, Best Hotels in Washington, D.C.
2018, Condé Nast Traveler, Gold List, Best Hotels in Washington, D.C.
Click here to reserve your place(s) (or make your donations)!!! (Earlier signups and premium seats (500+ up) get better seating)
Please note any non-standard dietary preference on your online registration.
Here is this year's menu, with four delicious courses (with vegan, vegetarian, kosher, non-seafood and gluten-free options available as needed; please indicate in response to questions when you register):
• Starter
Jumbo Lump Crab Cake, Gribiche, Chow Chow, Farm Salad
Alternative Starter (for Vegetarian, Non-Seafood):
Baby Gem Lettuce with Candied Black Walnuts, Walnut Vinaigrette,
Persimmons, Cranberries, Parmesan & Croutons
Appetizer
Brie and Cheddar Apple Beer Soup, Savory Granola and Toasted Pecans
• Entrée:
Rack of Colorado Lamb with Farro Risotto, Grilled Grapes,
Cucumber and Daub Jus
• Vegetarian/Vegan Entrée
Handmade Vegetable Pot Pie with Heirloom Autumn
Vegetables and Herb Salad
• Dessert:
Chestnut Mousse with Maple Glaze, Vanilla & Chocolate Sauce
& Salted Cashew Crunch
• Beverages:
Compass Regular and Decaffeinated Coffee, Cellar Teas
• Wines with Dinner:
Hayes Ranch Chardonnay, California
Hayes Ranch Cabernet Sauvignon, California
Important: When you register, please respond to the survey questions so that we can respond to your dietary preferences and other needs. This must be done in advance, so that we can serve everyone's dietary needs. Thank you.
Directions: see the map below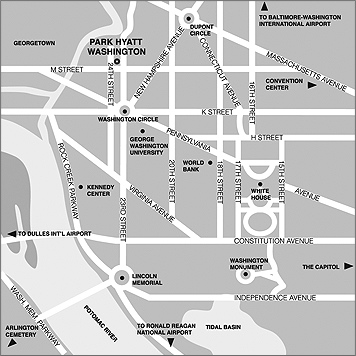 If you have any questions, please call the Park Hyatt at 202-789-1234. Parking & Metro: Foggy Bottom (Blue, Orange, Silver Lines)
Parking: Valet parking is available (included only for each Honoree and VIP Sponsors @ 500+ per reservation)
Questions: Please call us at 301-365-8999. The best way to reserve is online by clicking below through our secure website; you may then print out your receipt. You may also fax your reservation to the Club at 301-365-0486.

Tax deductibility: To the extent permitted by law (please check with your tax advisor):
--Business: Full amount may be deductible as a business expense; consult your tax advisor
--Individual: Full amount of Scholarship Fund contributions plus the amount in excess of $145 per person for the dinner as a charitable contribution (as the Club is a Section 501(c)(3)) nonprofit organization). For best seating, reserve early, whichever method you choose for reservations - online, mail, fax, or phone.
Click here to reserve your place(s) (or make your donations)!!! (Earlier signups get better seating)
Event Details...
Day & Date: Wednesday, October 16, 2019
Place: Park Hyatt Hotel, 24th & M Sts., NW (see map below), with the cuisine of Michelin-starred Blue Duck Tavern
Parking, Metro: Valet parking (additional); limited on-street after 6:30 pm. Metro: Foggy Bottom
Attire: Business Attire
Click here to reserve your place(s)
All rates, inclusive, including regular reception, dinner with wine, program, and terrific networking
Members prices start at 250/person, and Non-Member at 350/person, inclusive.
BONUS: If you sign up for the higher price tickets (500/person and above) online or a table, you can attend the Private VIP Reception (and be listed in the program, if you'd like), in recognition of your added support for the Club's programming, which is greatly appreciated.

When:
5:45PM - 9:30PM Wed 16 Oct 2019 ( Timezone: Eastern )

Where:
Park Hyatt Washington
1250 - 24th Street, NW Ballroom
Washington, DC 20037 USA
[ Get Directions ]
Look Who's Coming:
Kevin Sheehan
Guest of Kevin Sheehan
Bikram Bakshi
Guest of Bikram Bakshi
Guest of Bikram Bakshi
Guest of Bikram Bakshi
Alan Schlaifer, President
Wharton Club of DC
Jane Stieber
JCS Services
Cheryle Davis
Allan Goldberg
Larry French
Jean-François Orsini, Chairman
Wharton Club of DC
nam nguyen
Tony Cancelosi, President & CEO
Columbia Lighthouse for the Blind
Jean-Francois Orsini
Lee Corey
Morgan Stanley
Edward Dosik
Renaud Consulting
Eliot Shatzman
Merrill Lynch
Marya Pickering
Anne Lantry
Anne Lantry Guest
Courtney Banks
Guest of Courtney Banks
Guest of Courtney Banks
Guest of Courtney Banks
Guest of Courtney Banks
Kemile Palmer, VP, Internal Controls
Fannie Mae
Pauline Thompson
Tysons Realty
Craig Kendall
Financial Investments, Inc.
Courtney B. Spaeth
Guest of Courtney B. Spaeth
Guest of Courtney B. Spaeth
Guest of Courtney B. Spaeth
William C. Handorf
George Washington University
Margaret Sullivan
Robyn Davidson
Mark D. Young
Credibility Tech
Michael W. Robinson, Chairman & CEO
The Montgomery Strategies Group, LLC
Deanna Marcum
Dennis Gurtz
... a total of 62 guests.
Note: to opt out from this list please sign in, go to My Account and change your preferences under My RSVPs.