Headliners Luncheon with Scott Pelley, "60 Minutes" & Cbs Newsman
Wharton Club members & their guests are invited to this Headliners Luncheon at National Press Club
National Press Club Headliners Luncheon, Wednesday, May 22, 2019
60 Minutes correspondent Scott Pelley has been a reporter for more than 45 years and has been an eyewitness to many of the historic events that have shaped our world as we know it today. Pelley will share his new memoir, "TRUTH WORTH TELLING: A Reporter's Search for Meaning in the Stories of our Times," at a National Press Club Headliners Luncheon, Wednesday, April 22.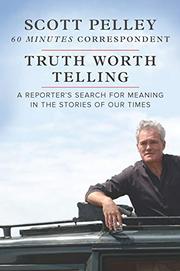 Lunch will be served in the Club's Fourth Estate Room at 12:30 p.m., with remarks beginning at 1:00 p.m., followed by a question-and-answer session ending at 2:00 p.m. Pelley will sign copies of his book after the program concludes.
Books are available for preorder during online registration or for purchase at the event. Proceeds from book sales will benefit the non-profit affiliate of the Club, the National Press Club Journalism Institute, so we kindly ask that you leave all outside books at home.
For all ticketing-related questions, please email reservations@press.org. Tickets must be paid for at the time of purchase.
About the Author:

Lunch will be served in the Club's (waiting for announcement) at 12:30 p.m., with remarks beginning at 1:00 p.m., followed by a question-and-answer session ending at 2:00 p.m.
About the Speaker:
Scott Pelley

has been a reporter and photographer for more than 45 years. He is best known for his award-winning work as a 60 Minutes correspondent and as anchor and managing editor of the CBS Evening News from 2011 to 2017. Pelley's work has been recognized with three duPont-Columbia Awards, three Peabody Awards, and 37 national Emmy Awards bestowed by the Academy of Television Arts and Sciences. In 2016, he received the Walter Cronkite Award for Excellence in Journalism and Mass Communications.
Schedule:
VIP Reception 12:00-12:30 p.m (you will be informed if your request is granted. PREFERENCE to President's Club & Lifetime Members)

Lunch from 12:30-1:00 p.m.

1:00-2:00 p.m.: The speaker's remarks and Q&A from the audience.
Please call Alan Schlaifer at 301-365-8999 if you'd to be considered to attend the reception (if there is one) from 12:30-1:00 pm with the speaker. (He may only bring a few guests, preference for President's Club and Lifetime Members).
Where: National Press Club, Ballroom, 13th Floor, 14th & F Streets, N.W., just two blocks from Metro Center
Metro, Parking: Metro Center; several private garages within a few blocks.
Attire: Business
Reservations: $39/person for current Wharton Club members and their guests only. You must reserve in advance on our site. We have only a limited number of seats, so Members may purchase seats only for themselves and up to three guests, if desired. (Photo: on the Natl Press Club website, press.org)
When:
12:30PM - 2:00PM Wed 22 May 2019 ( Timezone: Eastern )

Where:
The National Press Club, 4th Estate Room, 13th Floor
529 - 14th Street, NW
Washington, DC 20045 USA
[ Get Directions ]
Look Who's Coming:
Eliot Shatzman
Merrill
Charles Oat
Chuck Genrich
Special Event Management Services
... a total of 3 guests.
Note: to opt out from this list please sign in, go to My Account and change your preferences under My RSVPs.
Click here to reserve your seat(s)