Special Discussion with Irish Ambassador to the U.S., His Excellency Daniel Mulhall
Wharton Club Members & Guests Invited to this special event and opportunity to meet one of the most articulate diplomats in D.C.
SDI'S AMBASSADOR DIALOGUES SERIES
Dear Member and Potential Special Guest - Invitation for You from SDI: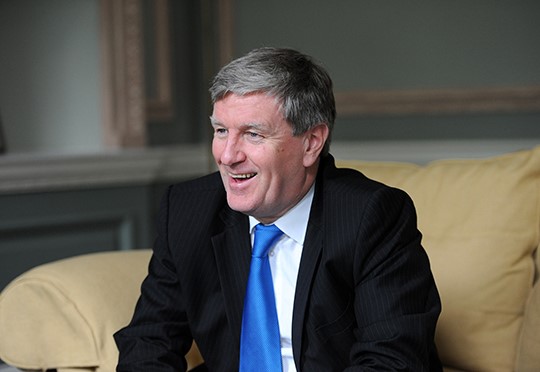 On behalf of Reverend Mark Farr, President of the Sustained Dialogue Institute (SDI), it is my distinct pleasure to invite you to be our special guest at the first "Ambassador Dialogue" series, scheduled for Wednesday, May 29, 2019 at 2:30 pm-4:00 pm featuring His Excellency Daniel Mulhall, Ambassador of The Embassy of Ireland. The program will be held in the Horizon Ballroom at the Ronald Reagan Building & International Trade Center.
Meet the Ambassador:

Ambassador Mulhall is the 18th Irish ambassador to the USA, and has also served as Ambassador to Germany, Malaysia and England.
Ambassador Mulhall was born and brought up in Waterford and undertook his undergraduate and post-graduate studies at University College Cork, where he specialised in modern Irish history. He maintains a keen interest in Irish history and literature.
He is the author of A New Day Dawning: A Portrait of Ireland in 1900 (Cork, 1999) and co-editor of The Shaping of Modern Ireland: A Centenary Assessment (Dublin, 2016) and has made numerous contributions to books, newspapers and journals published in Ireland, Australia, New Zealand, Germany and Britain.
He makes regular use of social media in order to provide insights into the work of the Embassy, to promote all things Irish and to engage with Irish people and those of Irish descent around the world. Ambassador Mulhall also maintains a keen interest in Irish history and literature and is an advocate of public diplomacy.

SDI works to create a culture of dialogue where people can coexist peacefully, justly, and productively and proposes to further enhance dialogue and bridge building. The Ambassador Dialogue showcases cross-cultural conversation and relationships in a unique way, demonstrating that knowing how we communicate is as important a part of mutual understanding as what we communicate.
The program will be videotaped. Drinks & light refreshments. Parking in garage.
When:
2:30PM - 4:30PM Wed 29 May 2019 ( Timezone: Eastern )

Where:
Ronald Reagan Bldg. & International Trade Center: Horizon Ballroom
1300 Pennsylvania Ave., NW
Washington, DC 20004 USA
[ Get Directions ]
Look Who's Coming:
Jean-Francois Orsini
Alan Schlaifer
Wharton Club of DC
... a total of 2 guests.
Note: to opt out from this list please sign in, go to My Account and change your preferences under My RSVPs.