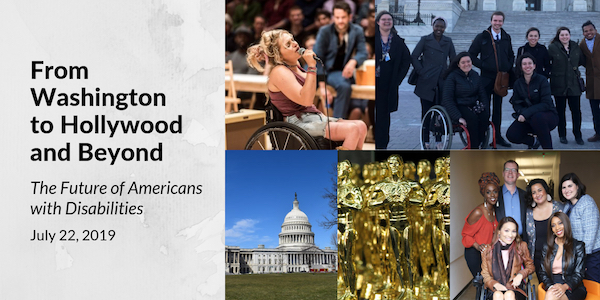 One-day Summit celebrates the good that can be done to end stigmas and advance opportunities for the 56 million Americans with disabilities. All invited to attend or watch webcast.
Key goals of RespectAbility include : the ability for all Americans to learn, contribute skills and fulfill their human potential. You are invited to get to know the people and best practices around transformative systems change that can improve the lives of the 1-in-6 people in our nation (56 million people) who live with a physical, mental health, cognitive or other significant disability that is a barrier to everyday living.

They are hosting a free gathering in the U.S. Capitol complex (Rayburn House Office Building) on Monday, July 22. They would love for you to join them. The agenda is below and the bios of all the diverse and outstanding speakers can be found on their website. The people working on the front lines on education and employment for people with disabilities will be speaking and/or in the room. Five of their speakers are blind, four use wheelchairs, one is deaf/hard of hearing and others have a variety of other disabilities including learning and attention issues. They also have a full panel on intersectionality as people of color and English-as-second-language learners with disabilities face unique challenges and opportunities.

Participation is free but spaces are limited. RSVPs are required. We hope you will sign up now! For more info and to Register:
https://www.respectability.org/2019/07/2019-dc-summit/
WHAT: From Washington to Hollywood and Beyond: The Future of Americans with Disabilities
SCHEDULE:
Registration is required. Space is limited.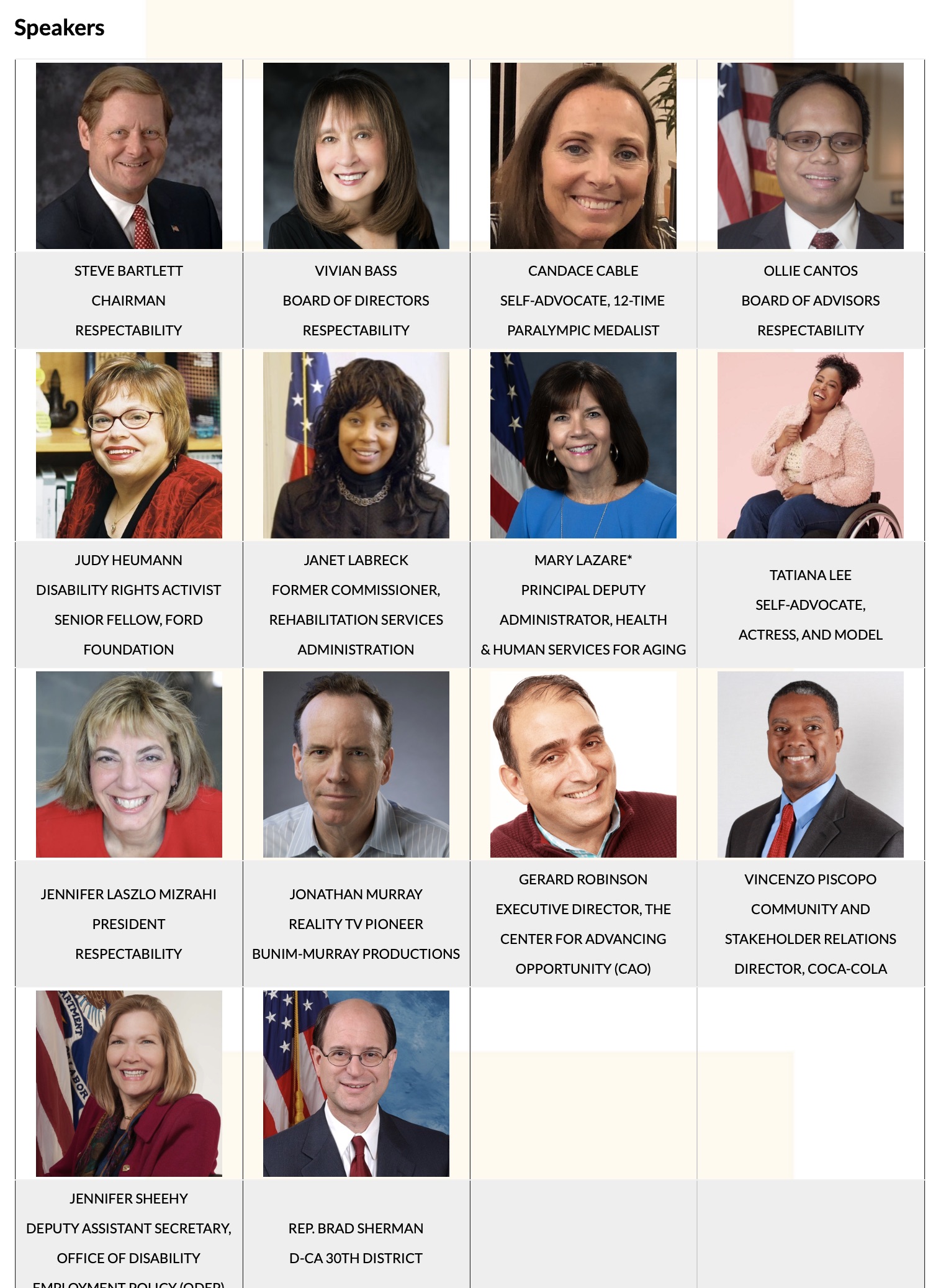 Schedule


(subject to change)
8:00 AM: REGISTRATION, BREAKFAST, AND NETWORKING
9:00 AM: WELCOME & INTRODUCTION
Steve Bartlett, Chair, RespectAbility
Jennifer Laszlo Mizrahi, President and Co-Founder, RespectAbility
National Anthem (Vocals by Sarah Meehan and Adam Fishbein, Fellows, RespectAbility; violin by Debbie Fink, Director of Community Outreach & Impact, RespectAbility)
9:30 AM: KEYNOTE — Proven Strategies for Creating Large and Influential Networks
Ollie Cantos, Disability Advocate and Lawyer
10:00 AM: PANEL — Public Policy and Jobs for People with Disabilities
Moderator: Philip Kahn Pauli, Policy and Practices Director, RespectAbility
Jennifer Sheehy, Deputy Ass't, Office of Disability Employment Policy (ODEP)
Mary Lazare, Principal Deputy Administrator, U.S. Department of Health and Human Services for Aging
Rachel Stevens, Senior Policy Analyst, National Governors Association
10:45 AM: NETWORKING BREAK
11:00 AM: KEYNOTE — Disability, Creativity and Purpose
Introduction: Vivian Bass, Executive Committee, RespectAbility
Keynote: Vincenzo Piscopo, Community and Stakeholders Relations Director, Coca-Cola
11:30 AM: PANEL — Ending the School to Prison Pipeline for Students with Disabilities
Moderator: Janie Jeffers, Former Senior Policy Advisor for the President's Crime Prevention Council
Janet LaBreck, Former Commissioner, Rehabilitation Services Administration
Robert Stephens, Director of Government Relations, National Center for Learning Disabilities
Diane Smith Howard, Managing Attorney, National Disability Rights Network
12:10 PM: CATERED LUNCH and VISITS by MEMBERS of CONGRESS
Rep. Brad Sherman (others members invited)
1:00 PM: PANEL — Roadmap for Inclusion – Changing the Face of Disability in Media
Moderator: Jonathan Murray, Reality TV Pioneer; Founder and Executive Consultant, Bunim-Murray Productions
Judy Heumann, Disability Rights Activist; Senior Fellow, Ford Foundation
Candace Cable, Self-Advocate, 12-time Paralympic Medalist; California Workforce Program Manager, RespectAbility
Nasreen Alkhateeb, Award-Winning Transmedia Storyteller
Ali Stroker, Tony Award-Winning Actress (via video)
2:00 PM: RESPECTABILITY AWARD
Recipient: Jonathan Murray, Multi-Emmy-winning creator of Born This Way, Autism: The Musical, Deaf Out Loud; Founder and Executive Consultant, Bunim-Murray Productions
2:15 PM: PANEL — Success Stories of Advocacy in DC, Hollywood and Beyond
Moderator: Nicole LeBlanc, Person Centered Advisory & Leadership Coordinator, Human Services Research Institute; Former RespectAbility Policy Fellow
Ila Eckhoff, Managing Director, BlackRock
Evelyn Kelley, US Patent & Trademark Office, RespectAbility Board Member
Laka Negassa, Policy Fellow, RespectAbility
3:00 PM: Networking Break
3:15 PM: PANEL — The RespectAbility Report: Navigating the Elections Landscape
Moderator: Steve Bartlett, RespectAbility Chair
Lauren Appelbaum, VP of Communications, RespectAbility
Philip Kahn Pauli, Policy and Practices Director, RespectAbility
Randall Duchesneau (*invited), Accessibility Specialist, US Access Board; Board of Advisors, RespectAbility
3:55 PM: VIP RECEPTION WITH MEMBERS OF CONGRESS
WHERE: Rayburn House Office Building, Room 2044, Capitol Hill, Washington, D.C.
ALSO: You may watch on C-SPAN (either 1 or 2) or on Respectabilty's Facebook page: http://www.Facebook.com/RespectabilityUSA
WHEN: Monday, July 22, 2019, 8:30 a.m. to 5:00 p.m. (ET)
COST: Free, including breakfast and lunch
MORE INFORMATION AND RSVP: https://www.respectability.org/2019/07/2019-dc-summit/
We hope you can join us on July 22nd!

Respectfully,
Jennifer Laszlo Mizrahi
President, RespectAbility
GENERAL CONTACT: Christopher Trujillo, christophert@respectability.org, 202-748-3582
MEDIA CONTACT: Lauren Appelbaum, laurena@respectability.org, 202-591-0703
When:
8:00AM - 5:00PM Mon 22 Jul 2019 ( Timezone: Eastern )

Where:
Rayburn House Office Building
45 Independence Ave., SW, Room 2044
Washington, DC 20515
[ Get Directions ]