National Economists Club Luncheon with Frank Nothaft, Chief Economist, CoreLogic
"Housing & Real Estate Outlook"
Wharton Club Members & Guests invited​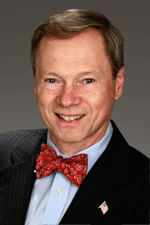 Frank Nothaft holds the title executive, chief economist for CoreLogic. He leads the Office of the Chief Economist and is responsible for analysis, commentary and forecasting trends in global real estate, insurance

and

mortgage markets.

Before joining CoreLogic, Frank served in a variety of leadership positions with increasing responsibility at Freddie Mac. Most recently, he was vice president and chief economist responsible for forecasts, research

and

analysis of the

macro economy

, housing and mortgage markets. Prior to Freddie Mac, Frank was an economist with the Board of Governors of the Federal Reserve System, where he served in the mortgage and consumer finance section and as

assistant

to Governor Henry C. Wallich.

Credit Card payment is

non

refundable

but you may substitute someone in your place for attendance.
When: Thursday, September 5, 2019
12-1:30 PM
Location: Chinatown Garden Restaurant, 618 H St NW, Washington DC
Note: Registration is open through Thursday, 9/5/19 at 11 am

Reservations: Wharton Club Members & Guests Only: $20/person, inclusive, paid in advance. Cash bar.
Reservations are preferred at least one business day before an event. Earlier is better because of potential of reaching capacity.
Click here to reserve your place(s)!!
When:
12:00PM - 1:30PM Thu 5 Sep 2019 ( Timezone: Eastern )

Where:
Chinatown Garden Restaurant
618 H Street, NW
Washington, District of Col 20001 United States
[ Get Directions ]