8TH ANNUAL WINTERNATIONAL FESTIVAL & EMBASSY SHOWCASE
Wharton Club Members & Guests Invited to
international bazaar featuring 55+ nations' cuisine & culture
Last year more than 2,500 guests attended this lively midday celebration of international culture, travel, tourism and trade. This year, there will be many opportunities for 1:1 interviews with diplomats, embassy exhibitors, sponsors and attendees. This festival has the atmosphere of bustling global marketplace with each em
bassy promoting their country through vibrant displays of visual art, food, handcrafts, as well as travel and tourism exhibits. Free and open to the public, guests have the opportunity to travel the different continents and do some holiday shopping—all during the lunch hour!
Free and open to the public, this event will feature:
International bazaar featuring 55+ embassy exhibitors and artisans

Gingerbread cookie decorating station

Complimentary cookies, hot cocoa and apple cider

A free sampling of global bites

Cultural performances
Click here to reserve your place(s)!!
Participating embassies include: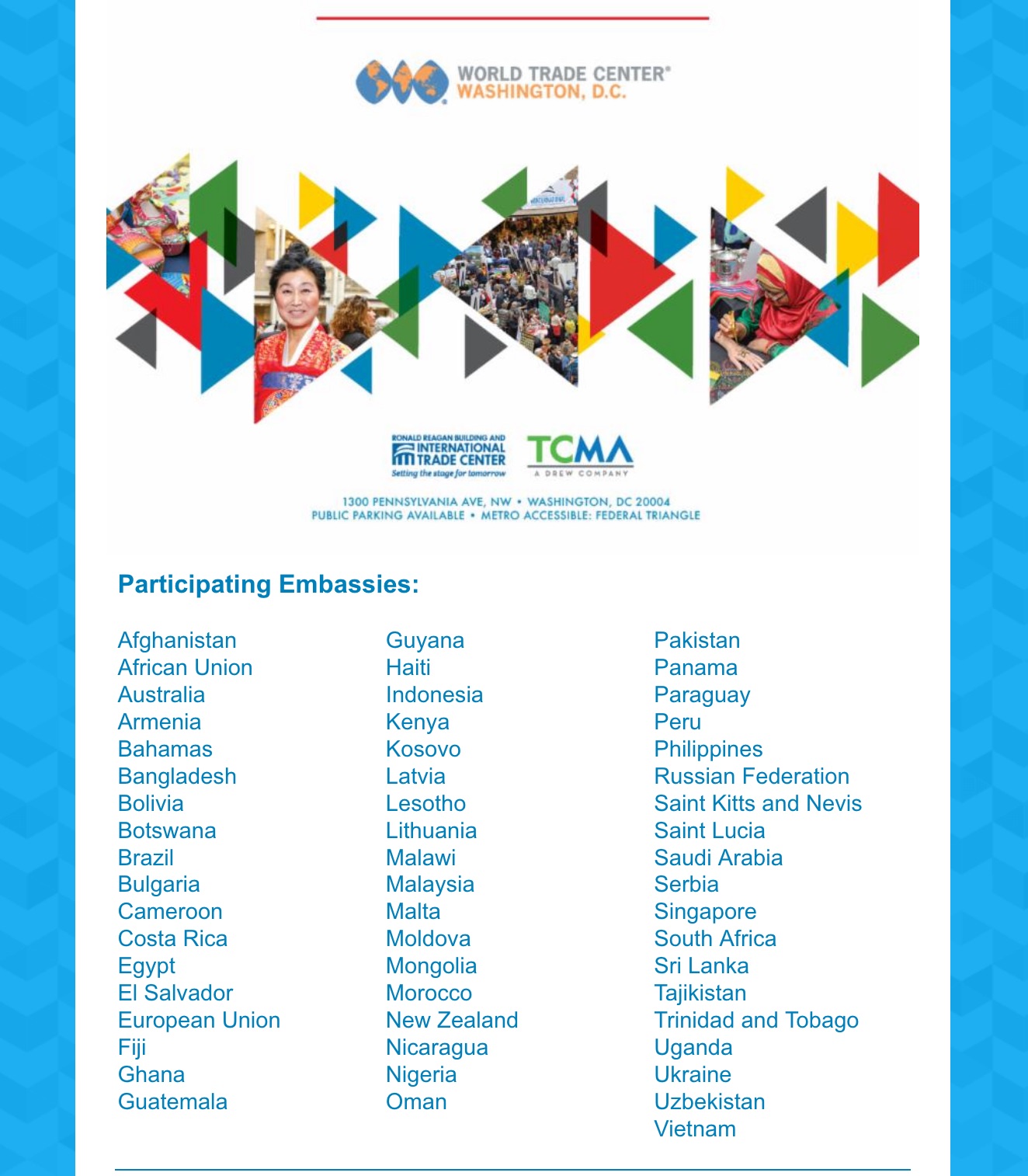 *list of embassies subject to change
Join us as we explore the different ways in which the world celebrates the winter season through food, culture, customs and traditions. Just show up, and enjoy yourself!
Members: Complimentary:
When:
12:00PM - 2:00PM Thu 5 Dec 2019 ( Timezone: Eastern )

Where:
Ronald Reagan Bldg. & Intl Trade Center Atrium
1300 Pennsylvania Ave., NW
Washington, DC 20004 USA
[ Get Directions ]