Total Rethink: A Conversation with David McCourt, thanks to the Washington Institute
The Washington Institute invites Wharton Club Members & guests to join the for a conversation and book signing with David McCourt, Founder & Chairman of Granahan McCourt Capital and author of Total Rethink.
Part business biography, part business blueprint, Total Rethink lays out the reality of the dangerous situation we 

find ourselves

 in and suggests solutions which will empower everyone,  including business people, politicians, diplomats, and teachers, 

to repair

 the damage we have already done, and prepare for the dramatic changes to come.
The first 50 registrants will receive a signed copy of Total Rethink. 
Register: FREE event for Wharton Club of DC Members & guests.
From the Inside Flap
Art as a political instrument.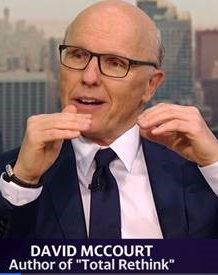 "Inspired by the graphic image above I find the notion of "art as a political instrument" of particular importance at this time. It is of great and significant value that we are now finally experiencing a time of inclusion, collaboration, and empowerment. We have the technology available to inform us, the cultural diversities globally to inspire us, and the social movements being put in place to acknowledge the measurable value of everyone's contribution. These shifts are not only welcome but are necessary to thrive in what has become a brand new world order.

Art has long inspired the masses both politically and through religion, more recently by way of street artists. Not only is that phenomenon socially acceptable,

it

moves civilization forward. We

learn,

we grow, we share our cultural heritage and racial differences for the purpose of good. It offers a view to the world through a new less myopic lens. I am often

reminded

how very fortunate we are to be here now experiencing the constant and innovative shifts, a direct result of the technology revolution. There will be so many more to come and with

them

changing opportunities for success.

Total Rethink for me is a movement to inspire in business and within our social climate the opportunities for all to adapt to the changing world economy and to thrive within the new and ever-changing climate of business.

I am by nature two things: curious and optimistic. I find they are essential for mining great ideas and finding my way to interesting people. Business opportunities are everywhere as are compelling stories of talented entrepreneurs and artists moving the cultural agenda forward."
—David McCourt
Inclusion, Collaboration, Empowerment = ICE

From the Back Cover
RETHINK YOUR WAY TO A BETTER BUSINESS AND A BETTER LIFE
"Most of us, whether we are business people or political leaders, doctors or teachers, students or parents, live in the present and try to work toward the future one day at a time, taking tiny cautious steps,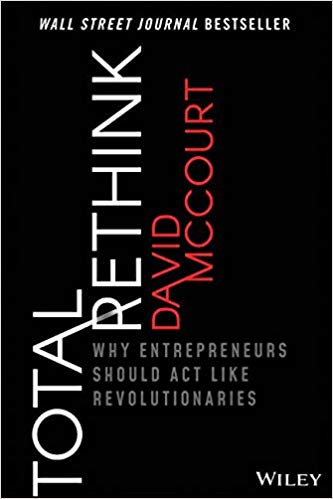 improving things incrementally. It's been a survival technique the human race has used throughout our evolution, but it may not be enough to save us from the dangers that lie ahead in the near future and it may also mean that we, both as individuals and as a society, are going to miss the enormous opportunities that technological progress is making possible."
—From Chapter One
Total Rethink gives leaders in any profession an important guide for changing their patterns in order to meet the challenges of today's (and tomorrow's) world. The book is filled with illustrative examples from author, entrepreneur, and businessperson David McCourt's incredible life and career. This book offers a blueprint for understanding what it takes to become a forward-thinking leader.
 

MagnetWidget::Event Dashboard