Headliners Book Event with New Gingrich: Trump vs. China
Wharton Club Members invited to attend this event with former House Speaker & Much-Published Author & Commentator. Comp for President's Club & Lifetime Members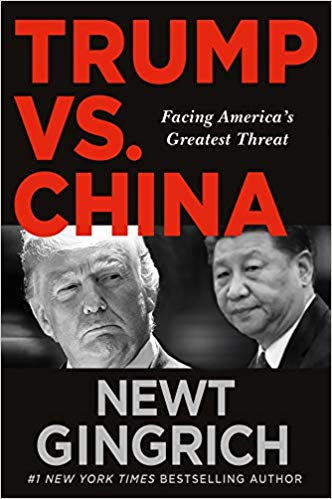 NPC Headliners Book Event:
October 23, 2019 @ 6:30 - 8:00 PM
Location: Natl. Press Club Conference Rooms
Former Speaker of the House Newt Gingrich will discuss his new book, "Trump vs. China: Facing America's Greatest Threat," and explain why he believes China's rise to prominence on the world stage poses the single biggest challenge to America's continued prosperity and security at a National Press Club Headliners book event at 6:30 p.m. on Wednesday, October 23.

As evidenced by the ongoing trade war between the two super powers, the United States is currently engaged in an unprecedented level of competition with China. China's vast resources and profound influence over the global economy makes them unlike any other political rival this country has ever faced. In "Trump vs. China," Gingrich lays out what he says is China's strategy to weaken the U.S., and presents his plan to combat China's efforts.
This event will feature a discussion with the author, an audience question-and-answer session, and a book signing.

There will be a cash beer bar in the room, as well as complimentary game-day snacks for attendees.

Books will be available for purchase at the event. Proceeds from book sales will benefit the non-profit affiliate of the Club, the National Press Club Journalism Institute, so we kindly ask that you leave all outside books and memorabilia at home.
About the Speaker
Tickets are $10 for regular Wharton Club members and guests.

They are COMPLIMENTARY for President's Club and Lifetime Members and one guest each.

There will be a cash bar.
When:
6:30PM - 8:30PM Wed 23 Oct 2019 ( Timezone: Eastern )

Where:
National Press Club
14th & F Sts, NW 13th Floor, Conference Rooms
Washington, DC 20045 USA
[ Get Directions ]
Look Who's Coming:
Helen Qubain
Story Goldmine
Harry Matz
Jean-Francois Orsini
Wharton Club of DC
Alan Schlaifer
Wharton Club of DC
... a total of 4 guests.
Note: to opt out from this list please sign in, go to My Account and change your preferences under My RSVPs.