National Press Club Communicators' Summit 2019 Explores -
The Future of News

Communicating with Journalists

The Science Behind Better Communicating
Legal Issues Facing Practitioners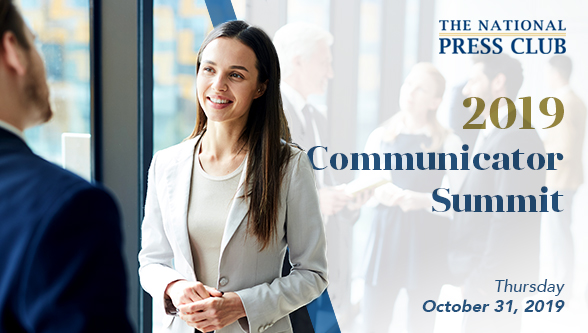 On Thursday, October 31, the National Press Club will host its annual Communicators' Summit in the National Press Club, Ballroom – located at 529 14th Street, NW – 13th floor.

This year's program will offer tactics for effectively navigating the ever-evolving communications landscape. Speakers and panels will tackle privacy and legal issues facing communicators and will present research and case studies on the science (and fiction!) of effective communication.

A panel of Washington-based journalists will open up on the challenges of covering and reporting news and how communicators fit into the equation AND

Mike McCurry

, White House press secretary under President Bill Clinton, will share his insights and experience on crisis communications.
Schedule
8:00-8:30 a.m. – Registration/Networking/Continental Breakfast
8:30-8:35 a.m. – Welcome remarks
Morning Speaker
8:35-9:30 a.m. – "Legally Speaking" – Richard Levick. What are the implications for communicators when legal issues affecting the industry are in flux or evolving? How do we protect ourselves and do great work for our clients or organizations – when communication, technology and legal issues intersect? Will explore: privacy issues, Social Media, Fake News, GDPR General Data Protection Regulation
Session 1
9:45-11 a.m. – Panel: The Science Behind Effective Communication - Two academics and two PR/communicator professional to talk about the science behind effective communications -- in theory and in practice.
Panelists:
Dr. Ed Maibach – Professor/Communication Scientist at George Mason University
Dr. Welton Chang – Psychologist/Senior Professional Staff at the Johns Hopkins University Applied Physics Laboratory.
Josh Wright – Executive Dir. for Ideas42
Felicia Joy – SVP & Behavioral Science Lead, Edelman and Founder, C-School
Dr. Sweta Chakraborty – Policy and Communications Fellow, Center for Climate and Security (Moderator)
Session 2
11:15 AM - 12:30 p.m. – Town Hall: Communicators and Journalists: "The Road Ahead" - This session will be a moderated panel of journalists across various news organizations and mediums. Questions will be taken from attendees, in advance via registration page and submitted during the discussion. The moderator will review and ask all questions of panelists in order to give balance to the session.
Panelists:
Rachel Smolkin – Vice President and Executive Editor of CNN Politics
Lisa Matthews – assignment manager, AP Television
Ben Terris – Staff writer at the Washington Post
Kate Nocera – DC Bureau Chief, BuzzFeed
Sonya Gavankar – Director of Public Relations at the Newseum (Moderator)
12:30-1:00 p.m. – Break for Lunch Setup
Luncheon Speaker
1:00-2:30 p.m. – Mike McCurry, White House press secretary under President Bill Clinton, will share his insights and experience on crisis communications
Tickets are $95 for Wharton Club members and guests.
Event details:
WHERE: National Press Club
529 14th Street NW
13th Floor - Ballroom
Washington, DC 20045

When:
8:30AM - 2:30PM Thu 31 Oct 2019 ( Timezone: Eastern )

Where:
National Press Club
14th & F Sts, NW 13th Floor, Ballroom
Washington, DC 20045 USA
[ Get Directions ]