Harvard's Role in the Saga of the Olivetti Co., Creator of the World's First Desktop Computer
Meryle Secrest, distinguished journalist and biographer, will share her talk, "Harvard to the Rescue!"
Wharton Club Members & Guests invited.
Tuesday, November 19
6:30 pm Dinner/Networking, 7:00 pm Presentation
Hogan Lovells, 555 13th St NW, Washington, DC 20004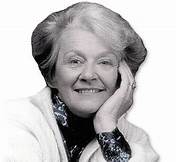 Meryle Secrest is the author of a new book, "The Mysterious Affair at Olivetti," subtitle "IBM, the CIA and the Cold War Conspiracy to Shut Down Production of the World's First Desktop Computer." She set out to discover why Olivetti, the famous Italian typewriter company, and by all accounts the world's first commercially successful desktop computer, was shut down at the height of its fame. A major Harvard Business School study provided important clues to the motives behind some bizarre events and two tragic deaths.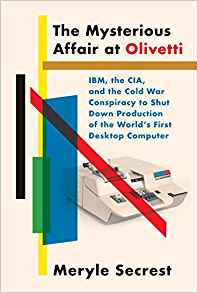 About the Speaker

Meryle Secrest was born and educated in Bath, England. She worked for newspapers in Canada and the UK, and became an editor and feature writer for the Washington Post before switching to biographical work. In the past 40+ years, she has written many studies of the famous, including Frank Lloyd Wright, Bernard Berenson, Kenneth Clark, Modigliani, and Stephen Sondheim. She is the recipient of many grants and awards, including a medal from President Bush at the White House in 2006.

The evening will begin with a full dinner, with beverages.
Registration:
Wharton Club members and their guests: $45/person
Non-members: $65/person
Ticket includes talk, a full dinner and beverages

Click here to buy tickets!!

This venue is fully handicap accessible and our meals are designed to accommodate vegetarians.

Transportation: The nearest metro station is Metro Center. Exit at 12th and F Street, NW. Your destination is the building named "Columbia Square" which will you see right in front of you as you exit the escalator.

Parking: There are several nearby parking garages including:
Columbia Square Parking Garage: 555 12th Street NW, Washington, DC 20004 (202) 637-8105

Parking Management: 600 13th Street NW, Washington, DC 20004 (202) 347-5469

When:

Monday, 10/28/19 at 6:00pm - 8:30pm | iCal

Where:

Hogan Lovells
555 13th St NW
Washington, DC 20004 USA (at Metro Center)
When:
6:30PM - 8:30PM Tue 19 Nov 2019 ( Timezone: Eastern )

Where:
Hogan Lovells
555 - 13th Street, NW 13th Floor Conference Rooms
Washington, District of Col 20004 United States
[ Get Directions ]