French-American Soirée Champagne Annual Gala at French Ambassador's Elegant Residence
Champagne Reception at French Ambassador's Residence , one of the most elegant on Embassy Row. Wharton Club Members invited at same rates as FACC Members.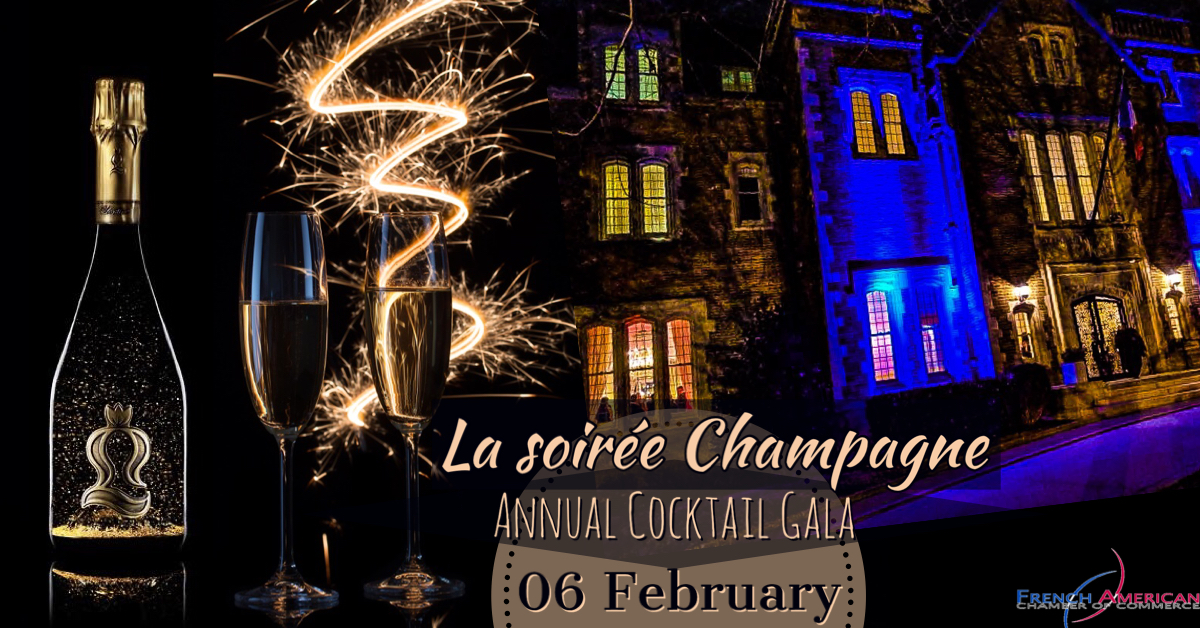 Hosted by the Ambassador of France to the United States.
At the Elegant Private Residence of
the Ambassador of France to the United States

The French-American Chamber of Commerce invites you to participate in its 5th annual La Soirée Champagne!
The event will be hosted in the private Residence of the Ambassador of France, His Excellency Philippe Étienne, and he will be there. This is the perfect occasion to enjoy a rare opportunity to taste different Champagnes from France's best houses of its legendary bubbly, as well as some outstanding wines from Chateau de Pommard and other great vineyards. At the same time, you and your guests will be able to mingle with the Chamber's Board of Directors as well as Chamber and Wharton Club of DC members and friends, high-ranking diplomats, influencers, and VIPs.

In addition to the open bar wine and Champagne, there will be an upscale finger food cocktail prepared by the Residence's Chef, paired with the wines!
The Residence:

From a portrait of Lafayette to a bust of UPenn's founder, Benjamin Franklin, to Empire style couches, neoclassical tapestries and other works of contemporary art, the Residence is home to numerous treasures. Some of the Residence's featured works of art came from the collections of the Louvre museum, while others were donated by diplomatic officials or other French ambassadors over the 80 years that the home has belonged to the French government.
Register: Wharton Club Members & Guests: Same rates as FACC Members

Wharton Club Members:

Login and then register: 120/person LESS than public rates.

Member/Guest: 139/person. Non-Member: 259/person

(if you're not a member, join now to get these savings!) Go to www.WhartonDC.com, or call us: 301-365-8999

Plus, valet parking to be provided. ATTIRE: Cocktail or business.
When:
6:00PM - 9:00PM Thu 6 Feb 2020 ( Timezone: Eastern )

Where:
Residence of the Ambassador of France to the U.S.
2221 Kalorama Road, NW
Washington, DC 20008 USA
[ Get Directions ]
Look Who's Coming:
Mark Joyce
Xia Analytics
Marya Pickering
Daniel Morgan Graduate School
Nam Nguyen
Ruwan Salgado
Monique Lass
Guest of Monique Lass
Lee Corey
Morgan Stanley
Anne Lantry
ibrahim Pete hanna
Wharton
Rob Morgan
American Bankers Association
Guest of Rob Morgan
James Moss
RLJ Equity Partners
Josh Krieger
Guest of Joshua Krieger
Jennifer Andrews
Marc Geffroy
Pamela Bates
Securitas Global Risk Solutions, LLC
Alan Schlaifer
Wharton Club of DC
Ashley Hall
Chevy Chase Trust
Troy Pittman
Michael Somenek
Mona Elliot
Guest of Mona Elliot
Travis Painter
Charles Goohs
Ex-Im Bank
Patricia Goohs
Admiral Ron Wilgenbusch
US Navy
Mrs. Judy Wilgenbusch
Justine Schaffner
Campus Consulting, LLC
Kenya Pittman
VANTIX
Gail Swann
VANTIX
Claudia Tordini
Richard Franklin
Max Kirschenbaum
Lisa Bolden
L.A.Bolden Company
Marc Rodriguez
Deborah Sigmund
Innocents at Risk
... a total of 39 guests.
Note: to opt out from this list please sign in, go to My Account and change your preferences under My RSVPs.
The Champagne: just like last year, we will have some of the best Champagnes in the world, including these, and more to be announced later
Champagne Roger-Constant Lemaire Cuvée Trianon

Champagne Roger-Constant Lemaire Rose de Saignée

Champagne Roger-Constant Lemaire Collection Cuvée Roger-Constant Lemaire (Retail value $685)

Champagne CARBON Special Edition 2002 Bugatti Anniversary 110th (Retail value $485)

Tastings of a few special ultra-premium "designer" spirits: Distillerie de Paris, and master distiller Nicolas Julhes
White Wine
Famille Carabello-Baum Chassagne-Montrachet 2017
Red Wine
Nuits-Saint-Georges 2015

Pommard Clos Marey-Monge 2016
ABOUT CHÂTEAU DE POMMARD
Founded in 1726 by Vivant Micault, secretary to King Louis XV, Château de Pommard remains one of the most iconic and visited wine estates in Burgundy. Clos Marey-Monge, at the heart of the domain, has been producing one of the greatest expressions of Pinot Noir for more than two millennia. The 20-hectare clay and limestone rich terroir make it the largest and most interesting monopole vineyards in the Côte d'Or. In July 2015, UNESCO declared the Clos a world heritage protected climat of Burgundy. The Carabello-Baum family of San Francisco purchased the domain in 2014 and became just the fifth family to guide the estate in almost 300 years. The family has transformed the estate into the ultimate wine education destination where anyone can experience the phenomenon that is Burgundy.
More info about Chateau de Pommard
The Soirée will also feature live music with the

Bergamot-Rose duo

.

The musical ensemble Bergamot Rose will be performing original music and world jazz, featuring vocals in French and English. The duo features Jennifer (Scott) Bergamot-Rose on piano and vocals and Cristian Perez on guitar. Jennifer's debut album, Le temps de l'Amour (Times of Love), reached the Top 40 on the jazz charts and has been played on radio stations worldwide.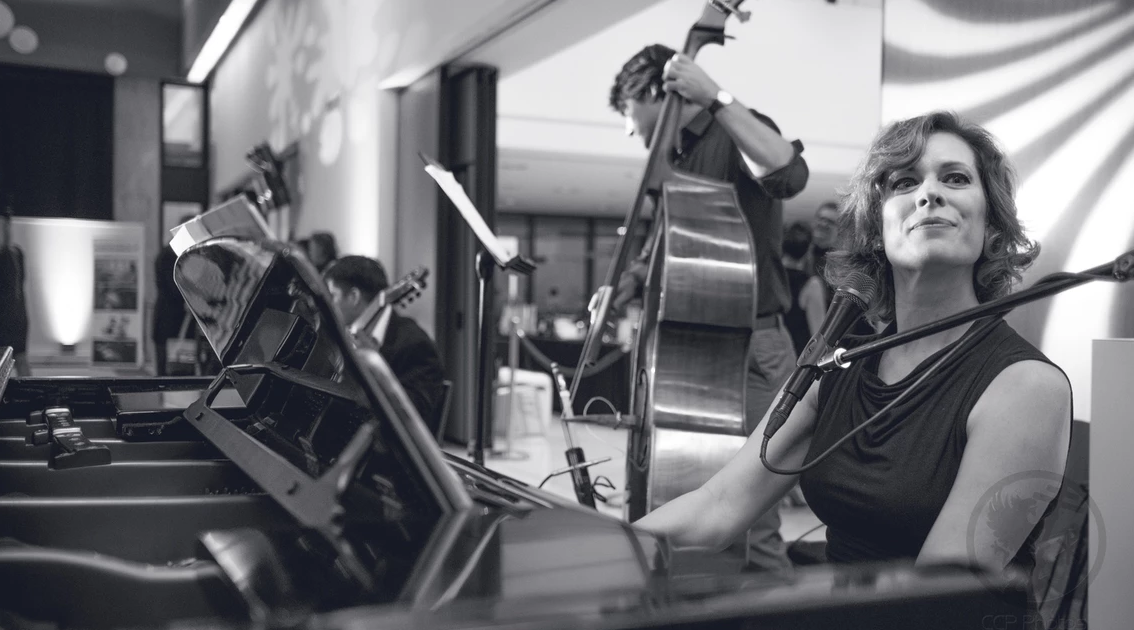 Register: Wharton Club Members & Guests: Same rates as FACC Members
Wharton Club Members:
Login and then register: 120/person LESS than public rates.
Member/Guest: 139/person. Non-Member: 259/person
(if you're not a member, join now to get these savings!) Go to www.WhartonDC.com, or call us: 301-365-8999