6th Annual Innovation Summit:
2020 & Beyond: Creating & Owning Your Future
---
Will YOUR Company - whether startup, early-stage, or other enterprise - BE BLOCKED by Disruptive Technologies? Or will you and your team RIDE THE WAVE OF DISRUPTION to growth and success?
To tilt the odds in YOUR FAVOR, join us at the 5th Annual Wharton DC Innovation Summit.
To ADVANCE and SCORE with your idea, your startup, early-stage, or other organization, join us on the journey to improve your innovation results. And as

you SCORE, you may even use - or develop - Disruptive Technologies to CHANGE THE GAME in your business or your industry!
REGISTER NOW for Tuesday, May 7, 2019 Summit! Early Bird Rates END at Midnight, Monday, April 29. SO REGISTER NOW!
Or learn more, at our new Summit website, www.WhartonDCInnovation.com.
At this Summit, as at the past four, you (and other members of your team, if you decide to bring them) can:
Begin by taking a fresh look at the DESIGN OF YOUR BUSINESS & INNOVATION PLAN -

you'll get new ideas, from the start, with opening keynote Seth Goldman

Next, to improve & run with it, CONNECT with thought - and action - leaders at the Summit. Consider which of their ideas and lessons you can use or adapt from sessons you attend.
Then MEET with potential funding, contract and other resource sources, and possible strategic partners
And finally have FUN, as you are inspired by diverse achievers across a spectrum of industries.

This Summit will add to your fun by closing with a keynote, David Morey, Wharton MBA, who will inspire you with his theme, "Creating Business Magic." David will demonstrate how you can harness the power of magic to create and innovate in your thoughts and actions to move your venture to new heights.

And then the Reception, giving you the opportunity to meet and team up with - and bowl against - fellow attendees.
After four Summits of growing success and impact, we have

reserved Tuesday, May 7, 2019, for this year's Wharton DC Innovation Summit: Disruptive Technologies - Your Path to the Future at Pinstripes, North Bethesda, MD.
Good news: You don't need to be a Wharton alum to attend and benefit from the Summit. EVERYONE interested in innovation - and moving their career and team forward - is welcome.
This will build on the four successful Summits we've already held, each of which received rave reviews from speakers, attendees and sponsors. These are a few of the many testimonials we've received:
What's exciting about the Summit is we have entrepreneurs and innovators coming together in the Nation's capital, finding ways entrepreneurs and innovators can help solve the big problems over the next decade. I'm excited about being here because the talent gathered here can together be part of the solution for our Nation's ills.

-- Aneesh Chopra, Hunch Analytics, and first White House Chief Technology Officer
"The Summit is fantastic. I've had a lot of great conversations with individuals here. There are many new perspectives, innovative ideas, and great opportunities to collaborate. We've had numerous informal sessions with much dialogue." – Ruth Ann Hudson, IBM
Register now so you YOU can ATTEND, PARTICIPATE IN, COLLABORATE, and BENEFIT from the Summit. Don't miss out - ACT NOW!
Two Keynotes who have achieved great success in their business activities will share innovation and entrepreneurship lessons learned, and a General Session Panel will explore major disruptors and trends:
Seth Goldman

, Founder and TeaEO Emeritus Honest Tea and now Chairman of BeyondMeat.com, will inspire attendees with lessons he has learned on the path to success fueled in significant part by innovation, but overcoming huge obstacles. He will discuss many facets of "The Future of Food," from creative and more sustainable ways to grow, produce, distribute, and encourage the use of more healthful food products - and better ways to use water & other vital resources.
David Morey, will discuss, and demonstrate (through his performance of magic) his theme from his latest book, Creating Business Magic: How the Power of Magic Can Inspire, Innovate, and Revolutionize Your Business
We feature a Panel of Top Innovators from to explore and exploit trends, huge opportunities, & challenges in the U.S. and abroad in Mega-Technologies: artificial intelligence (AI), big data, blockchain, & IoT (Internet of Things) that are fueling growth:

Hon. James P. Moore, Jr., Founder & CEO, Washington Institute for Business, Government, and Society
Susan Penfield, Chief Innovation Officer, Booz Allen Hamilton
Gary Shapiro, President & CEO, Consumer Technology Association, & author, Ninja Future: Secrets of Success in the New World of Innovation
S. Tien Wong, Chairman & CEO, Opus8, Inc. & Angel Investor.
You'll learn vital information in four breakout sessions in each of three tracks (listing speakers & descriptions in coming weeks):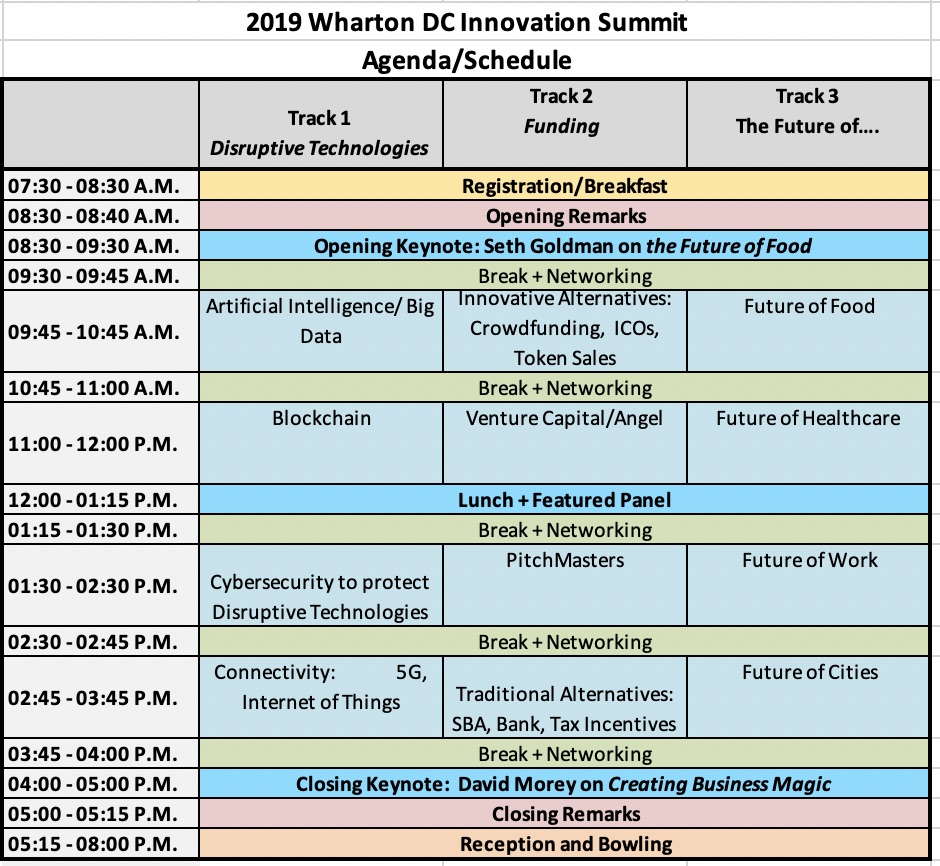 To see what we offered at the last Summit, cllick HERE to view our WhartonDCInnovation.com website. We will be updating that with the latest information about Sessions and Speakers at this year's Summit.
Click here to Register for the Summit before rates rise again and to secure your place!!!
Feel free to contact us if you'd like to learn more about sponsorship opportunities by emailing us (just click here).
Here's our fast-growing list of prestigious Strategic Partners, to help you learn and connect from high caliber, diverse networking sources:
Alumni Clubs:
Other groups:
REGISTER NOW for Lowest Rates: Special Offers for Wharton Club Members / Strategic Partner Member / Full-Time Govt, Nonprofit or Academia Only:
(IMPORTANT: IF NOT WHARTON CLUB MEMBER, you must list the name of your Strategic Partner of which you're current member / Full-Time Govt. Agency / Nonprofit / Veteran (please enter mil. branch) under Special Instructions when you register. Thank you. And you're welcome to join the Wharton Club, if you'd like, to save.
ALL FULL ACCESS passes are all-inclusive for FULL DAY of Summit, FULL ACCESS PASS - to all sessions, breaks, reception (with optional bowling), meals (breakfast & lunch):
Full Access Pass: All sessions, meals, breaks, reception (with optional bowling)

Early Bird

Through Midnight

April 29

Advance

April 30-May 6

May 7 (if space is available)

Wharton Club Members & Guests

189

219

279

Strategic Partner Members**/Guests;

Full-Time Nonprofit, Employees/Small Business (5 or fewer FTE Employees)***

189

219

279

General Public

289

319

349

U.S. Veterans

/Active Service - Academia/Students & Govt. - Startups

99

119

149