The Acceleration of Analog to Digital: How the Coronavirus Will Change Marketing Forever
Featuring: John Sculley (Wharton alum & former Apple CEO & PepsiCo CEO & President, co-founder Zeta Global) and David A. Steinberg (co-founder, CEO Zeta Global), who's founded Two Billion $ Unicorns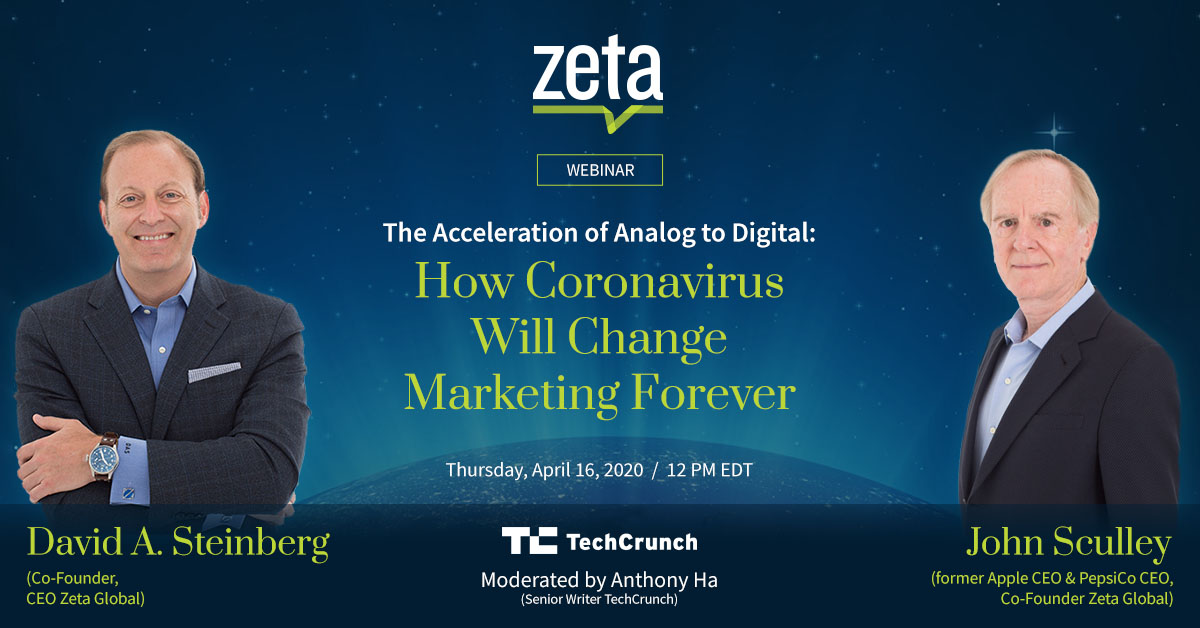 The influence of COVID-19 on the marketing industry will be felt long after the world has "flattened the curve" and the global economy has recovered—it will forever change how marketers do their job.
The marketers who will have an advantage will be the ones who produce more high-value customers through digital experiences, resulting in 70-80% cost savings as compared to traditional methods.
In this webinar, you'll hear John Sculley (Former CEO of Apple, Former President of PepsiCo, and Co-Founder of Zeta Global) and David Steinberg (Co-Founder and CEO of Zeta Global), discussing how brands can navigate marketing during crisis while engaging with the most digital and media savvy consumers of all time.
They'll also share their suggestions for:
Engaging with and converting more high-value, lifetime customers with a higher return on investment.

Strategically marketing in the midst of the current crisis.

"Future Proofing" your business in a world that's becoming digital-first.

Lowering the costs of marketing through the addressability and measurement of digital.

Creating results-driven campaigns that thrive even in times of uncertainty.

Being more intentional with spend through the use of better attribution.

Accelerating your brand's transition from linear to connected TV.
And much more!
CLICK HERE and sign up to get more news of upcoming free webinars and other online meetings supported by the Wharton Club of DC. And consider membership, now at bargain rates, to access more knowledge and expand your network.
CLICK HERE for Membership - now just 49 for 1 year, 79 for 2, and 99 for 3 full years! Please call us at 301-365-8999 if you have any questions.
CLICK HERE to register for this webinar.