Two-Hour Online Music Spectacular Featuring the Peacherine Ragtime Society Orchestra (PRSO)!
Performances by top ragtime and other artists from the DMV. The Washington Post calls the PRSO "The Premier American Ragtime Ensemble." And they do more than ragtime - jazz standards, and much more.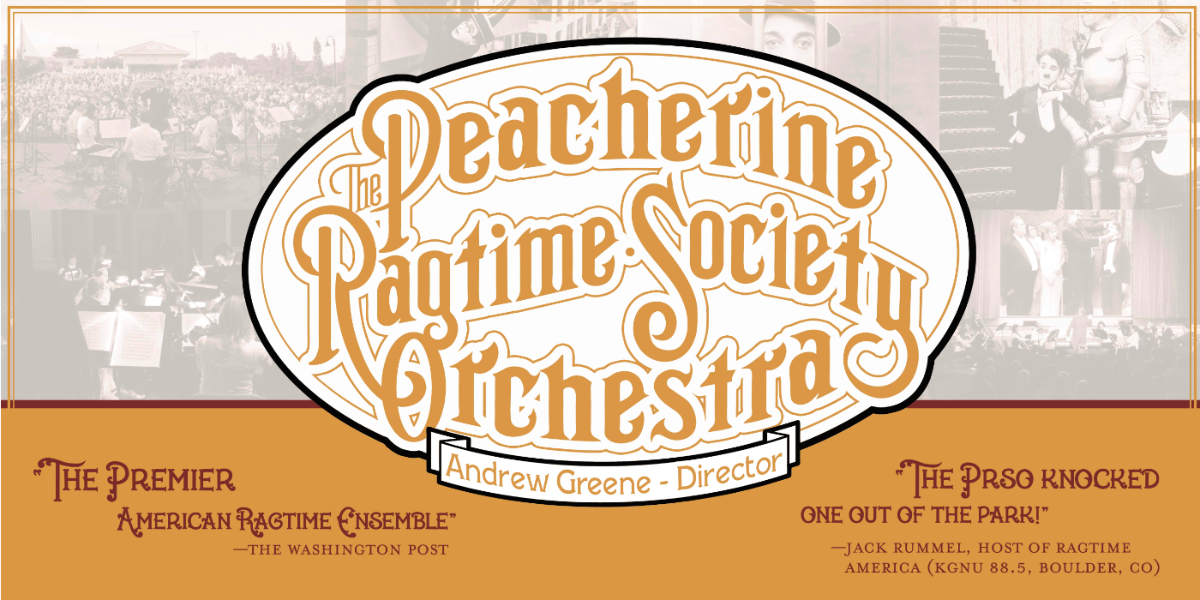 This two-hour music spectacular, hosted by PRSO's director Andrew Greene, includes performances by Brian Holland, Bryan and Yuko Wright, Will Perkins, Matt Tolentino, Adam Swanson, Frederick Hodges, William (Bill) Edwards, and of course, the Peacherine Ragtime Society Orchestra!

You'll hear everything from ragtime favorites to jazz standards, music from 30s musicals, and even material from the 1950s!

The Peacherine Ragtime Society Orchestra is "the premier American ragtime ensemble" as hailed by The Washington Post, and is one of America's few professional ensembles dedicated to the preservation and performance of America's first popular music: Ragtime.

For this concert, the PRSO recreates the sounds of the concert stage, the dance halls, and the theatre – ragtime, dance music, theatre selections, and silent film accompaniment, all performed off the original musical scores. Founded in 2010 by young virtuoso Andrew Greene, PRSO has been widely praised for its work to preserve and share America's rich musical history, and tours the US with their toe-tapping concert and silent film programs!

Overall,

PRSO's concert programs highlight the music of the late 1800s and early 1900s, with selections by composers such as Irving Berlin, George Gershwin, W.C. Handy, Victor Herbert, George M. Cohan, and of course, the King of Ragtime, Scott Joplin. Marches, two steps, waltzes, one steps, theatre selections, classical parodies, popular songs, and of course, rags, are just some of the many selections you'll hear in their concerts.

The PRSO's work has been featured in documentaries, online video, and is frequently heard on radio and podcast programs, including Hot Jazz Saturday Night (WAMU 88.5, Washington, DC), Ragtime America (KGNU 88.5, Boulder, CO), and Rapidly Rotating Records (KISL 88.7, Catalina Island, CA).

In addition to their concert programs, Mr. Greene and the PRSO underscore classic silent films featuring the biggest names of the day: Charlie Chaplin, Buster Keaton, Harold Lloyd, Laurel & Hardy, Douglas Fairbanks, and others. Mr. Greene also has the distinction of rebuilding the original compiled scores for Buster Keaton's THE GENERAL (1927), COLLEGE (1927), and Charlie Chaplin's SHOULDER ARMS (1918), and others from the PRSO's collection of over 500 original film scores.

The PRSO records for Rivermont Records (www.rivermontrecords.com), whose three albums, Elite Syncopations, Step With Pep and That Teasin' Rag have been called "first class", "wonderful, toe tapping fun", and "the most satisfying ragtime orchestra collections available."
Learn More: www.peacherineragtime.com

They performed live (in-person - you remember the "good old days" ---- last fall!!!) at the Avalon Theatre in Chevy Chase, DC. They were simply marvelous! Like many of those whose music they play, their performances have become legendary.



When:
7:00PM - 9:00PM Fri 1 May 2020 ( Timezone: Eastern )

Virtual Event Instructions:
Link to Youtube stream: https://youtu.be/TQprJpz_wAY
Link To Facebook stream: https://www.facebook.com/peacherineragtime/live/
Facebook Event: https://www.facebook.com/events/854481558363141/
RSVP Here...