Can Opportunity Zones Recover from the COVID-19 Crisis?
Please join Senator Tim Scott and our Congressional Policy Roundtable online on August 5 at 1:30 -3:00 PM (EDT). Opportunity Zones (OZs) have been adversely and disproportionately impacted by the COVID-19 crisis.
Planning for OZ projects and investment of OZ funds now face substantial headwinds. Participants will gain insight into how OZs can accelerate and amplify the national economic recovery process.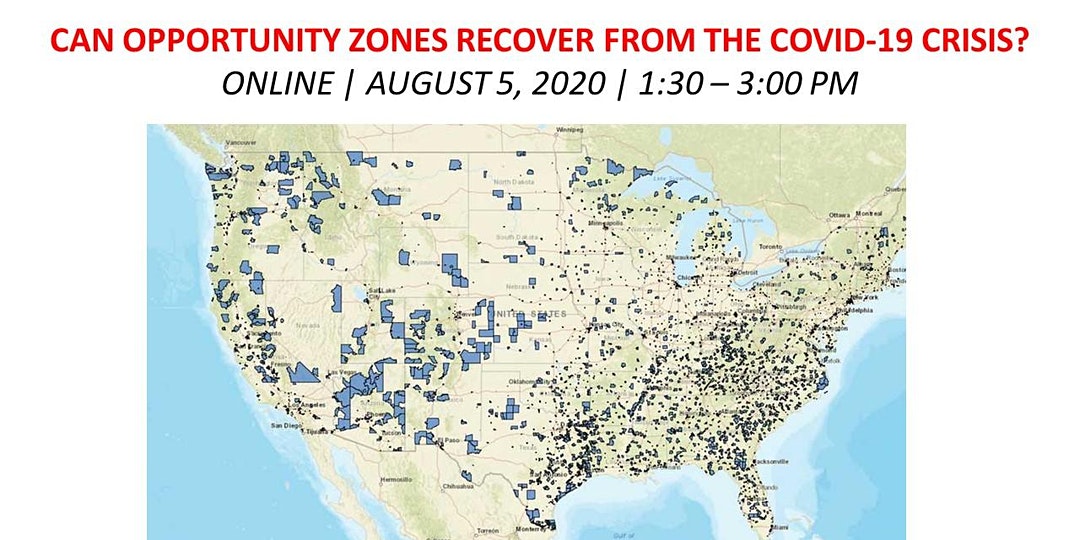 ​​​​​​​
OPENING REMARKS
Senator serving South Carolina
Co-author Opportunity Zone legislation
PANELISTS

Jimmy Atkinson (moderator)
Founder, Opportunity Db
SBA Region IV Administrator
Entrepreneurship Policy Advisor
White House Opportunity and Revitalization Council
Legislative Assistant
Office of Senator Tim Scott
Finance Committee (tax)
Vice President of Consulting
Community Insights, Emsi
Senior Fellow, The Urban Institute
Co-founder, OZ Accelerator
CEO, Center for Accelerating Innovation
Among the topics to be addressed:

• What has been the impact of COVID-19 on OZ projects, investors, and funding?

• What new opportunities for investment generated by the COVID crisis?

• How are federal and state agencies aligning their programs for OZ needs?

• What kind of projects are needed for a more robust and resilient recovery?

• What metrics matter for OZ reporting and evaluation?

• What can accelerators and incubators do to increase start-up businesses in OZs?

• What role can universities, non-profits, and philanthropy play in maximizing OZ success?

REGISTER (free): Please forward or post to others that may be interested. We hope to see you soon online. The URL for the registration link will be in the email you receive after you register here.

This is a non-partisan event. Join us for an interactive conversation and action steps. The roundtable is being hosted by ASTRA (The Alliance for Science & Technology Research in America), the Center for Accelerating Innovation, the OZAcceleator.online, and the newly created Opportunity Zone Innovation Task Force.
When:
1:30PM - 3:00PM Wed 5 Aug 2020 ( Timezone: Eastern )

Virtual Event Instructions:
URL for you to sign up for this program will be posted in the email you receive after you register for this free event.
Look Who's Coming:
Alan Schlaifer
Wharton Club of DC
Guest of Alan Schlaifer
Marvin Turner
... a total of 3 guests.
Note: to opt out from this list please sign in, go to My Account and change your preferences under My RSVPs.